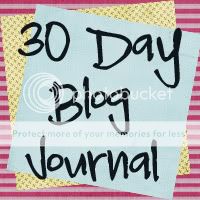 Day 21: A recipe...
This is one of my favorite quick and easy "go-to" recipes. We love Mexican food at our house (we have Taco night AT LEAST once a week)! This is from The Southern Living Quick Weeknight Meals:
Easy Enchiladas
Ingredients:
-1 lb ground beef
-1 can enchilada sauce
-1 can tomato soup
-shredded cheese (we use the "mexican blend")
-flour tortillas (anywhere from 6-10 depending on how many you want to make)
Directions:
*Brown ground beef in skillet, drain and set aside.
*Combine enchilada sauce, tomato soup and ground beef in large bowl
*Spoon mixture into tortilla and sprinkle with cheese. Roll up and place seam-side down in casserole dish. Repeat with remaining tortillas (I usually make about 7-8).
* Pour remaining meat mixture over tortillas in the casserole dish and cover with aluminum foil.
*Bake at 350 for 15 minutes.
*Uncover and sprinkle with cheese. (the recipe calls for about 1-1.5 cups, but we REALLY like cheese in our family, so I just use as much as my heart desires!) ;0)
*Return to oven until cheese is melted (about 5-7min)
Serve with sour cream and salsa if desired.
Day 22: A Website...
Well, I obviously love so many blogs, so I thought I would post a link to one of my favorite posts from one of my favorite blogs - "Clover Lane" titled "Why I Stay Home"
Day 23: A YouTube Video...
So.... I'm going to post two here. One is totally appropriate and the other could be considered questionable. But in my defense, they both make me laugh - EVERY.SINGLE.TIME, but for
very
different reasons! ;0)