Libbi had her first haircut today courtesy of Salon Jennifer!
I was a little worried that she would make some sudden movements resulting in injury to herself or Jennifer OR that she would throw one of her fits and damage the salon, but she did great! :) She was in and out in less than 10 minutes - what great service! Since she couldn't possibly be expected to sit while I had my hair done next, Mimzy graciously offered to take her to get some supper while I enjoyed my own salon experience :) Thanks, Mimz!
Exhibit A: Before (also known as "The Mullet")
In the chair....a little unsure, but doing great!
What could be better than a salon treatment while being fed goldfish??!! (which may or may not have included a
liiiiiittle
bit of hair) :)
cleaning up the back just a little bit more....
nice and clean and even - no more business in the front and party in the back :)
Now if we can just do something about those cowlicks.....
And today's 30 day blog journal topic is: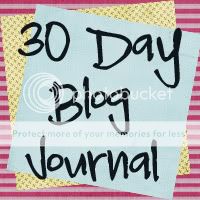 A Picture Taken of You Over 10 Years Ago
(I thought I would include Jeffrey in this one - ha!)
Behold....Prom circa 1998