It's beginning to look a lot like Christmas at the Tippins' house!! This is absolutely my most favorite time of the year. Along with putting up our decorations, I also enjoy preparing our
Christmas Cards
. I love sending Christmas Cards almost as much as I love receiving them.
It is so much fun to display them and see how families have grown and changed over the years.
This year, we are ordering our Christmas Cards from
Shutterfly
. I love Shutterfly, because it is so easy and user-friendly. One of my favorite features is the "preview" feature so I am able to see what our cards will look like before actually placing my order.
Here are a few of this year's contenders...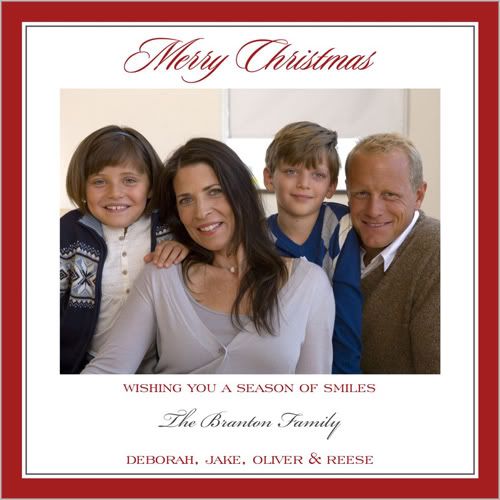 Another of my favorite shutterfly products are the
gift tags
. Not only are they super cute, but they're convenient, too! I can just attach/include one in any gift and not worry about it effecting the look of the packaging.
I think I am going to order these for our family this year:
The only drawback is having to make a decision....there are SO many perfect cards to choose from! Everything is appealing! Hopefully I'll make my decision soon, so our cards will be delivered in time (and if you're on our Christmas Card list.....just try to act surprised if you see one of these designs again!) ;0)
{Legal Disclaimer: all opinions are mine, but I was offered 50 free cards from shutterfly in exchange for this review. If you would like more information about this promotion, click
here
.}