22 things about my sweet girl on her 22nd month of life....
1. You weigh 26 pounds, are around 32 inches tall, wear a size 5 diaper, and mostly 24 month/2T clothes.
2. You talk ALL.THE.TIME. sometimes it's in your own language, but we are starting to understand you more and more :) It's crazy how one day you are saying "na-now" for minnie mouse and then all of a sudden you start saying "ninnie" clear as day. you are learning so much every day!
3. You can recognize the colors red, blue, yellow, orange, black, green, purple, and pink. Your favorite is "ye-woah" unless it comes to m&m's...then you always want "boo!"
4. Some of our favorite things that you say are, "hi yow!" (hi y'all), "wuv voo" (love you), "yesh" (yes), "woah, woah, woah" (whenever you are off balance or about to fall), "moo me" (excuse me) and "bite back" (right back....everyone and everything that leaves will always be "bite back!") ;0)
5. Your hair is still out of control and we still love it :)
6. You love to slide - and still kiss your slide goodnight every night.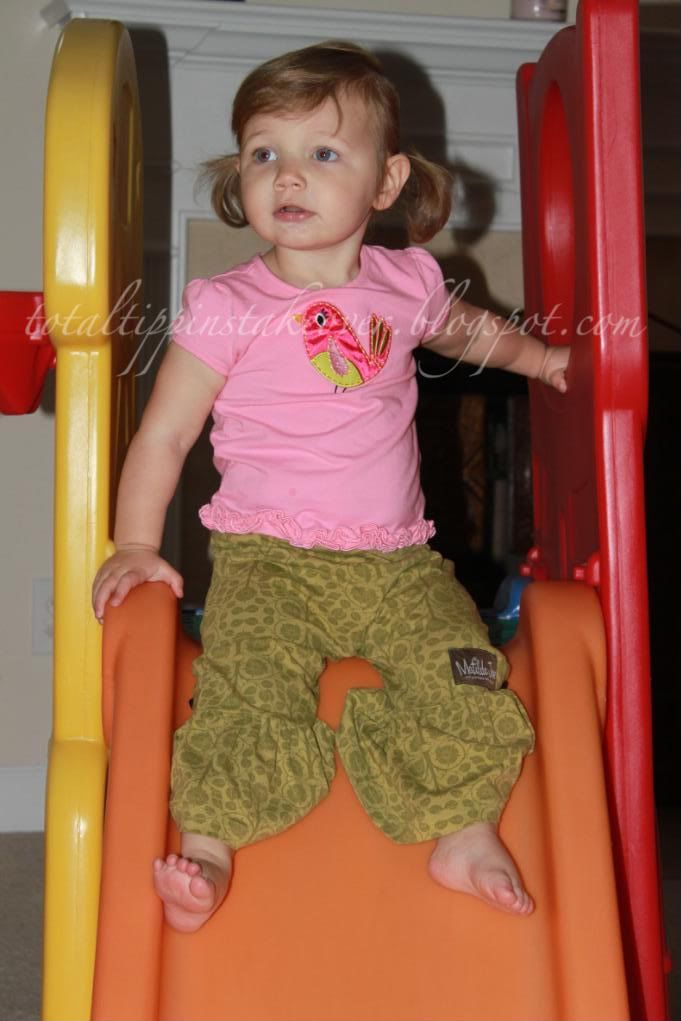 7. You could eat your weight in chicken nuggets and cookies.
8. You are so proud that you can put on your own shoes and try really hard to dress yourself completely.
9. You LOVE to sing. Your favorite songs are "wheels on the bus", "itsy bitsy spider", "thank you jesus" (an old preschool song that i know), and "who let the dogs out" (no, i'm not kidding. you love for us to change up the animals, too - "who let the pigs out?" oink, oink, oink, oink, oink.....)
10. you would stay outside all day if i'd let you.
11. you are still a pretty good sleeper - although you wake up a little earlier now. you nap from around 1:15 - 3:45/4 every day and then go to bed at 8:15 and will typically sleep until 7:15/30
12. You are VERY opinionated and make sure that everyone knows when you are pleased or upset with something.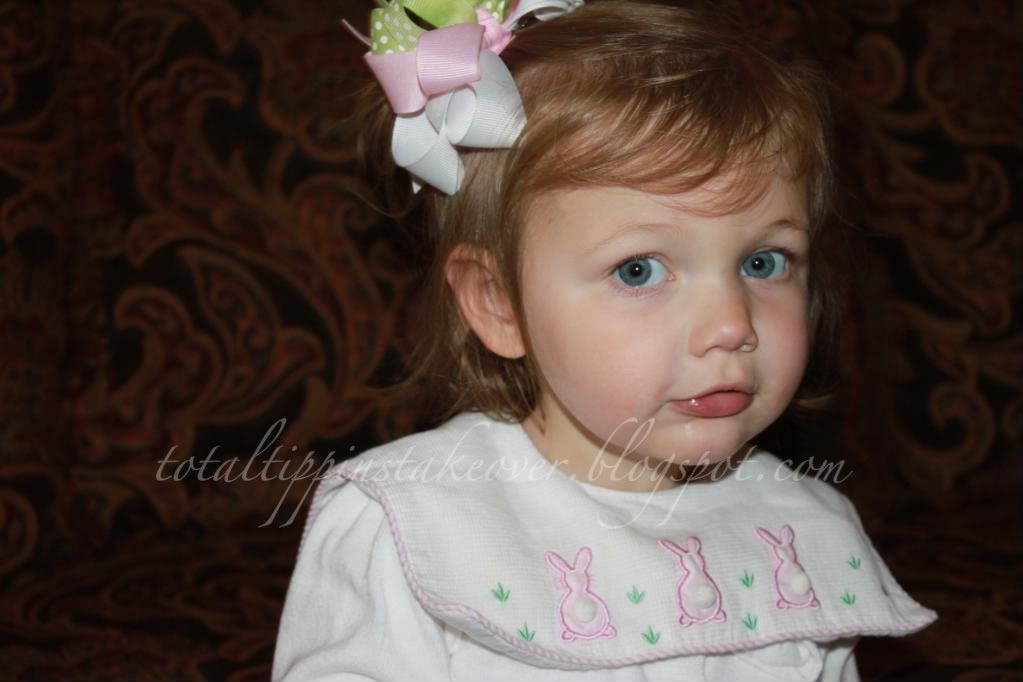 13. You love to have tea parties with minnie mouse and daisy. you serve everyone tea :)
14. one of my favorite things is to listen to you name all the colors of your bows when you're lying in your bed before nap time. your bow hanger faces your bed and you will list all the colors that you know one by one.
15. you still LOVE school and are so excited to go every monday and friday.
16. because of some recent issues with my pregnancy, you've had to spend the night out quite a bit, but thankfully you love it! you are a little social butterfly :)
17. when we're riding in the car you love to yell, "GO! GO! GO!" especially when i'm stopped at a red light :)
18. you try to copy everything your daddy does. everything!
19. you are a pro at the iphone...you love to watch youtube videos and look at pictures on it (especially pictures of cousin Blakeley!)
20. lately, you have been really into coloring and always want to "waw" (draw). You have a big coloring book that you color in or a small magna doodle that you like to draw on. You typically request for me to draw certain things on the magna doodle (i.e - "dog!") and love to tell me, "no, no, no" and erase it when it doesn't look like you think it should. :)
21. we cannot believe that it has been 22 months since you came into our lives - what in the world did we do before you!?! ;-) we cherish every minute with you, knowing that by the time you reach your 23rd month, you will be sharing the spotlight with a baby brother or sister!
22. you bless our lives every minute of every day and we are so thankful that the Lord chose us to be your parents!! We love you, sweet girl!!
**And, an update.....
First of all, thank you all SO MUCH for all the sweet comments, facebook messages, and emails - it is such an awesome blessing to know that so many are lifting us up in prayer! I went this morning for a non-stress-test on the baby and everything looked good! My heart rate and blood pressure were also in a normal range, so we were very thankful for that. I am still having contractions, but nothing too urgent at this point. I will see the maternal fetal specialist on Tuesday to assess the baby once again and then I will see my OB on Friday to decide when we will deliver! Please just continue to pray for the health and safety of Baby Tippins and for the medications that I am on to continue to keep things under control. It is hard not to be able to do all that I want/need to do, but I am SO lucky to have a husband that will pick up the slack, and parents, in-laws, and friends that are willing to help us at the drop of a hat! Thanks again for your prayers!**
Romans 12:12
"Be joyful in hope, patient in affliction, faithful in prayer."