This morning I had my doctor's appointment with the maternal fetal specialist. I was kind of nervous, because I didn't know what to expect, but fortunately, Jeffrey was able to go with me! Of course, Libbi woke up around 6:30 (as she always seems to when I have to get ready to go somewhere....) but she was in a good mood, so at least our early morning was pleasant. :) She had tee-tee'd through her diaper so I went ahead and got her dressed and she waited excitedly for Mimzy to get to our house.
My appointment was at 8:15 and they did an intensive ultrasound and some tests to check the baby's movements, oxygen levels, fluid, blood flow, etc as well as all his/her parts (kidneys, heart, pancreas, etc). Praise God everything looked great! I will go to my OB on Friday for a regular check-up and hopefully to schedule a date for Baby Tippins to arrive! Thanks again for all of your prayers and sweet emails, notes, comments, etc. They mean so much to me!! :)
Believe it or not, we still don't know if Baby Tippins is a boy or a girl! I have had my willpower tested quite a few times, especially since we have had multiple ultrasounds over the past few weeks, but I have made sure to tell each and every doctor, nurse and ultrasound tech that we do NOT know the baby's gender; nor do we want to. I haven't made it this far just to find out a week or two before we deliver!
When we saw Baby Tippins last week, we learned that he/she has LOTS of hair! Crazy!! I didn't even know you could see those kind of things in an ultrasound, but the tech showed us tons of hair just "blowin'" around in all the fluid - ha! She also said that the old wives tale of "if you have heartburn, your baby will have hair" is one of the only ones she believes, and I guess I am now a believer, too, because I have had terrible heartburn/indigestion with this pregnancy.
Today we got to see our sweet baby's face, and he/she has some serious cheeks! It is very evident that Baby Tippins will not be a tiny little thing - ha! The ultrasound tech commented on his/her "round belly" and "full cheeks"....we're so proud. :) If I can get our scanner to work, I'll try to scan the pictures since we didn't get them on a CD - just a hard copy.
It does make me SO excited to see what/who this baby will look like. I would have never thought that Jeffrey and I would have a light headed, blue-eyed, fair skinned baby, but lo and behold - we have Libbi! I always imagined us to have olive skinned babies with dark features.....and we still could! It's just exciting to think that this baby could look like Jeffrey, me, Libbi, or any combination of the three of us!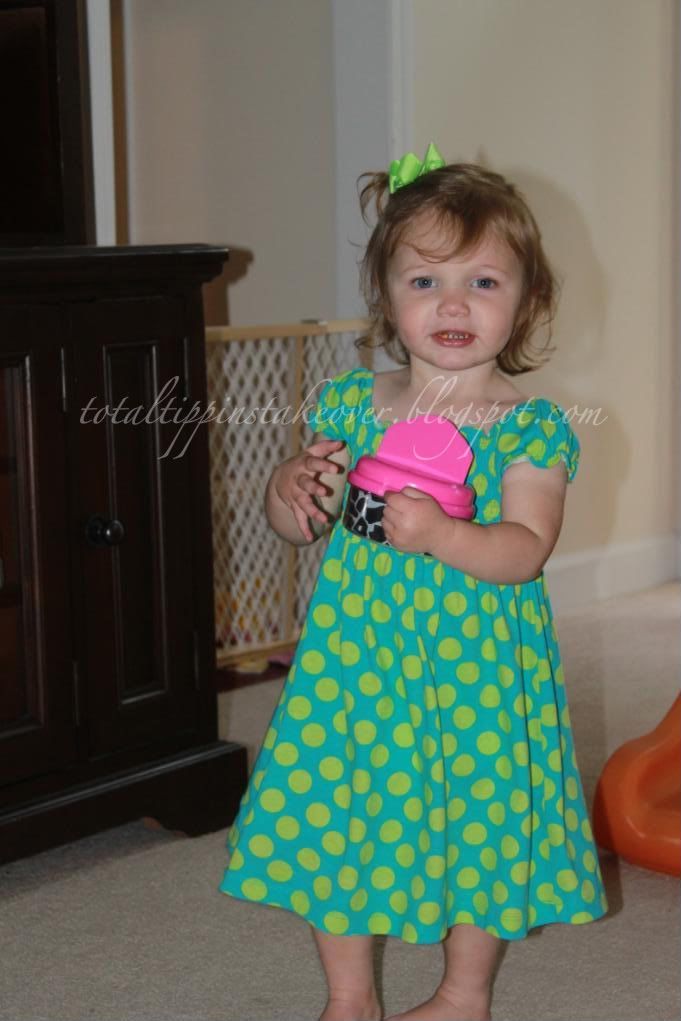 Libbi had a great time playing with Mimzy while we were gone and she was sad to see her go. Especially since I'm not nearly as much fun these days. :)
We played with all her toys for a while, constantly switching from one thing to the next. Her latest "trick" is to throw everything. It drives me bananas...especially since I am not too keen on bending over. She literally just picks things up and chunks them. Play food, babies, crayons, blocks, books, you name it - she throws it. We're working hard on breaking this little habit.
She's also had quite the short fuse lately. It's funny, but at the same time, it's not. For instance, she tries so hard to sit all her stuffed animals up in a circle so she can "feed" them. If one of them happens to fall over or be the least bit uncooperative, she immediately throws herself on the floor, screams, cries, etc, etc.....sometimes, she'll even run into the living room screaming and waving her arms over her head, then throw herself on the floor in there, just in case we weren't aware of the fact that she was upset. Again, this is something we're working hard on. We are constantly practicing how to say, "please, help." ;-)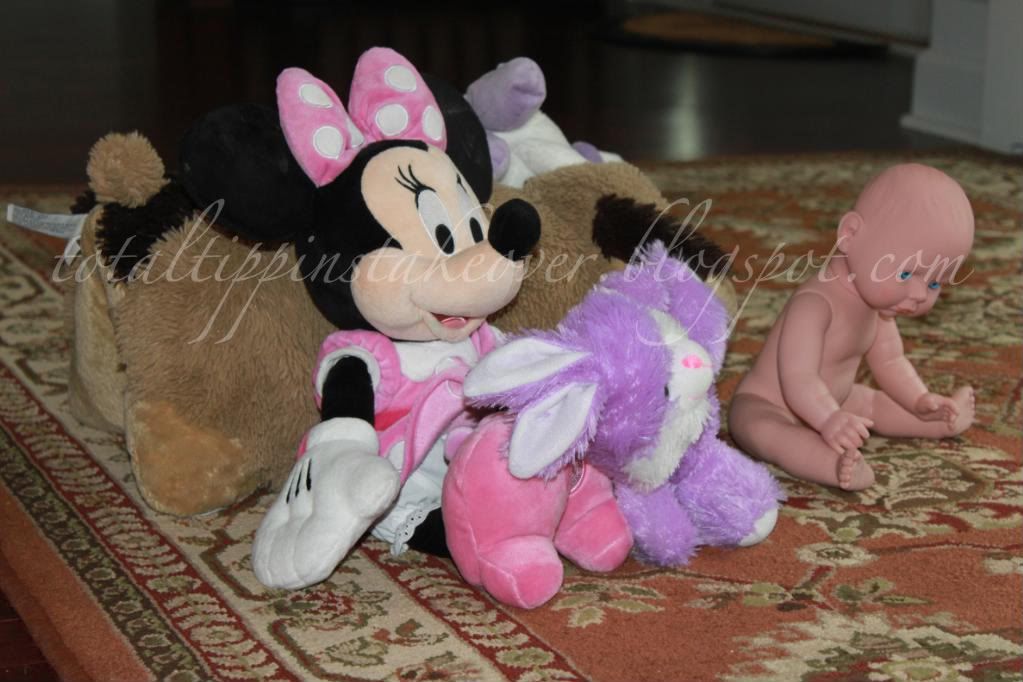 At the same time, she can be so sweet and just the cutest little thing. She LOVES to be chased or even the chance of possibly being chased. Since I'm not too light on my feet right now, I'm not exactly the ideal "chasing partner" but she squeals just the same if I even give her a look and pretend that I'm about to get her. She laughs and screams and runs for her life. I love it!
After many games of (pretend) chase, Libbi took a nice long nap and woke up so cuddly and sweet. I love when she will just sit in my lap and talk to me. We have some fun conversations. :) She decided this afternoon that she was going to "feed" the baby some of her animal crackers, so she lined up three or four of them across my belly and kept saying, "awww, baby. eat!" If I even tried to move them, she would get very angry with me and make sure I knew that they were for "BABY!"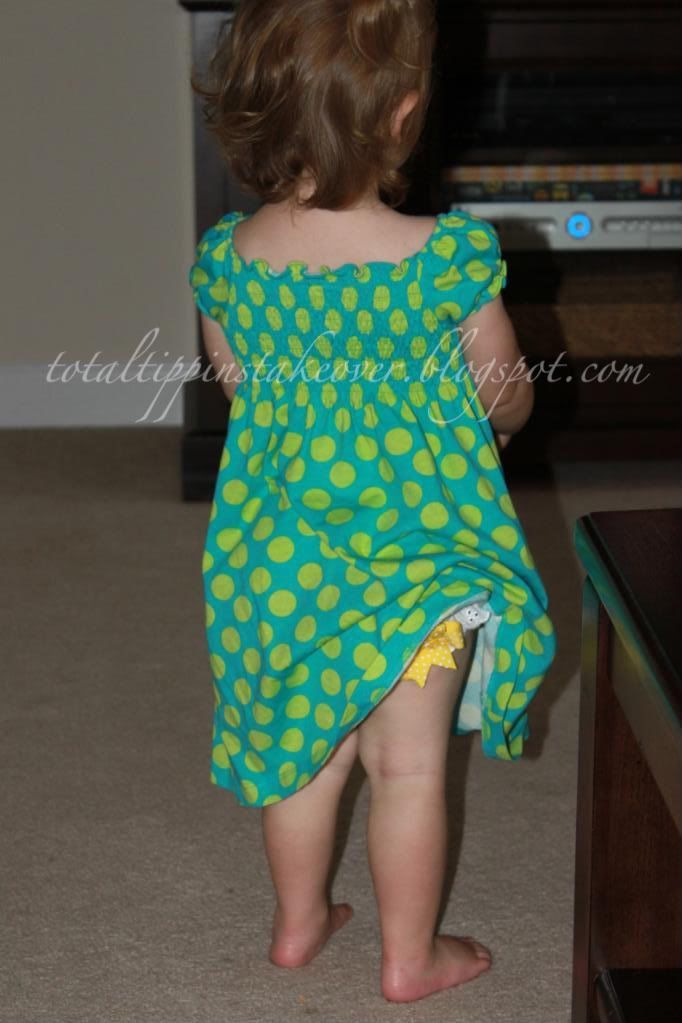 haha....i couldn't resist this one :-)
Libbi was thrilled with the delivery of her diapers today. It's the little things :)


When Jeffrey got home, we ate supper and then made a family trip to Bruster's for some ice cream. I forgot my camera, but Jeffrey took a few pictures with his phone that I will have to get, because Libbi was hilarious eating her ice cream cone. She fits right in with our family, because we are definitely an ice cream loving family! After ice cream, we all went home with a little extra pep in our step and got ready for bed. Libbi watched an episode of "Mickey Mouse Clubhouse" and then went to bed. I am so thankful for our sweet girl and our little family. I'm thankful to God that all looked good with Baby Tippins today and we're trusting Him to bring us all safely through delivery!!
Happy Tuesday, Friends!!