here are some pics from our weekend...some of them are courtesy of my trusty 'ole phone. what would i do without it? :) others are just random pics i took, but unfortunately, i didn't take near as many as i usually do! :)
Friday morning we ran some errands and then just hung around the house. Jeffrey needed some new socks, so we went to TJ Maxx to buy some. Libbi kept saying, "TEE JAY MAXXXXX!" and she thought it was hilarous. She loved getting to help pick out some socks for Daddy. :) This was not her first time at TJ Maxx, but apparently this trip seemed to leave an impression on her. Later that day, she kept asking to go to "Max's House"....I finally figured out that she was talking about TJ Maxx - haha! And Friday night when she was saying her prayers, she thanked Jesus for "Da-Da's new socks!" ;-)
Anyway, after we went to TJ Maxx, we stopped in McDonald's so Libbi could play on the playground. I know it's probably a little tacky, but we didn't even eat there - she just played. :)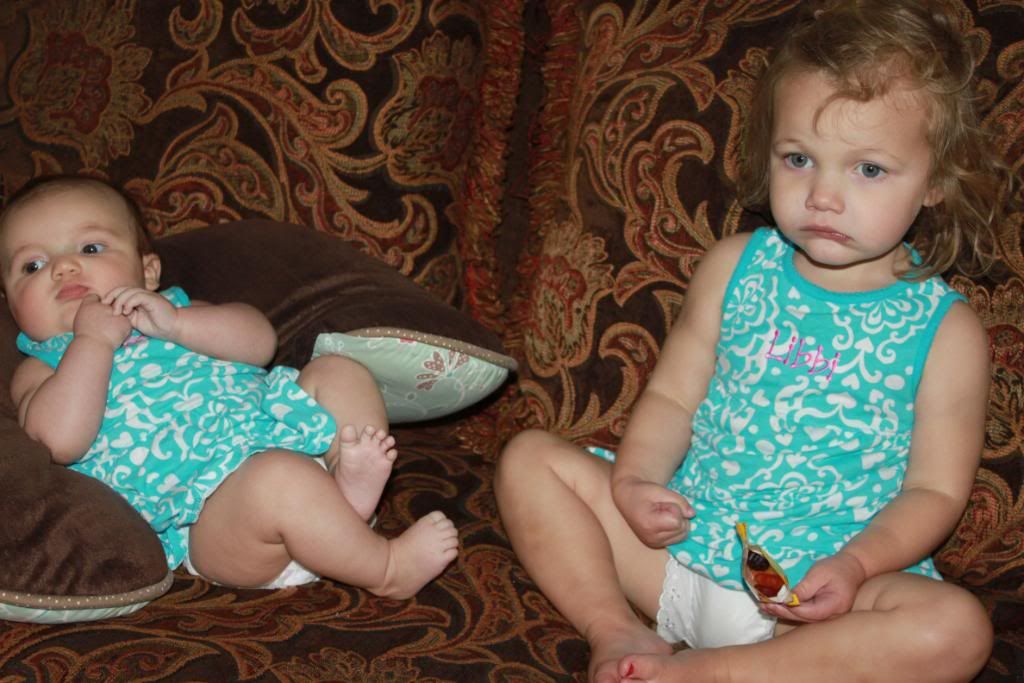 It's just so hot outside these days - too hot to go to the park - and I hate to make her stay inside all day. So we stopped by McDonald's for a little sliding and climbing. A free playground and a tired toddler are a pretty good exchange for some germ infested McDonald's playground equipment. :)
Friday night was date night!! My mom and dad came over and stayed with the girls while Jeffrey and I went out to eat. We went to Stoney River - one of my favorite places! It was so good and I ate way too much - whew! We had a good time talking and laughing and not worrying about crying babies or screaming toddlers. :)
Saturday morning Jeffrey played golf, so it was just us girls. Libbi got a kick out of saying, "no boys!" We met my mom and Aunt Mannie and cousin Blakeley at the mall, so the "no boys!" streak continued.
We did a little bit of shopping and Libbi and Blakeley got to ride the carousel. I'm not sure if Libbi was more excited about riding the horse or about Blakeley riding beside her. My poor mom was a nervous wreck, because Libbi did NOT want her holding on to her at.all! Every time my mom would try to put her hands up to steady her, Libbi would swat them away - hahah - that girl is SO stubborn! :)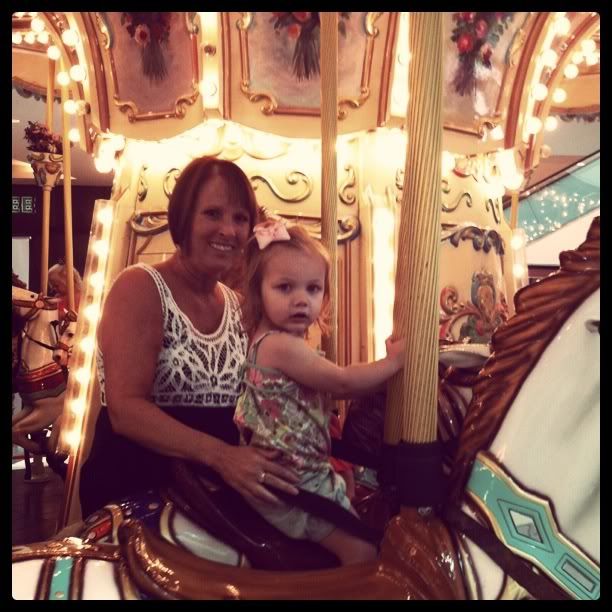 We went home for naps, only Libbi didn't take one - sigh.... She did stay in her bed and talk to herself for close to two hours, so I can't complain. When she started yelling, "Momma! Get me OUT!!!!" I figured naptime was probably not gonna happen.
When Jeffrey got home, we loaded up the girls and walked to the pool.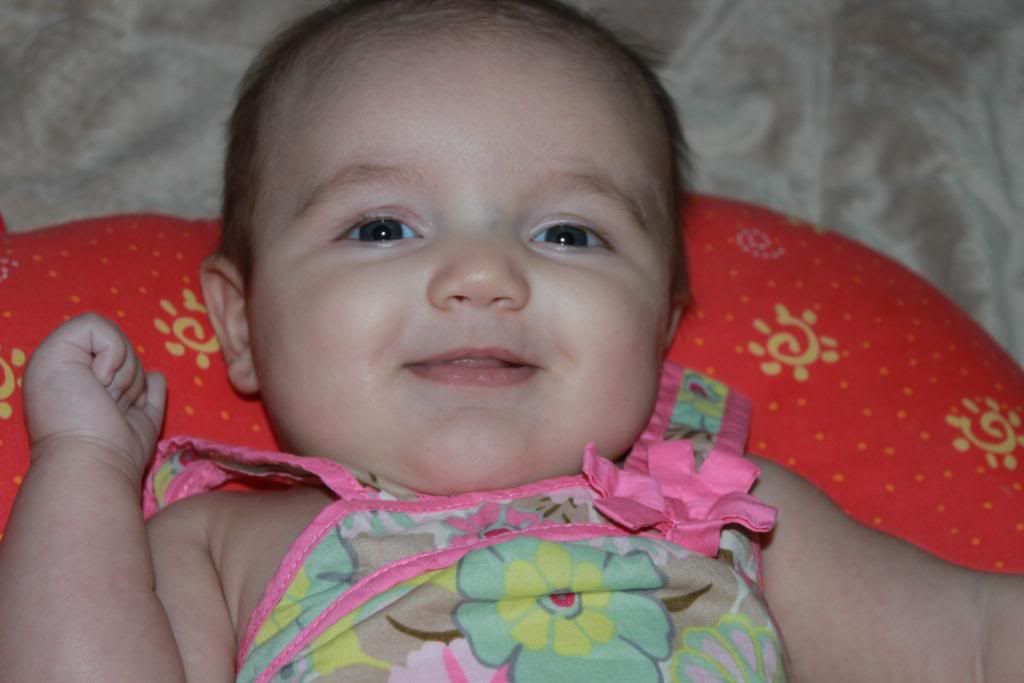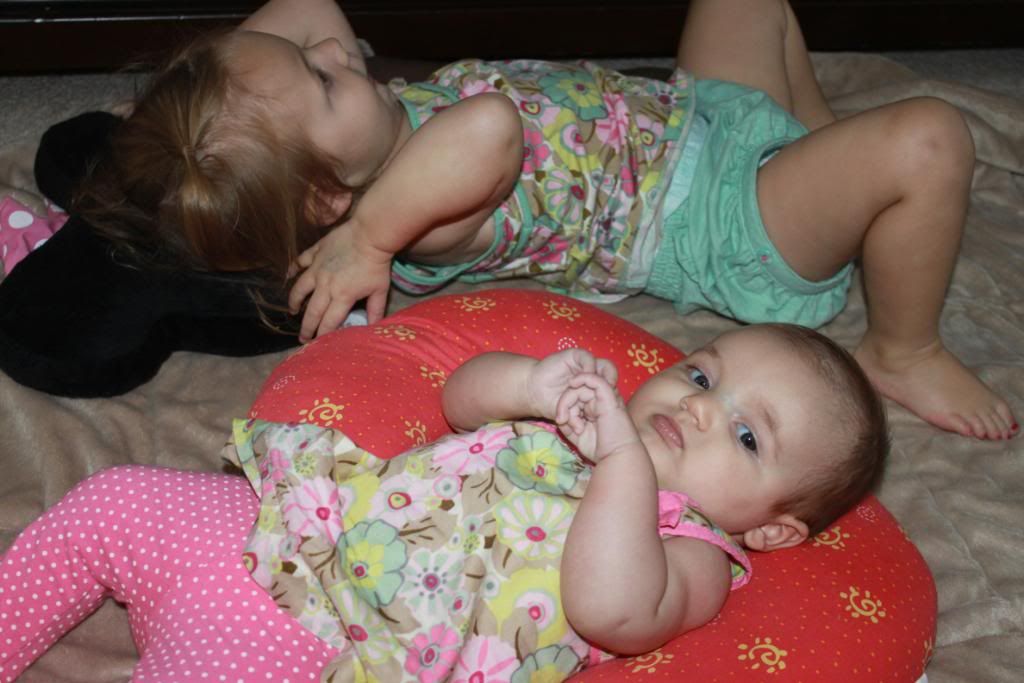 Unfortunately, about 15 minutes later it started thundering, so our pool trip was short lived.
We came home, waited out the rain, and then Jeffrey cooked out hamburgers and we had a nice relaxing night.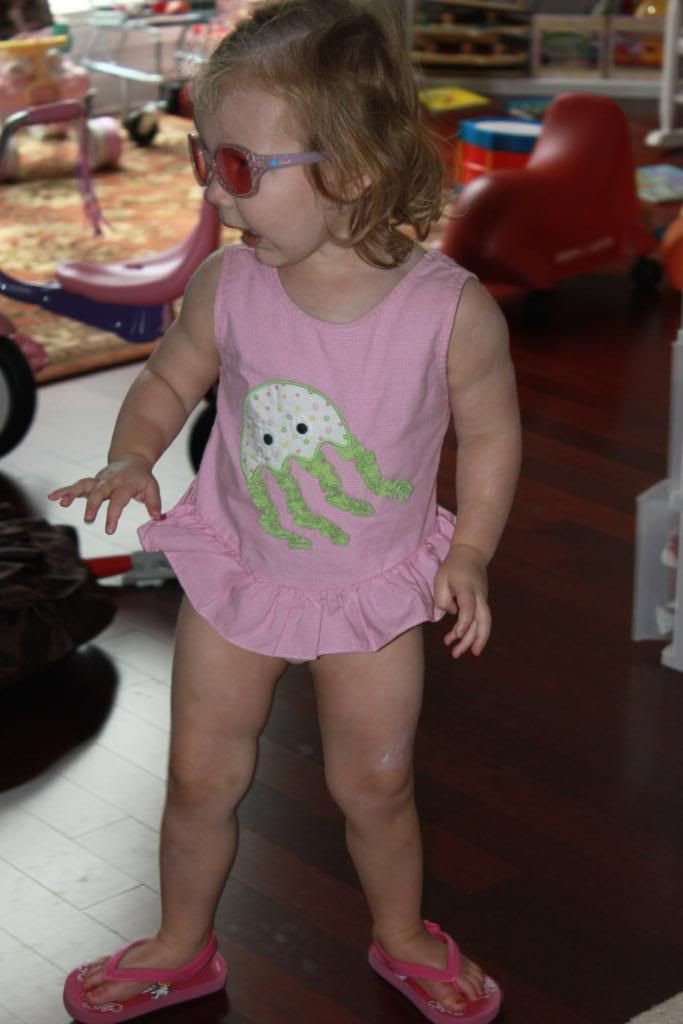 Sunday morning was nothing short of miraculous. Libbi slept until 9:00!! Y'all, that has never ever happened her entire life. Of course, Jeffrey and I both were up, showered, and ready to go to church and both girls were still snoozin' away. Isn't that the way it always happens?!? Usually, we're tag teaming the girls and trying our best to rush through showers, breakfast, and getting ready just so we can get out the door on time. But this morning, we were both ready and just sitting around waiting for the babies to wake up!
We decided to go to late church since there was no way we could make it to early service.
Jeffrey picked us up some breakfast and we had a good time eating together before church. Laney was awesome during the service (and I didn't get paged like last time!) and so was Libbi. Unfortunately, the walk to the car was a different story, but it was pretty much expected. Libbi acts like she's dying a slow death if she can't play on the playground after church. Since she's moved to a new classroom now that she's two, she has a perfect view of the playground, so there's no distracting her from it anymore. She screamed the whole way to the car, "ONE MORE SLIDE!" even though she hadn't even done it once, she still wanted to go "just one more time" haha!
We went home, ate lunch, and attempted naps. And again, Libbi stayed in her room and talked to herself for over two hours. I sure hope this is not becoming a trend. She NEEDS a nap. I NEED for her to take a nap :) When she came downstairs after her "one-woman-show" she and I went to the grocery store. The rest of the evening was pretty uneventful. Just the usual routine of supper, baths, and bedtime.
We don't have too much planned for this upcoming week, but I'm sure we will come up with something. :) It will more than likely involve a couple of trips to a playground (at a restaurant that we may or may not eat at), an attempt to go to the pool, and our weekly trip to the mall. Maybe it will cool off enough for us to actually play outside this week! :)