Presenting....
"The Top Ten Lessons Learned During Christmas 2011"
1. Looks can be deceiving....especially during a "white elephant" gift exchange at MawMaw's house. :)
Exhibit A: Precious MawMaw who is as sweet as they come, tends to laugh the hardest at all the inappropriate gifts, and enjoy partaking in this little "tradition" more than we ever could have imagined evidenced by her gift below and her contagious laugh when her SON received it! :)
Exhibit B: self explanatory (it's amazing what a little modge podge can do!) ;)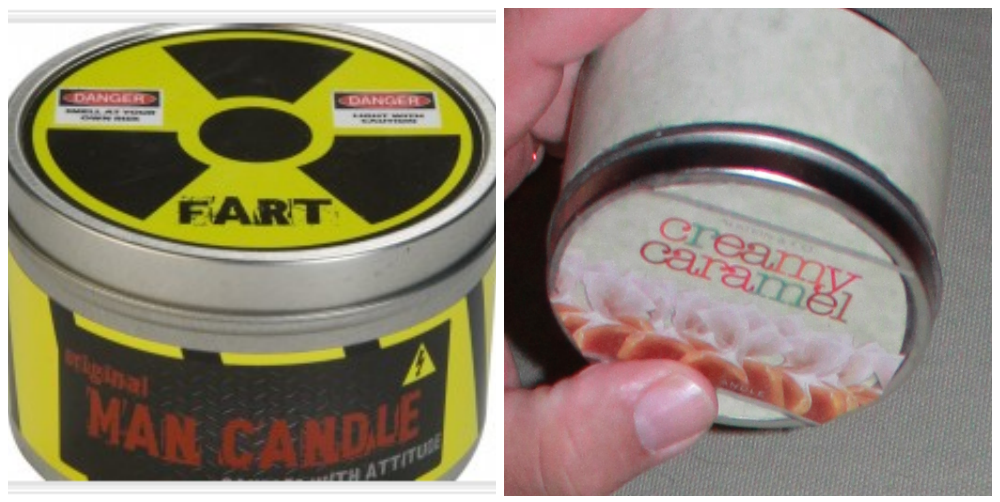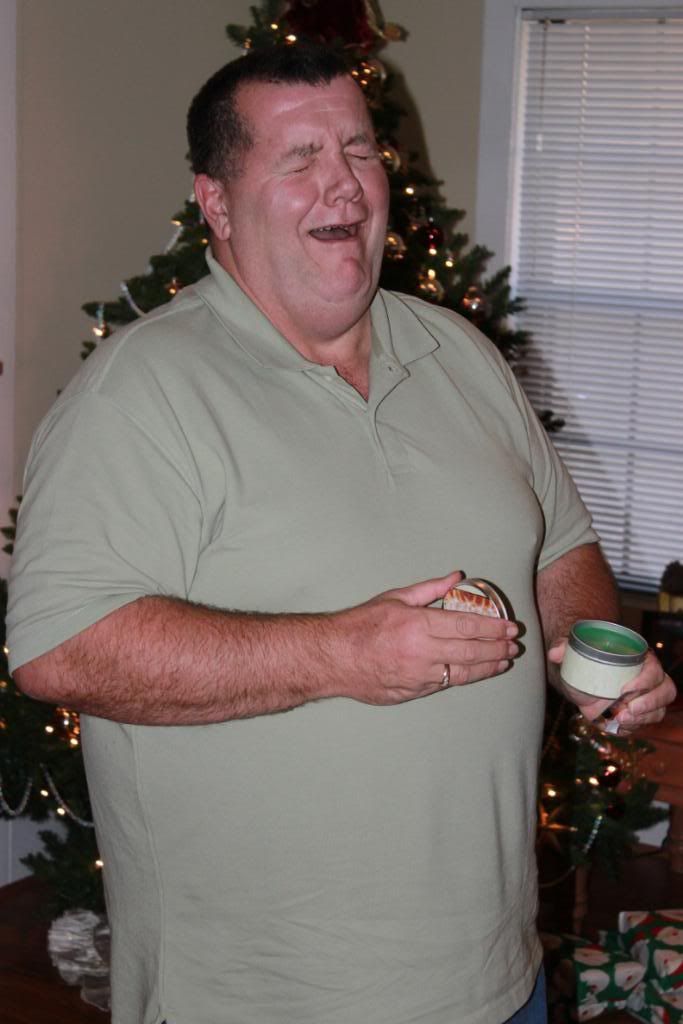 2. There is no such thing as too many Christmas outfits (unless you're asking Jeffrey) ;-) There is such a thing as "not enough time to wear them all." If only it were acceptable to start wearing Christmas themed clothing as soon as the stores start putting out their Christmas decorations. If that were the case, my girls would be decked out come September.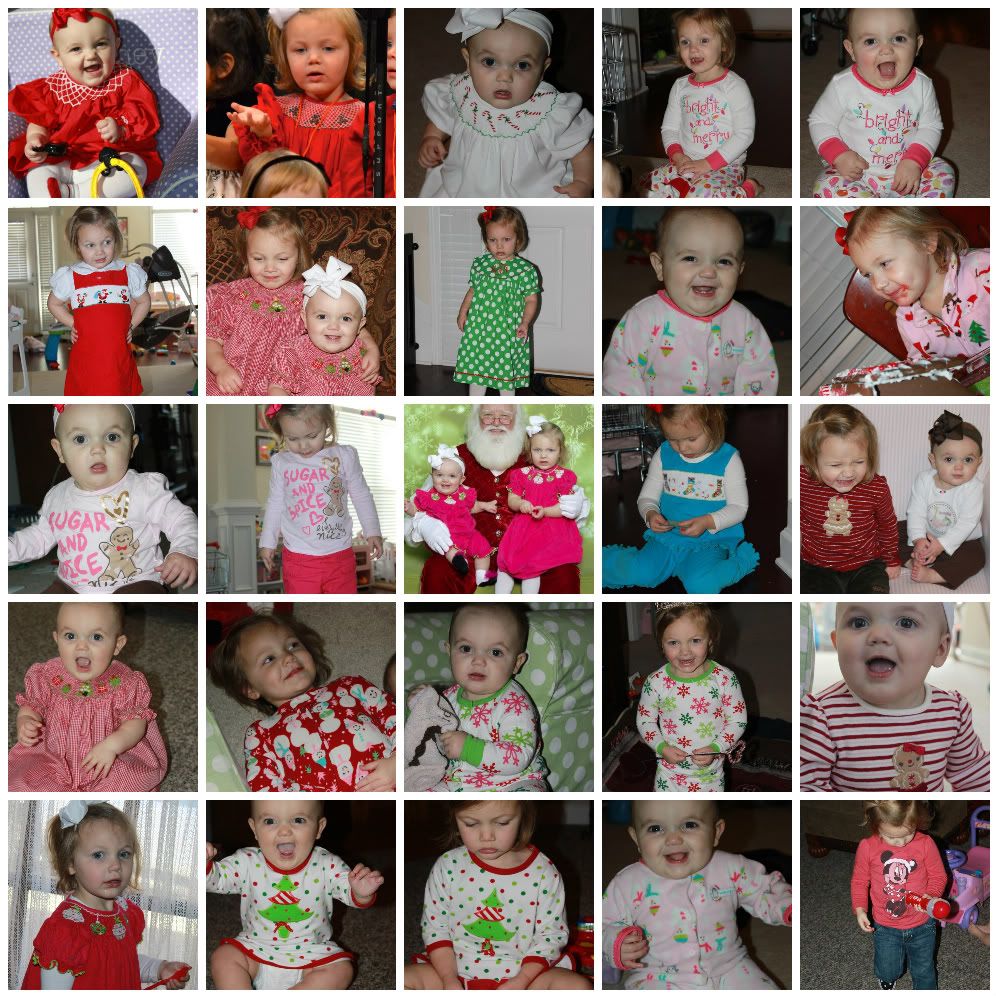 3. No matter how hard I try, I can't predict which gifts will be the "favorites"
Case in point, Libbi has been playing with a doctor kit (cheap-o, last minute, tacky set of "tools" that I bought on a whim) and a a clearance set of bathtub binoculars non-stop. Not the dolls, books, or princess accessories that I had assumed she would be enthralled with. go figure.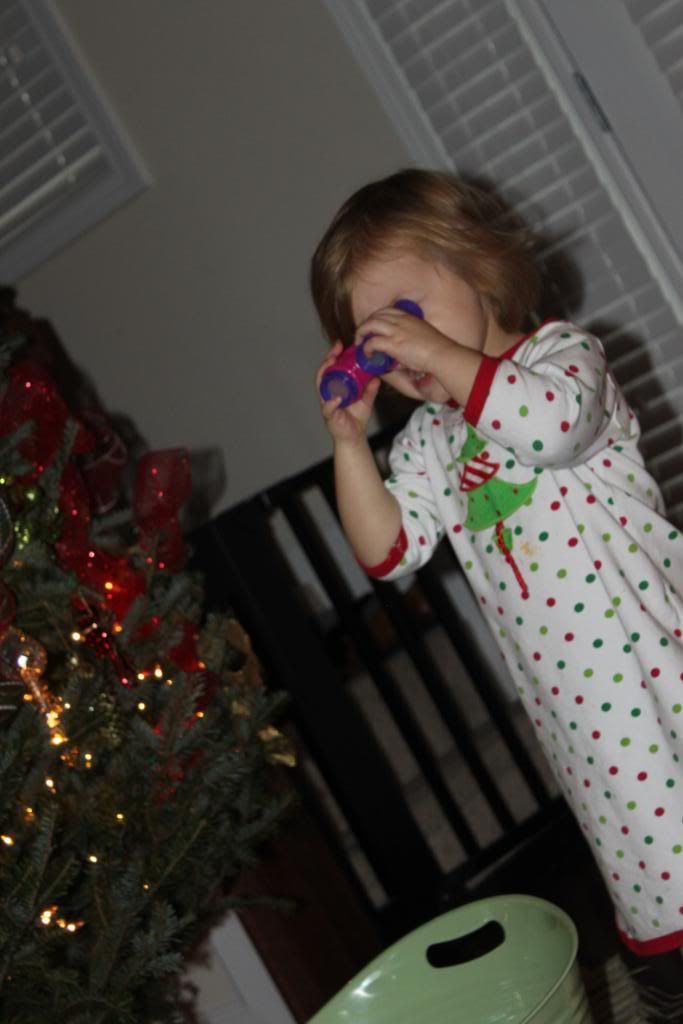 4. No matter how hard Santa tries, he can't win them all. :)
Since Libbi's current favorite movie is The Lion King, Santa brought her a stuffed Simba and a stuffed Pumba. I thought she would be so thrilled to see those two sitting beside each other when she came downstairs for the first time...but it didn't quite work out that way. She rounded the corner, took one look at them and said, "Where's Timon? Why Santa no bring me timon?" sigh.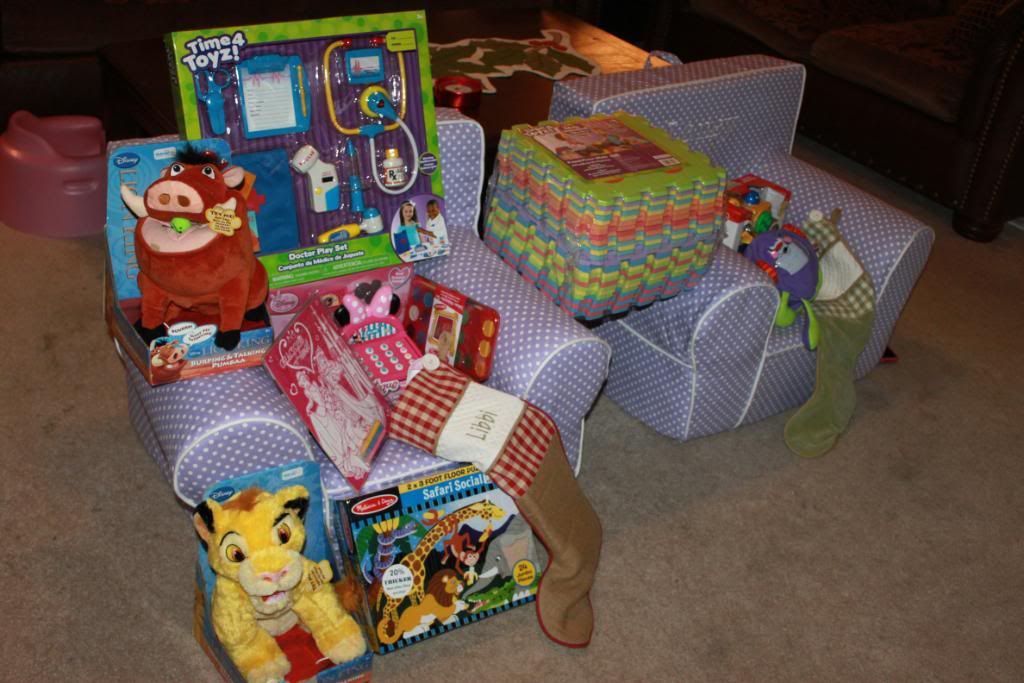 5. Don't put candy in the stockings. Nothing else matters once Libbi sees the candy. And no matter how many ridiculously awesome presents we just lavished upon her, I suddenly become the meanest mom in the world because I won't open a reese's peanut butter christmas tree at the crack of dawn while we're opening gifts. ahem.
6. Christmas will still come even if I don't send out Christmas cards....really, it will!
I just couldn't get it together this year. At least not in time for Christmas. And while I loved getting all of the cards from our friends and family, I still hated not sending out our own. But, Christmas still came and we still celebrated and I don't think anyone crossed us off their Christmas Card List just because we didn't send any out this year....right????
....right?!?! ;-) (ps - we are sending out New Year's cards)
7. We will need to practice our "thankful faces" many times throughout 2012 so as to have them perfected by next Christmas. This year, we were off our game.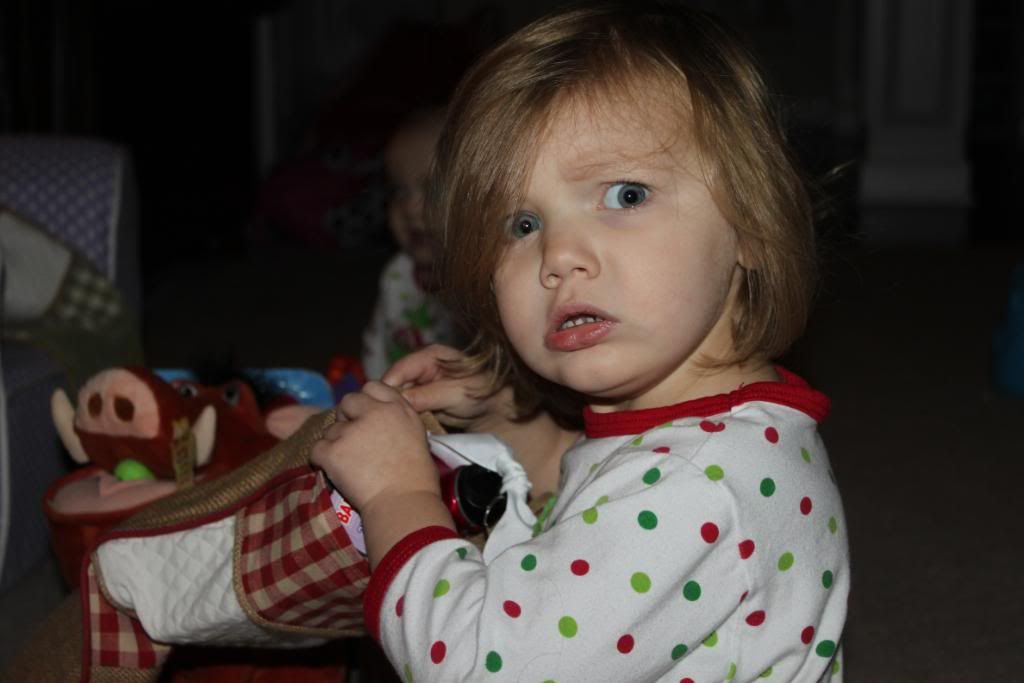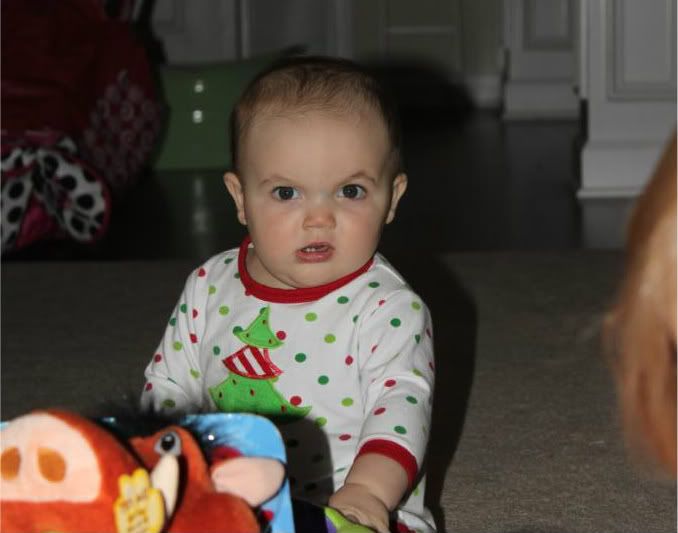 8. There's nothing sweeter than seeing your children pick out gifts for each other and then watching their faces fill with joy when they realize that giving really is better than receiving. :)
Libbi picked out the cutest little toy for Laney. She was SO proud of it and even helped me wrap it. She showed it to Laney no less than 50 times a day and would remind her that she got it for her. She kept saying, "See Lay-Lay....it's a jingle bell" (it was a little toy that has a bell in it). But she felt sure that if she said it in a whisper it wouldn't ruin the surprise for Laney. And Laney was sweet enough to act every bit as surprised as Libbi would have hoped.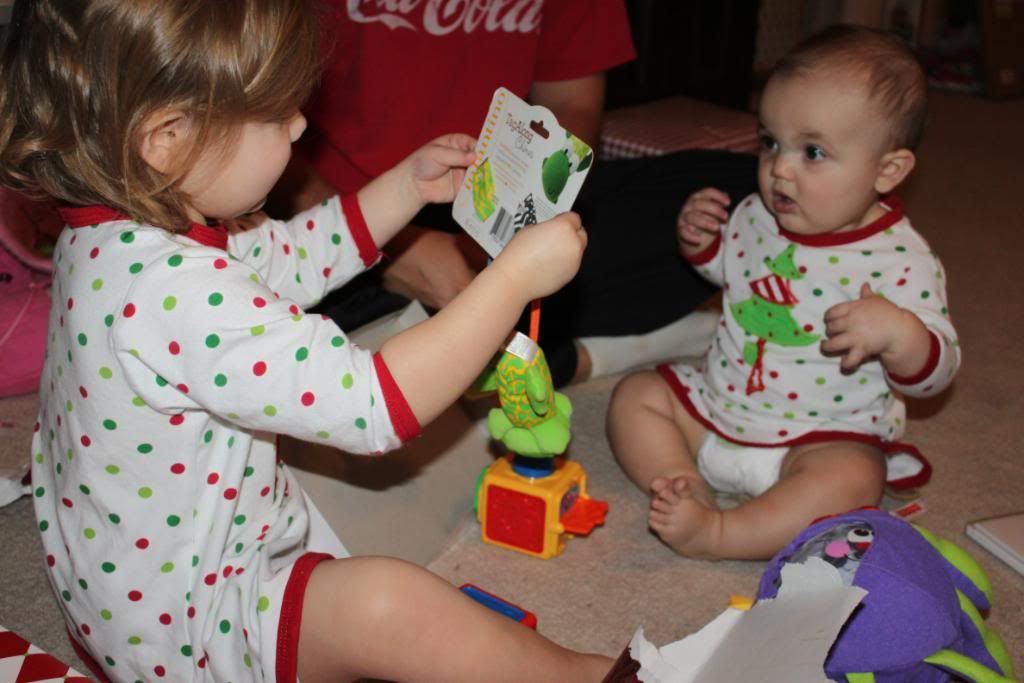 9. No matter what the toy is, it always looks way more fun when someone else is playing it. Especially when that someone else is your sister...
And while we're at it, toys are really not all that necessary. You can garner way more laughs (and exert more energy) just running laps around, over, and in between your baby sister.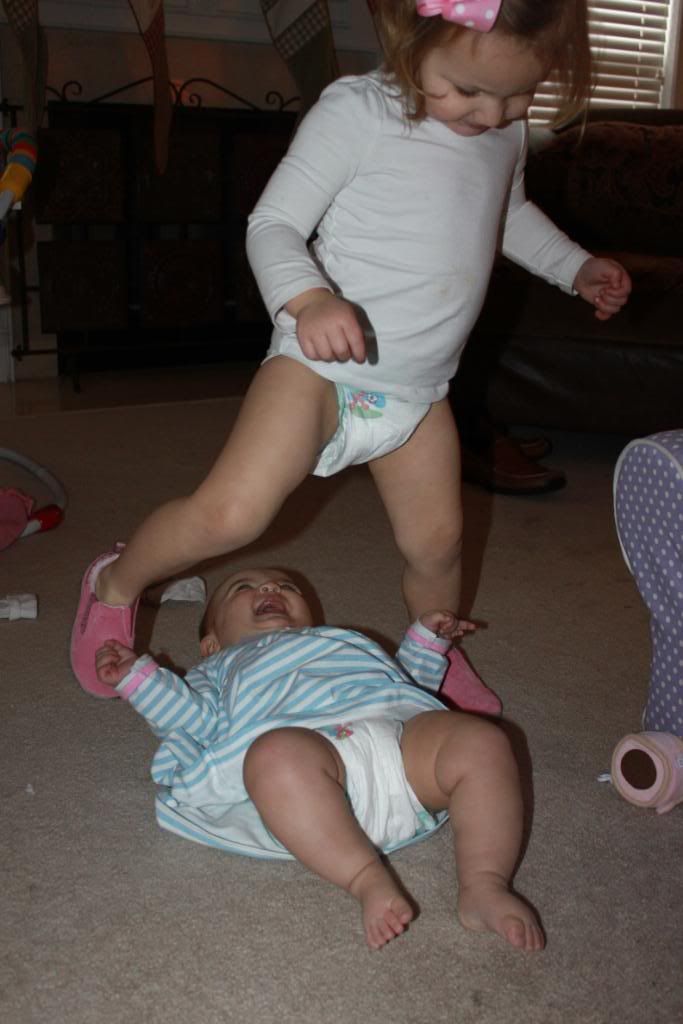 10. It's not all about the packages, bows, fixings, and trimmings. Christmas isn't about baking cookies, checking things off a list, opening presents, or even fancy decorations. It's about celebrating the birth of our Savior. If my girls never remember what their favorite toy was, what they wore to Christmas dinner, or even if they helped bake cookies; I'm okay with that. As long as they know that we celebrate the birth of a risen Savior at Christmas time (and all year through!) then they will have grasped the most important lesson! I pray that we won't get so caught up in traditions that we forget about the true meaning of CHRISTmas! Don't get me wrong, we love our Christmas traditions and definitely plan on making more, but when it comes down to it, sometimes less really is more. I'm not positive, but I'm pretty sure Mary didn't dress Jesus in a smocked coming home outfit, the wise men didn't bring him gag gifts, and the shepherds surely didn't bake him homemade sugar cookies. ;-)
I hope y'all had a Merry Christmas!! Enjoy the last day of 2011 :)