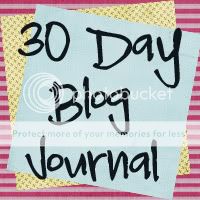 Day 26: Your Week In Great Detail...
Sunday
- we had big plans of visiting a new church, but the dreaded stomach bug struck again. so we spent our sunday morning washing sheets, mattress covers, and bumpers....sigh. jeffrey had his fantasy football draft sunday afternoon, so libbi and i just hung around the house and did a few loads of laundry. she wasn't feeling too hot, so we just took it easy and went to bed early. besides our morning, sunday was a very uneventful day -thank goodness!
Monday
- libbi woke up early and was still fighting a virus of some sort. she was pretty puny monday morning, so we just laid around and did a whole lotta nothin.' when she went down for her nap at 12, i cleaned the bathrooms and did some laundry. she was feeling better when she woke up, so i made her a snack and we played some. we didn't leave the house all day :) we had dinner plans that ended up not working out, so jeffrey picked up chick-fil-a on his way home. (boo-hoo) when jeffrey got home, he was not feeling well at all and was running a fever (we were afraid he was catching the "bug" that libbi had), so he went to bed early and i stayed up and read blogs and played on the computer. libbi woke up around 11pm and was crying the kind of "you-need-to-come-get-me-right-now" kind of cry. i went up to check on her and she needed to be changed. enough said.
after that, she decided that she was good and awake. i felt bad for jeffrey, because i knew he felt awful and i was worried that she was keeping him up even more, so i took her downstairs. apparently this was her cue to begin playing. i laid on the couch while she played and played and played. around 2am, i had finally had enough so i took her back upstairs and put her to bed. after MUCH crying she finally went back to sleep only to wake up again around 6....and still not feeling 100%.
Tuesday
- we were supposed to be playing with a friend today, but since libbi was still yucky, i had reschedule. i was totally exhausted from our long night/early morning, but it did not seem to effect her at all....isn't that way it always works? ;0)
we ran to target to pick up some diapers. (they were offering a $10 target giftcard if you bought two packs of pampers). we dropped off the dry cleaning then headed home for lunch and naptime. libbi took a really good nap and i deep cleaned the kitchen, finished cleaning the bathrooms, and swept and cleaned the hardwoods. when she woke up, she seemed to feel so much better! i had to run to publix to pick up something i had forgotten at the store (i am the queen of forgetting things...even though i always have a list!) before we left for publix, i ran upstairs to get my shoes and put the bathmat that i had washed back in the upstairs bathroom. i was seriously upstairs for all of two minutes. when i walked out of the bathroom i practically ran into libbi. she struts into the room like it's the most normal thing in the world, and i almost passed out. i may have even screamed. and possibly cried just a little, too. it scared the living daylights out of me. i still have NO idea how she opened the babygate at the bottom of the stairs (it's the kind that has a locking "gate") and for all i know, she may have even climbed over it....i have no idea. i shudder to think what could have happened while she was climbing the stairs. thank you Lord for protecting her! needless to say, i won't run upstairs for something anymore and i definitely won't trust a babygate.
when we got back from publix, i made supper and then libbi and i ate together while jeffrey sat and talked with us. he had a tennis match and planned on eating when he got home later. libbi went to bed early and i did, too.
Wednesday
- i posted about our day here.
Thursday
(today) - libbi woke up about 1:45am and i went in to check on her. as soon as i walked in her room, i knew why she was crying. unfortunately, we were out of diapers in her room and i had yet to bring any of the boxes upstairs yet. so i had to take her downstairs to get a diaper and change her (of course turning on lights in the process) and by the time she was changed she was definitely not ready for bed. i took her to our room and she laid with us and watched tv until she fell asleep. i carried her back to her room and then we both went back to sleep. she woke up around 8am - woohoo!
we ate breakfast and then went to go buy a paper so i could get the publix penny coupon for today. when we got home, i got ready while she destroyed the bathroom. we went to hobby lobby to buy a piece of replacement glass for a frame that had broken. we stopped in a local consignment store to see if they had anything worth buying, but we left empty handed. when we got home, libbi was being super picky about what she wanted for lunch. after trying many different things, she finally decided that she would eat a nutri-grain bar and some yogurt. after lunch, we played for a little while and then i put her down for her nap. i was really tired today and was totally unproductive during her nap. i took a small nap, blogged, and then unloaded the dishwasher. when she woke up, we went to publix to do our grocery shopping for the week. i was so embarrassed, because libbi screamed the entire time. granted, they were happy screams, but she was essentially squealing at the top of her lungs up and down the aisles and people were staring. i wanted to explain to everyone that she was not upset or pitching a fit, she was just playing. instead i just smiled. we came home, unloaded everything (my least favorite part!) and i made libbi's supper. jeffrey came home and we ate together while libbi played and showed off some more squealing. jeffrey cleaned up while i gave libbi a bath and put on her jammies. we played for a little while and then i put her to bed. she was in the BEST mood tonight and was all about jeffrey chasing her. :)
i'm going to wrap up my post with thursday even though i didn't post about a full week. i can't imagine this is very interesting to anyone, so i figure i'm safe with cutting it short. tomorrow's topic is: "My Worst Habit"
have a great night! :)