Libbi has been so full of personality lately and is doing so many new things. She definitely keeps us laughing all the time. Most of these things are only funny to Jeffrey and me, but I wanted to share a few nonetheless for memories sake....
She thinks that she can jump. It's hilarious. Her "approach" is huge, but bless her heart, her feet never leave the ground. I think it's safe to say, she get's her jumping skills from me. :)
She makes a mad face. We tell her to, "get mad" and she makes this face like, "are you serious? I am so over this." I swear she looks 16 and I can just hear her saying, "Whatever" while I'm telling her "Don't you roll your eyes at me young lady!" It's funny now, but also kind of scary :)
She's recently rediscovered her swing. It's been in storage (aka the corner of the foyer) for a month or so. We had it out in case we wanted to use it when cousin Blakeley came over. Libbi would push it every now and then and even put her baby in it every so often, but for the most part it went unnoticed. Until this weekend. She's suddenly decided that it's her personal La-Z-Boy. Now, I don't have the instruction manual handy, but I'm pretty sure there's a weight limit on this swing, and I'd be willing to bet she surpasses said weight limit! I tried moving the swing into the corner facing the stair case and even locking the latch on the seat, but she can't be deterred. She squeezes herself into the corner and somehow manages to climb over the latch into the swing. The funny thing is, I've never seen her climb into it. It takes about 2 seconds and as soon as I round the corner, I just see her chillin' in the swing and looking at me like, "what????"
Needless to say, the swing now has a home upstairs where little climbing bodies can't relax in it anymore.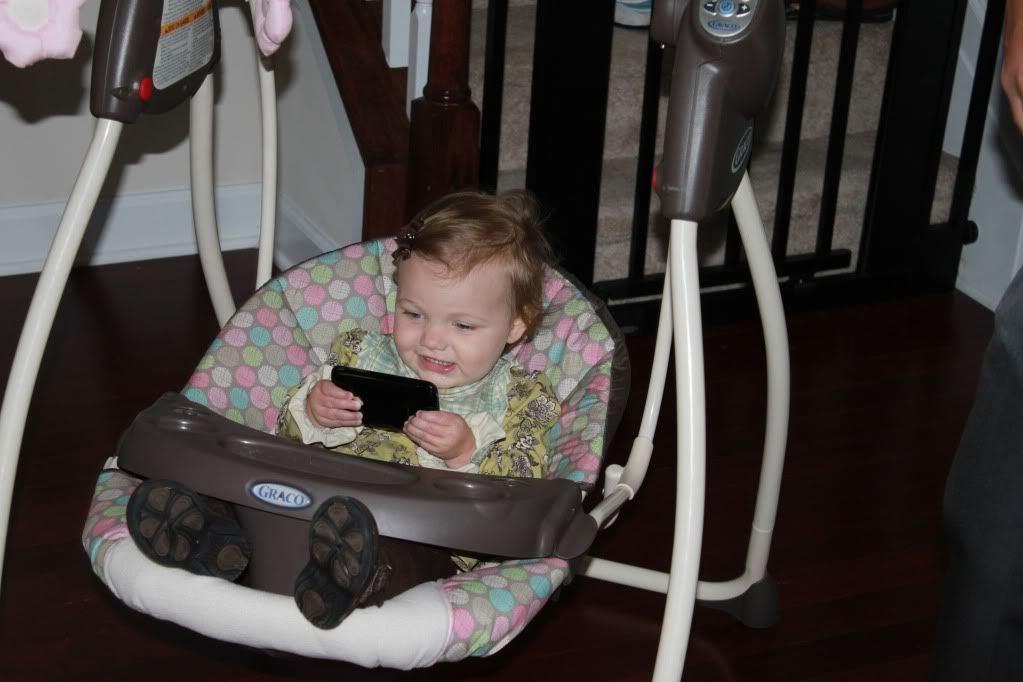 watching a youtube video on daddy's iphone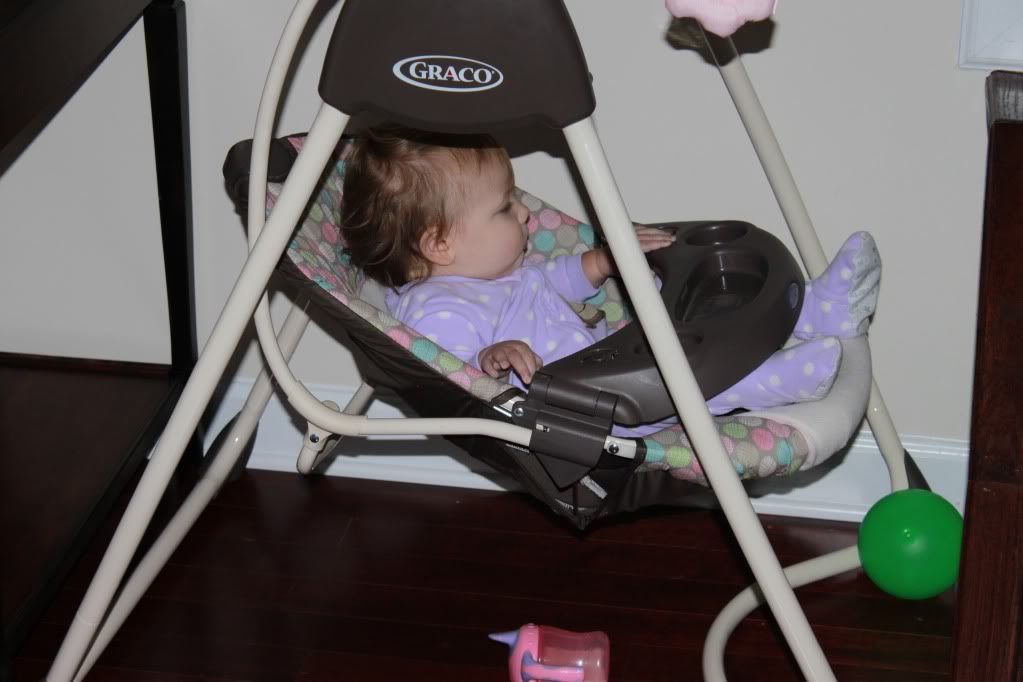 relaxing after breakfast
looks pretty comfortable...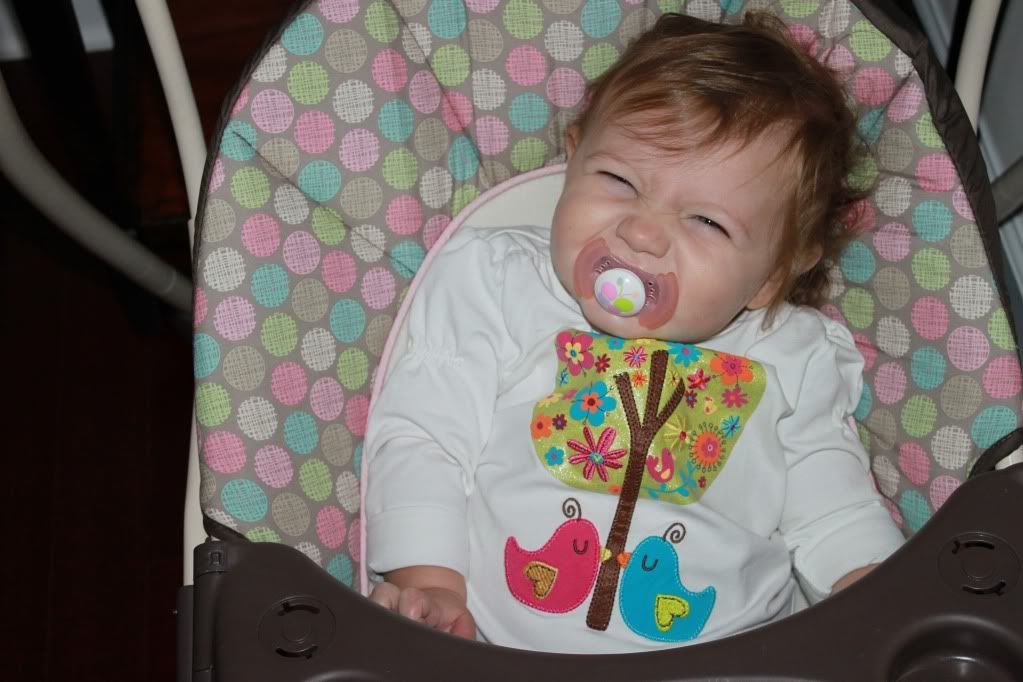 she was pretty proud of herself :)
Libbi knows where all of her facial features are (and ours, too!) She loves to point out her belly button, "but-n" as she calls it. Unfortunately, she likes to point out ours, too. Now, Jeffrey has no problem whatsoever letting her lift his shirt and point out his belly button, but I am not quite so fond of it. Especially when she feels the need to do it in public.....
Finally, this morning after she was finished eating breakfast (or so I thought) we went into the den to play for a little while. I heard her walk back into the dining room, but I just thought she was getting her paci that she left in there. The next thing I know, she walks back into the den all sneaky like holding her breakfast plate that she had somehow retrieved off the dining room table (I have NO idea how she got it). She proceeds to finish her breakfast like it's the most normal thing in the world.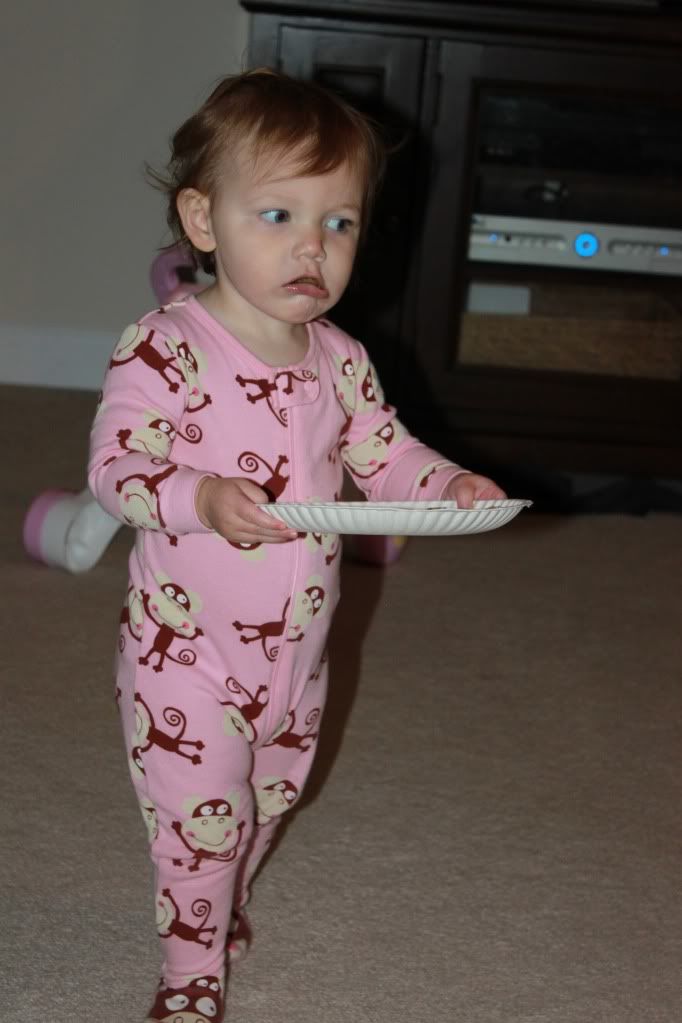 what....haven't you ever seen a girl eating a waffle before???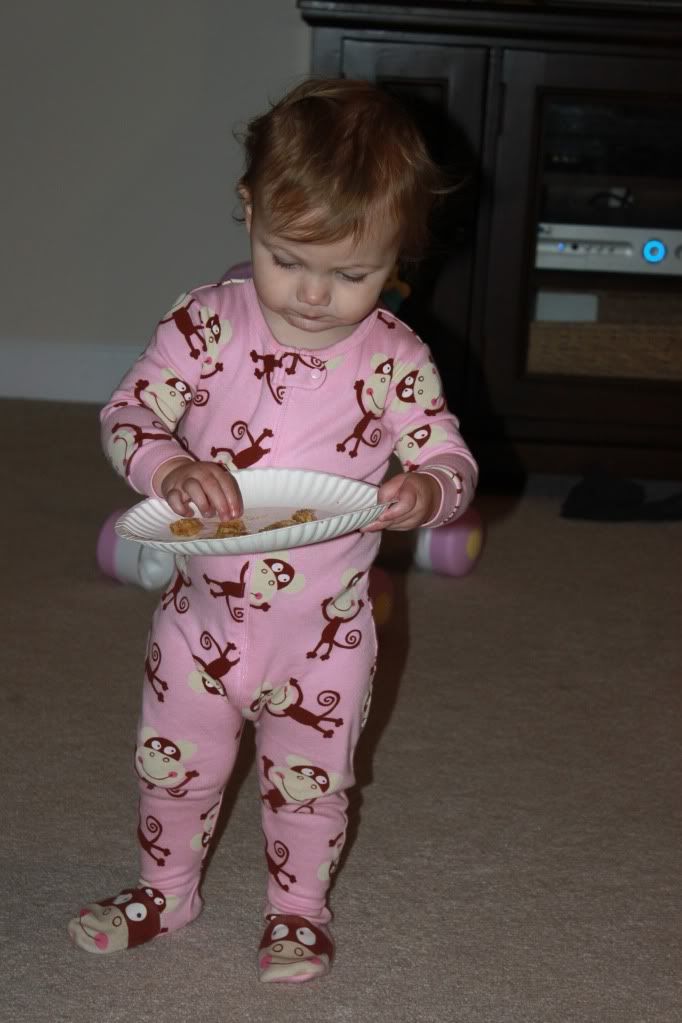 Such a little stinker! :)