Jeffrey took the day off work yesterday and we went to go see Santa and to ride "The Pink Pig." I'd been prepping Libbi for weeks about her visit with Santa. I had a major fear that she would view Santa much like she views dogs.....she loves looking at pictures of dogs, seeing dogs on TV, reading books about dogs, even stuffed animal dogs, but give her a real, live, breathing canine and she totally flips out.
So, to prepare, we have been plopping her in the laps of random jolly old men for the past month......KIDDING!!! :) We've just been talking a lot about Santa and looking at pictures and even playing with a few Santa figurines. She was dressed up all cute in her Christmas dress and sweet little bow....and then we made the mistake of giving her a few hashbrowns from chick-fil-a on the ride out to the mall. Let's just say, when I opened the car door to get her out, it looked like she was sweating....but it was just a nice layer of hashbrown in her hair - ugh :( ....She still looked precious, but her hair was not quite as "voluminous" as it was when we left the house....
When it came time for the big moment.....she froze. Don't get me wrong, being a frozen statue was totally better than tears and freak outs, but I still felt bad for her. I don't even think she breathed or blinked the entire time she was on Santa's lap. We took about 50 pictures and the little elf photographer took another 50 and each one looked exactly the same: blank stare, parted lips, hands frozen. When we went to look at the "proofs" of the professional pictures, we basically picked out the one that Santa looked best in, because Libbi looked exactly the same in all of them! :)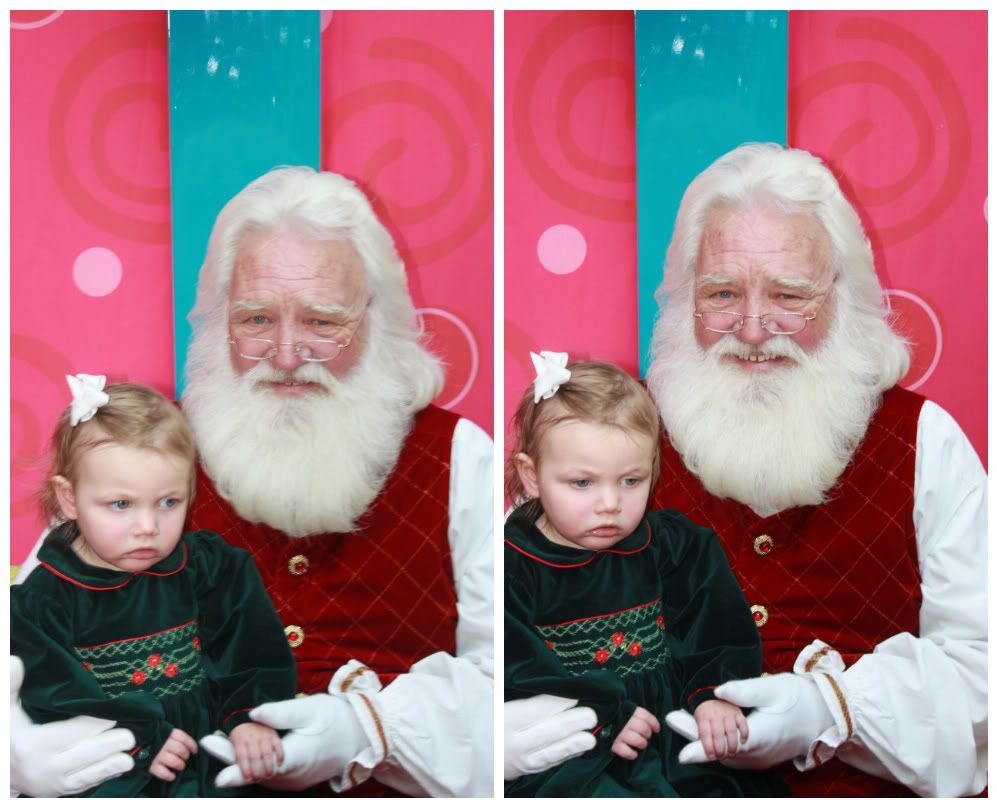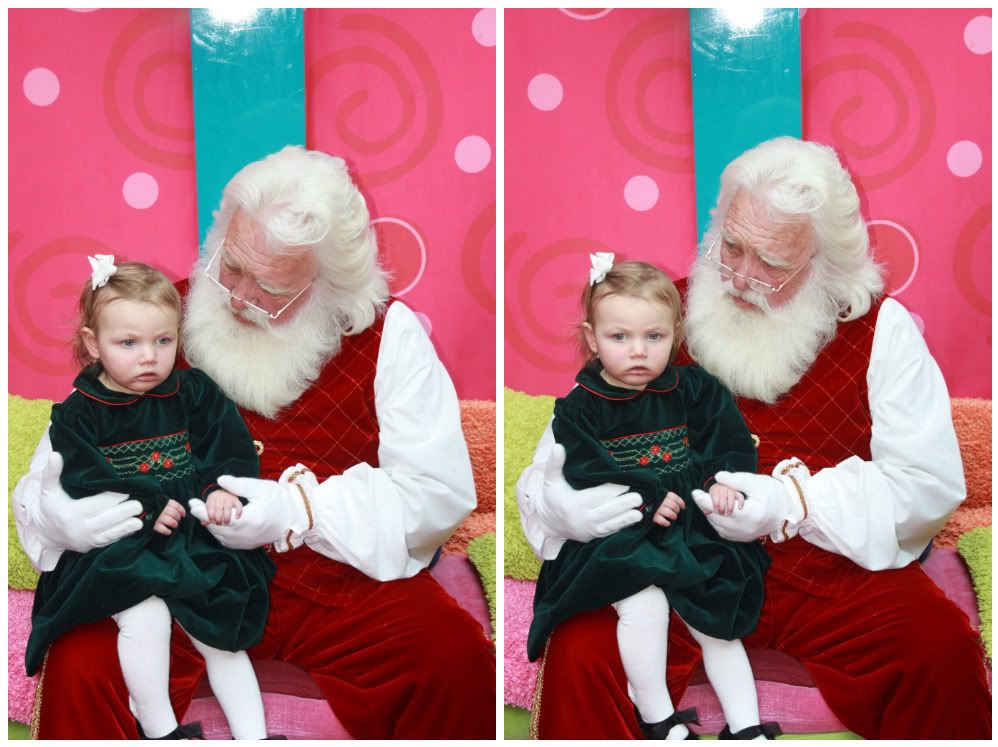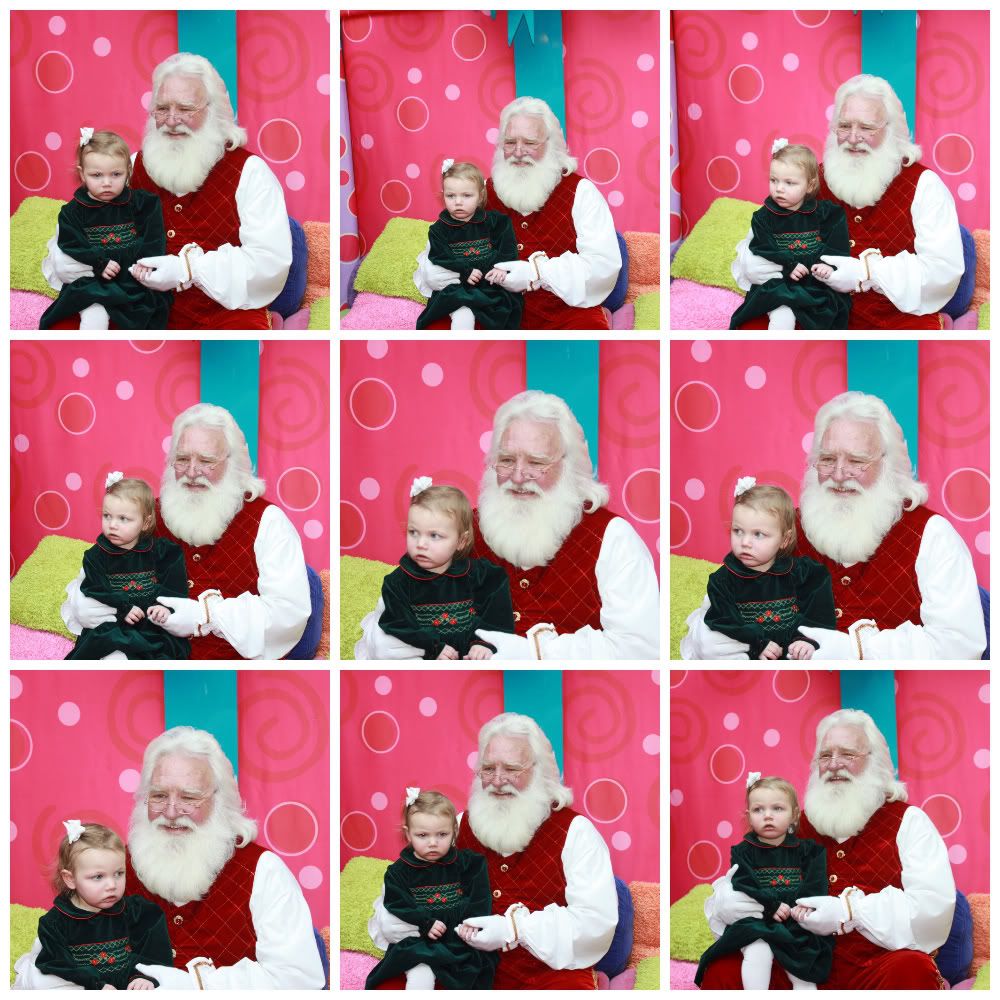 ....She did, however, accept the candy cane he offered her as she left and even managed a little wave, so I guess she somewhat recovered from her initial shock....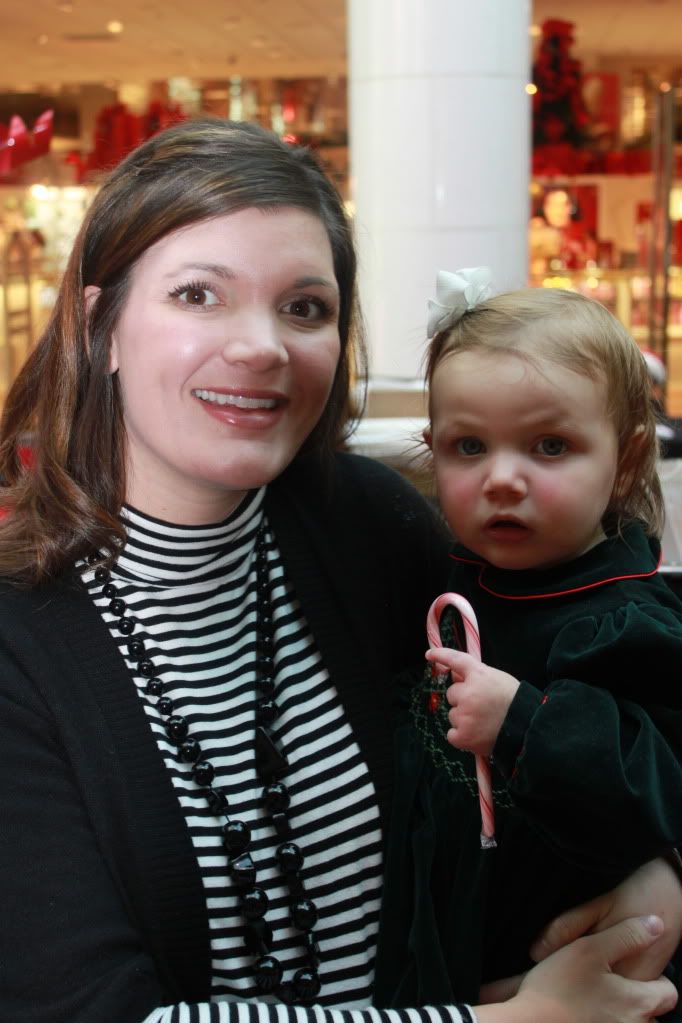 Next, we made our way upstairs to see Priscilla in all her glory. I snapped a quick picture as she was walking out of Macy's, saving us from PAYING to have our picture made with her.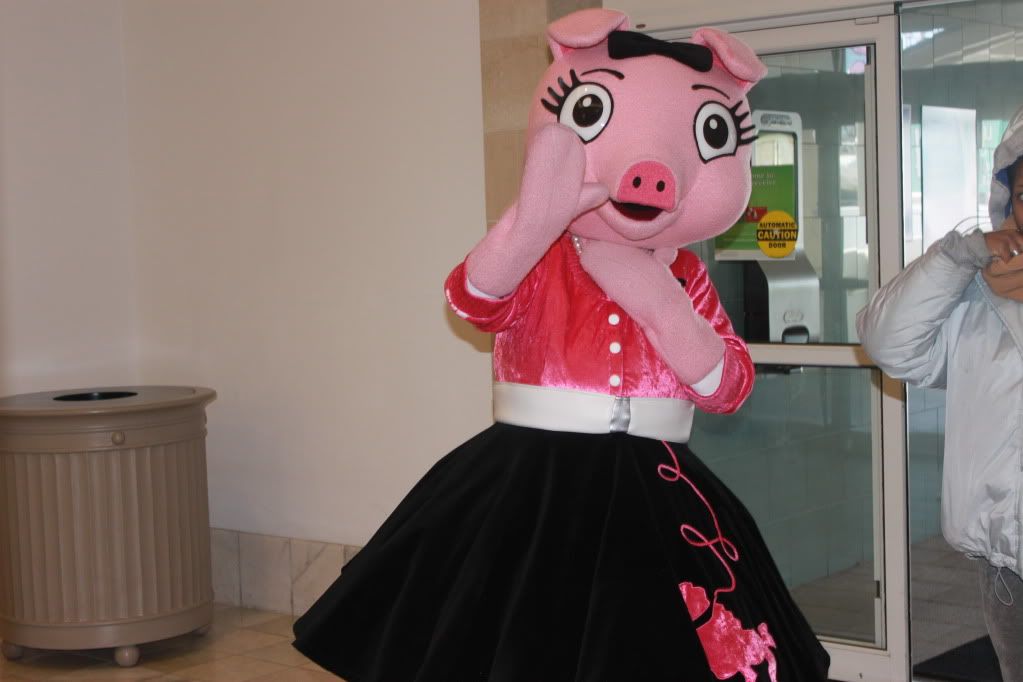 After waiting in an excruciatingly long line for hours on end (okay, really just about 15 minutes, but with a busy 18-month-old who doesn't understand that we have to wait for our turn, it seemed like we stood in line for days!) Jeffrey and Libbi finally loaded up on the pink pig and once again, our girl froze.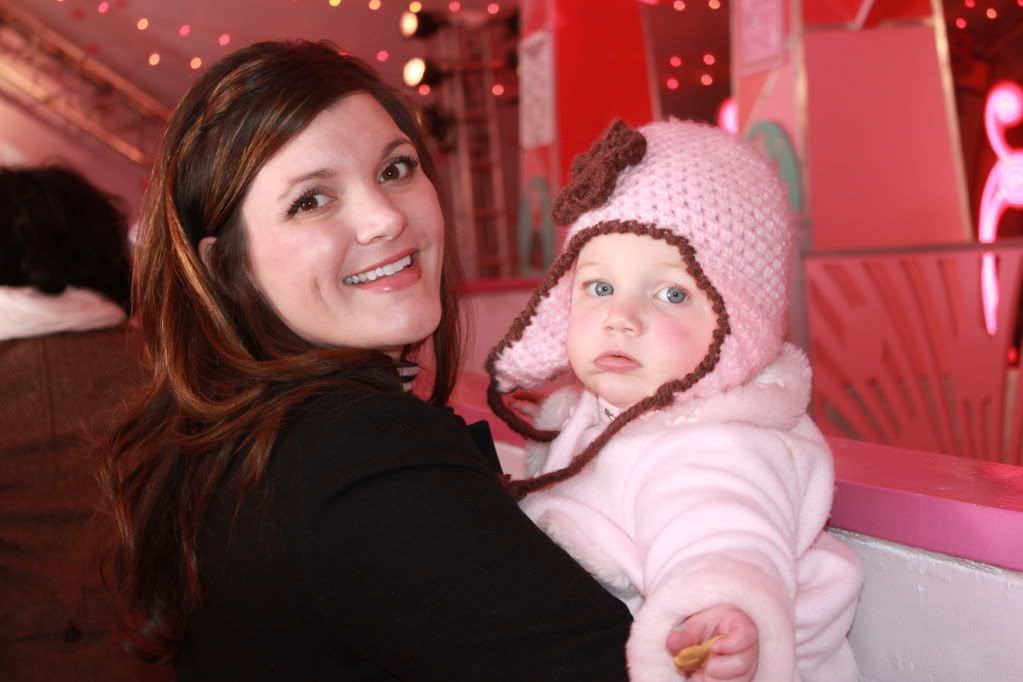 She stared straight ahead for the entire ride (thankfully Jeffrey was along for the ride to check her vitals every now and then) ;)
At one point they went into a maze of mirrors and Jeffrey said that he tried so hard to get her to look at herself in the mirrors, but she wouldn't budge. He even tried to turn her head for her so she could see, but she firmly resisted. - ha!
see that hand in mid-air??? it stayed there for the entire ride :)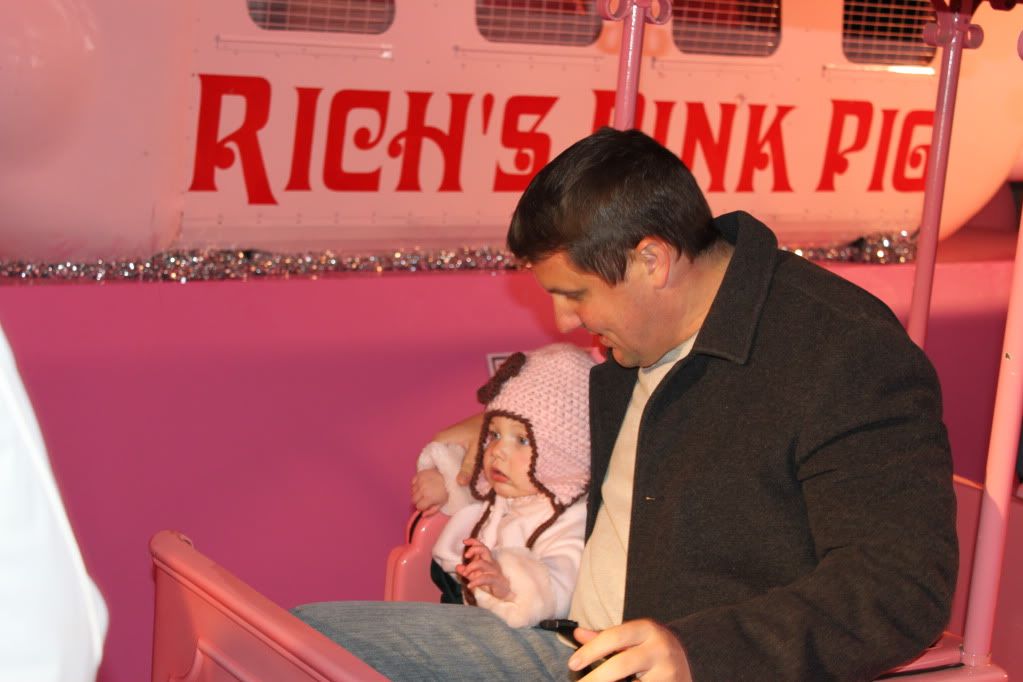 She did go completely boneless once the ride was over and Jeffrey had to get her out of the seat, so I guess that was our clue that she did, in fact, enjoy it??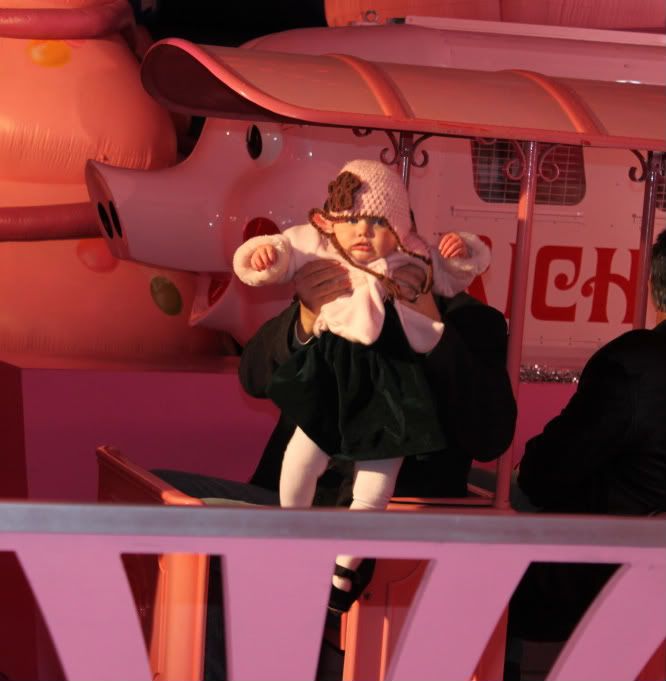 To sum it up, Libbi either had a fantastic day visiting Santa and riding The Pink Pig, or....she was severely traumatized. :)
Either way, it was a memorable experience for all of us!