Our weekend was pretty boring, but still exhausting. Being pregnant and having an extremely active toddler at the same time is really hard work! ;)
Friday
- I tried to put up the majority of our Christmas decorations, but was only semi-succesful. I was disappointed that I didn't meet my goal of having our house decorated by Thanksgiving, but there's always next year. :)
I did my best to make good use of the 1.5 - 2 hrs that my "assistant" was down for the count, but naptime seemed to fly by for some reason.....
I had to do some reorganizing and alternative placements with most of our decorations on the "off-chance" (ha!) that little hands would be pulling, tugging, and possibly tasting everything within reach. I was pretty satisfied with the end result, but still have some tweaking to do. Traffic was terrible for Jeffrey Friday evening, so when he got home from work, Libbi and I had both already eaten supper. We sat with him while he ate and then we all went to bed early.
Saturday
- Jeffrey had to leave to go out of town, so we took him to pick up his rental car. We came back home and tried to take a family picture, but it didn't quite work out as planned. All I wanted was a (semi) decent picture of our family. Unfortunately, it wan't meant to be. I cried. Libbi cried. I'm sure Jeffrey wanted to cry. We bribed her with Cheetos, Elmo, cookies, anything we could think of....and she still wanted nothing to do with having her picture made. Poor Jeffrey got a glimpse of what his future will look like with two hormonal women living in the same house (possibly three!) I wouldn't be surprised if he was a little bit thankful to be going out of town at this point - ha! :)
After lunch, Jeffrey packed up and left town :( Libbi and I took a nap and then met my mom and dad at Cracker Barrel and then they came back and stayed the night with us so we wouldn't have to be alone.
Sunday
- We got ready for church and were so happy to have my mom and dad (Mimzy and Buddy) come with us! When I went to go pick up Libbi from the nursery, I noticed that there was a note beside her name on the sign-out chart. It read, "
PLEASE MOVE TO OLDER ROOM IMMEDIATELY!
" (and yes, it was in all caps, underlined, and with an exclamation point). I asked her teacher if she needed to move next week (because it was my understanding that she still had another 4 - 6 weeks left in her classroom before she was "promoted"). She replied, (and this is a direct quote) "Oh yes, she is
WAY
too rambunctious for this class!" I liked to have died right then and there. I was mortified. Of course I apologized profusely and felt terrible that I likely had the "bad kid" in sunday school. Her teacher assured me that she was fine, just a lot more "active" than the other children in her class so they felt like she would fit in better with the older toddlers. Yikes. Of course when she said "older toddlers" I'm picturing my tiny baby in a room full of four-and five-year-old's....but let's be honest, even then, I'm sure she could hold her own. That little rambunctious stinker.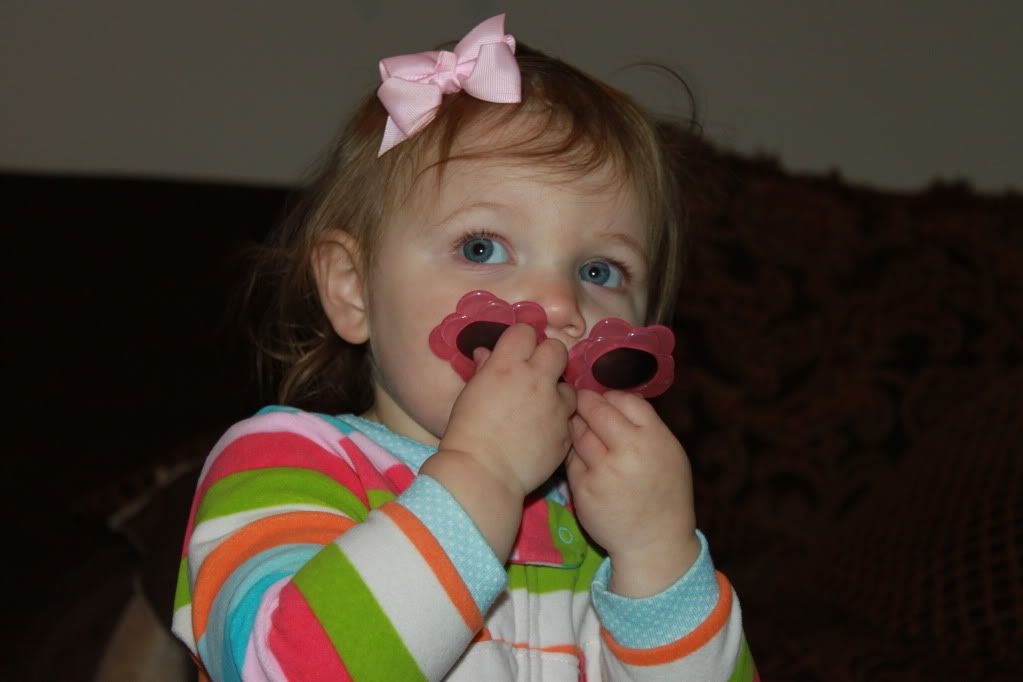 After we left church, we met Justin and Mandie and cousin Blakeley for brunch to celebrate Mimzy's birthday. The food was delicious, but Libbi definitely lived up to her rambunctious reputation. I was stressed and sweating and I thought we were going to have to go sit in the car, because Libbi would definitely NOT stay seated in her highchair and she was letting the entire restaurant know how she felt about the whole situation.
When we got home, we spent the rest of the day just playing, napping, and playing some more. Mimzy and Buddy got Libbi the "Little People Nativity Scene" and she has been really into playing with it. I feel like all day I've been saying things like, "Don't eat Baby Jesus", "Baby Jesus is under the couch", "That's so sweet to give Baby Jesus sugars", "Baby Jesus doesn't want your paci" and/or "Thank you for sharing goldfish with Baby Jesus." Definitely things I didn't imagine saying before having Libbi :)
Our weekend went by so fast (especially since Jeffrey was only here for 1/2 of it) :(
but we're excited about our busy week ahead! Hope y'all had a wonderful weekend!
**I'll post the pregnancy update tomorrow** :)