**Disclaimer: I know this may be a little TMI, but I want to document all of Libbi's "firsts" for memories sake, and since the blog is our "scrapbook" I just had to write about it on here!
Plus, I am one proud momma that has to brag on my girl!**
Guess who "tee-tee'd" in the big girl potty today?!?!?
For the record we are not potty training...not really, anyway.
Libbi HATES and I mean
HATES
having her diaper changed. It always results in tears (sometimes from both of us), temper tantrums, and just all around distress from all parties involved. It does not matter what's "in" her diaper....she does NOT want to have it changed. I know they say that when your child can tell you if she is wet or dirty it is a sign that she is ready to begin potty training. Libbi, not so much. She actually does the opposite. She will say "no tee-tee" even though she's wet - but I really think she does it just because she knows that if she says she's wet she'll have to be changed....
She also despises wearing diapers. I swear this child would walk around "ne-kid" as a jaybird all day long. She loves to be au naturel. Of course since she's
not
potty trained, we have to fight to put a diaper on her (and pants or bloomers - since she will rip off her diaper in .2 seconds) because otherwise she will do her business all around the house.
Since I am 8 months pregnant, a kicking and screaming match every time I have to change a diaper is not really high on my list of favorite things at the moment. I figured why not just buy a potty and see what happens. Maybe she hates having her diaper changed so much that it will encourage her to use the potty???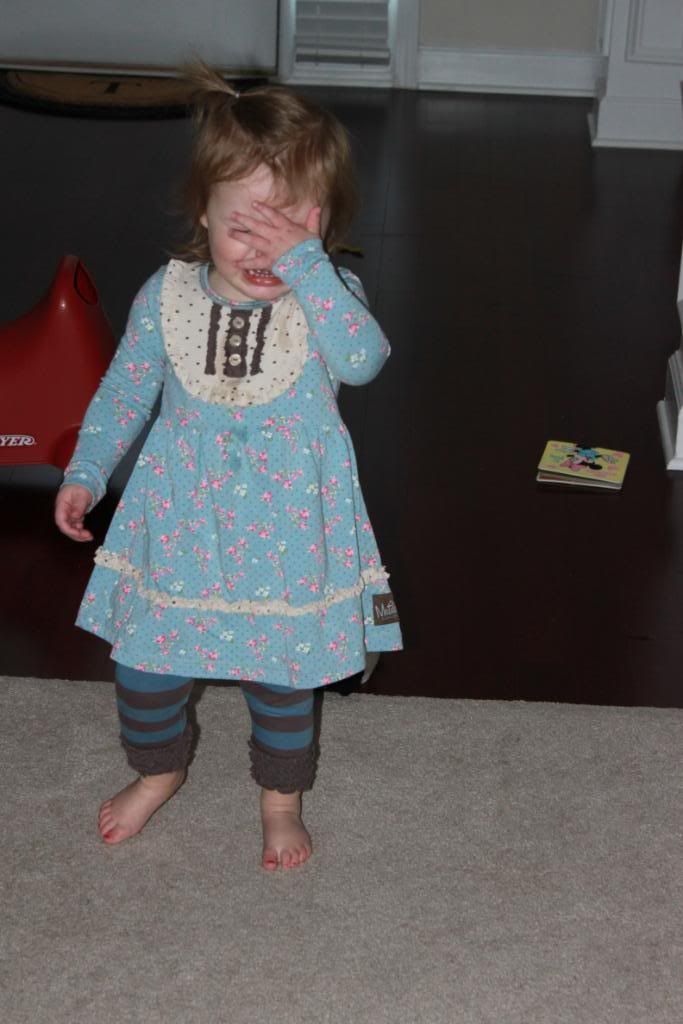 We bought a potty last week and I have just let her sit on it whenever she wants or whenever she says she needs to. She was practically obsessed, but mostly just because she liked being without clothes. I don't think she really even cared about the potty aspect of it - she was just happy not to be restricted by clothing. The potty is in our half bathroom off the kitchen and every time she walks by it she says she needs to "tee-tee" and I usually oblige and let her go in and sit on the potty. Typically it results in me chasing her around the kitchen threatening to put a diaper back on her if she doesn't get back in the bathroom, followed by tears and meltdowns when I actually have to put the dreaded diaper back on her....
But today was a different story! When we got home from school, she walked right into the bathroom and said she needed to "tee-tee." I put her on the potty and about two seconds later....SHE DID! I, of course, freaked out and screamed and clapped and did a little dance - I was so proud.
She was so proud that she jumped and clapped, too! We were both so busy celebrating that I guess neither one of us realized that she was not quite finished doing her business before she jumped up. The next thing I know, there's a little puddle on the kitchen floor. I watched in slow motion as Libbi "slipped and slided" in it and flopped around like a fish trying to get herself up off the floor. I couldn't help but laugh. It was quite a mess as she was basically "mopping" our hardwoods with her little hiney just trying to get herself back on her feet - bless her heart.
However....a little mess did not deter from the excitement of her big accomplishment!!
She was awarded two m&m's ("geeen" and "booo") and lots of hugs and kisses. I know we have a looooong way to go, but everybody's gotta start somewhere, right?
(btw, all of these pictures are from this weekend, because her outfit today was an innocent bystander that was unfortunately involved in the potty events....)