Some sweet friends threw us a shower for Baby Tippins on Sunday. We were so blessed to receive lots of gift cards, diapers, wipes, and a few other necessities. Our friends and family are such blessings to us and their generosity definitely helped alleviate some of the stress that this Momma-to-be is feeling! It is nice to know that a) Baby Tippins will have enough diapers and wipes to last through (at least!) the first few months and b) once he/she is here, we will have a nice stash of gift cards to buy some gender specific items that are just for him/her!
I have to admit, it was different having a shower not knowing if our baby is a boy or a girl, but it was still just as fun to see all those itty bitty baby things. (I totally forgot how TINY newborn diapers are!!) And let's face it, one of the best parts of showers is the food....and I could care less if I'm eating a petit for with pink or blue icing on it. It tastes just as good! :)
For the record, even though the majority of our friends/family in attendance predicted we're having a boy, my friend Courtney was the only one that gave us something boyish - because she says she is 100% certain we are having a boy! ;-)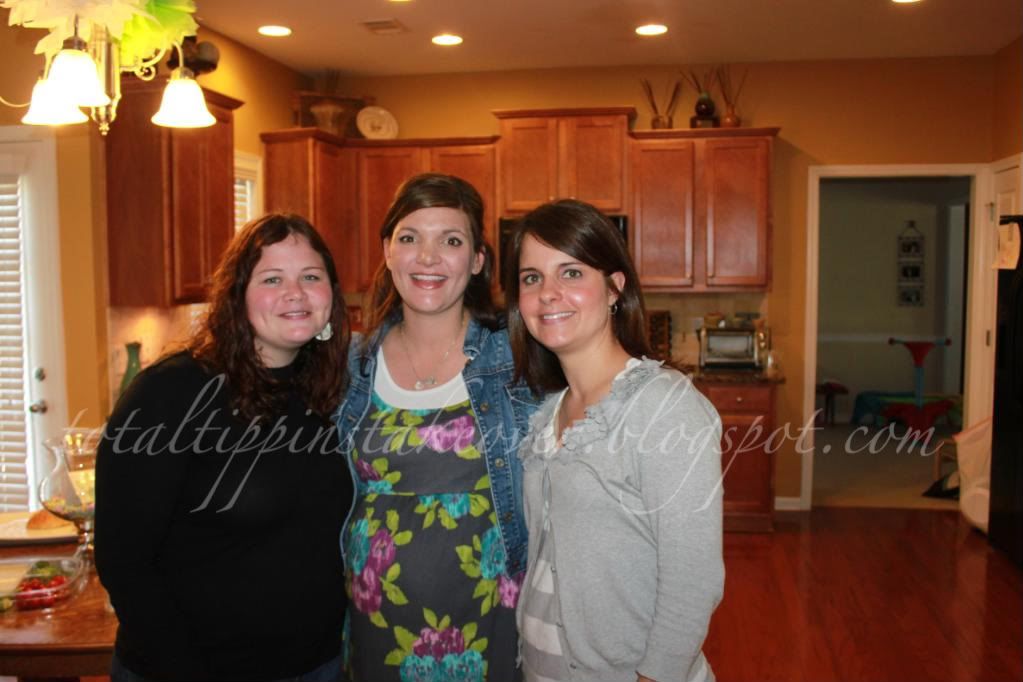 The other two hostesses; Lori and Mary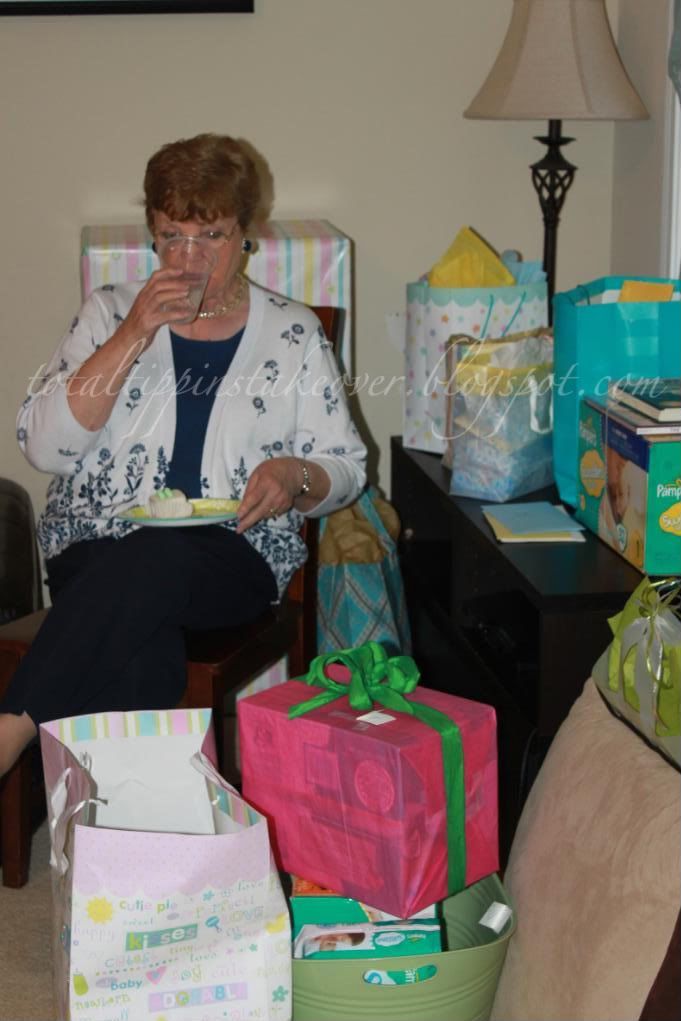 MawMaw (aka "Angela Landsbury") trying to hide out amongst the gifts...
Libbi got to spend some quality time with Daddy while I was at the shower - and they had a blast! When I got home, she was excited to eat a petit for (she is her momma's daughter!) She was so funny not wanting to get it on her fingers, so she kept licking the top and trying to eat it without having to pick it up.
She was also a wonderful assistant when we were unloading the gifts, even though she couldn't resist trying on a few things....
And she may or may not have the precious giraffe noise maker in her room tonight because she just couldn't resist the "rrr-aff!" ;-) (Thanks, Bonnie!!)
She found this horse attached to one of the gift bags and I laughed so hard at her trying to "ride" the horse. Bless her heart, she kept trying to sit on this little paper image and was getting so frustrated that it wasn't cooperating. (These pictures aren't the best, but you get the idea....)
It was such a wonderful day and I am incredibly grateful to all of our friends and family that came! Thank you for showering us with so many blessings today! Boy or Girl, Baby Tippins is one lucky Baby to be surrounded by so much love already!