Libbi Jane, you are 26 months old today (2 years and 2 months!)
You seem to be growing up before my eyes and it's so much fun and so sad all at the same time. I love seeing your little girl personality start to shine through, but then it is so bittersweet to know that you are not a little baby anymore (although you'll always be MY baby!) ;-)
Here's a little bit about what you've been up to this past month.
You talk.all.the.time. You are such a chatterbox. I just recently posted about some of the funny things you say. A few of my other favorites are....
* "li-lul baby"...everything that is tiny is known as "li-lul baby" (little baby). You always want to watch "one more li-lul baby elmo" before you go to bed. The other day we were outside and I heard you say, "oooohhhh....li-lul baby bluesberries" (that's what you call blueberries). Thankfully, I looked over just in time to see you peering over a pile of bird poo-poo - ha! I had to quickly explain that they were not, in fact, little baby blueberries! ;-)
* There's nothing sweeter than when you say, "bess you, lay-lay" or just when you say "lay-lay" in general. You love your sister and we love to watch how you (almost always) sweetly interact with her.
*When your Daddy comes home from work, you say, "Da-Da's Home! Woo-hoo!" and are so excited to see him. You've also started saying, "I miss you, Da-da" and it is just precious.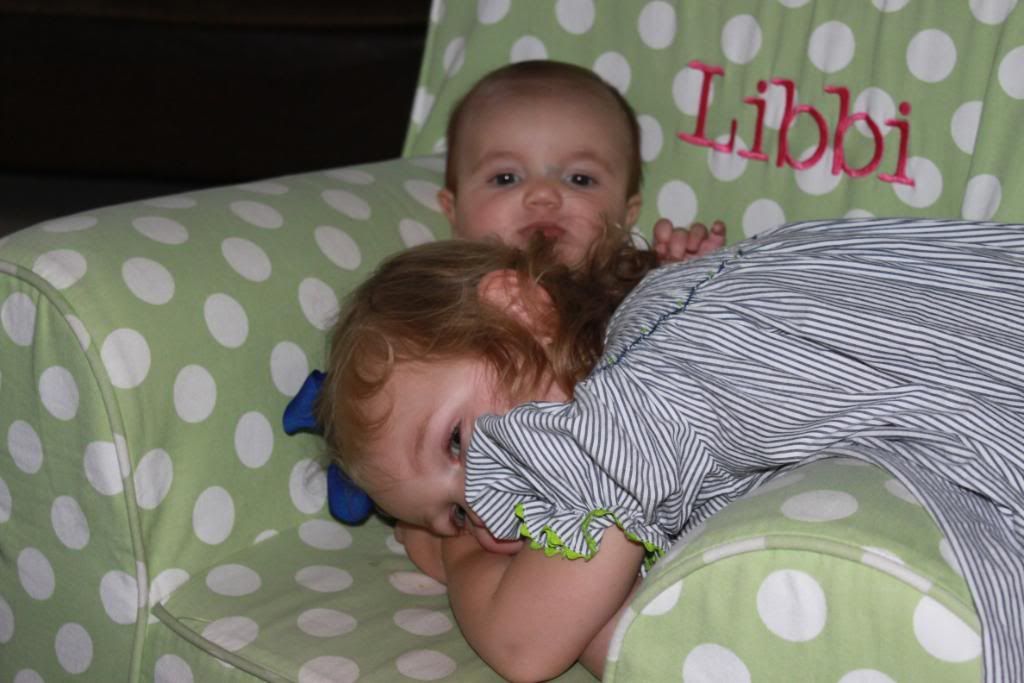 sweet sisters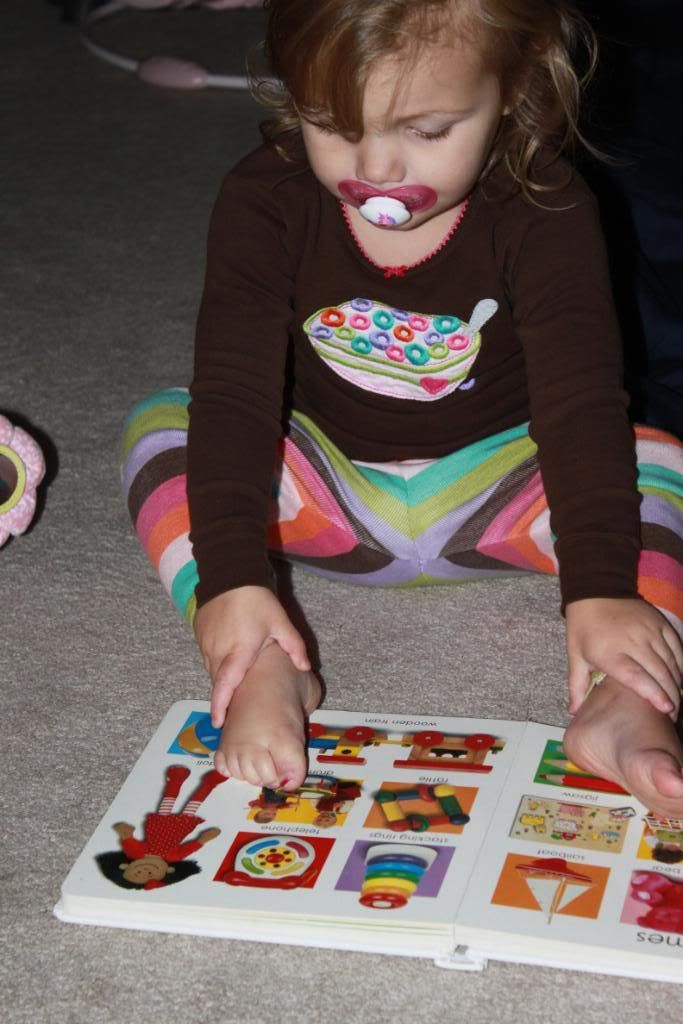 You still love a good pillow surprise. Every night after bath, you request a pillow surprise and you will curl up and have some "down-time" on your pillow surprise before you go to bed. We laugh, because your Daddy wants to join you, but you refuse to let him have any of your pillows (which are actually pillows from OUR bed). You make him get the lonely throw pillow from the chair - haha! :)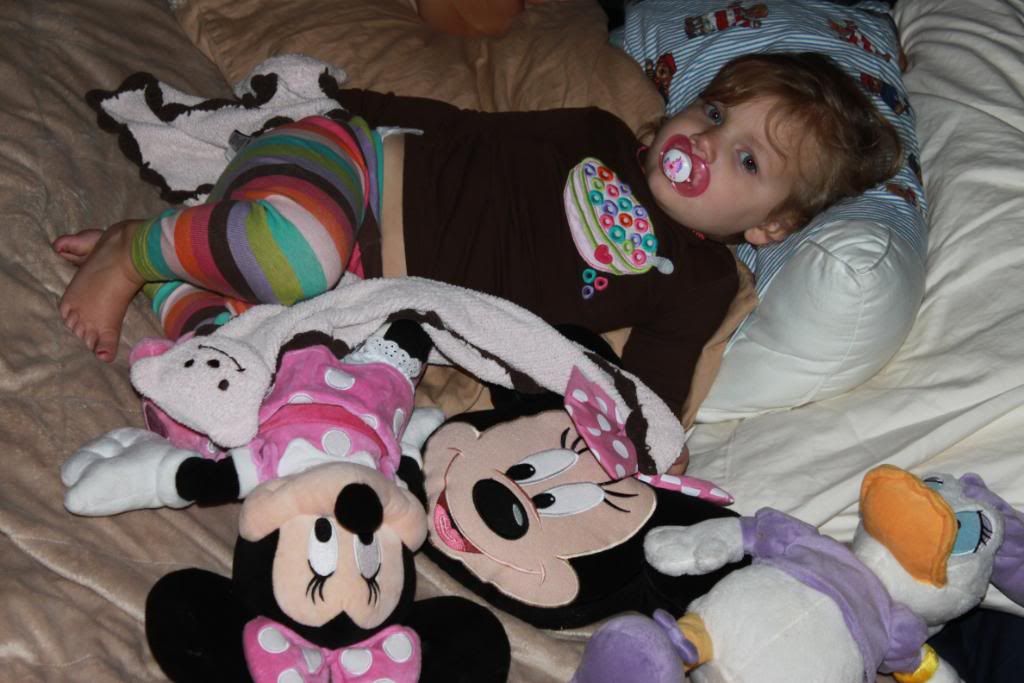 the famous "pillow surprise"
You have developed a love for the show, "Dinosaur Train" this past month. I have no idea where that came from and I definitely never saw a love for dinosaurs coming. You love to sing the theme song at the top of your lungs.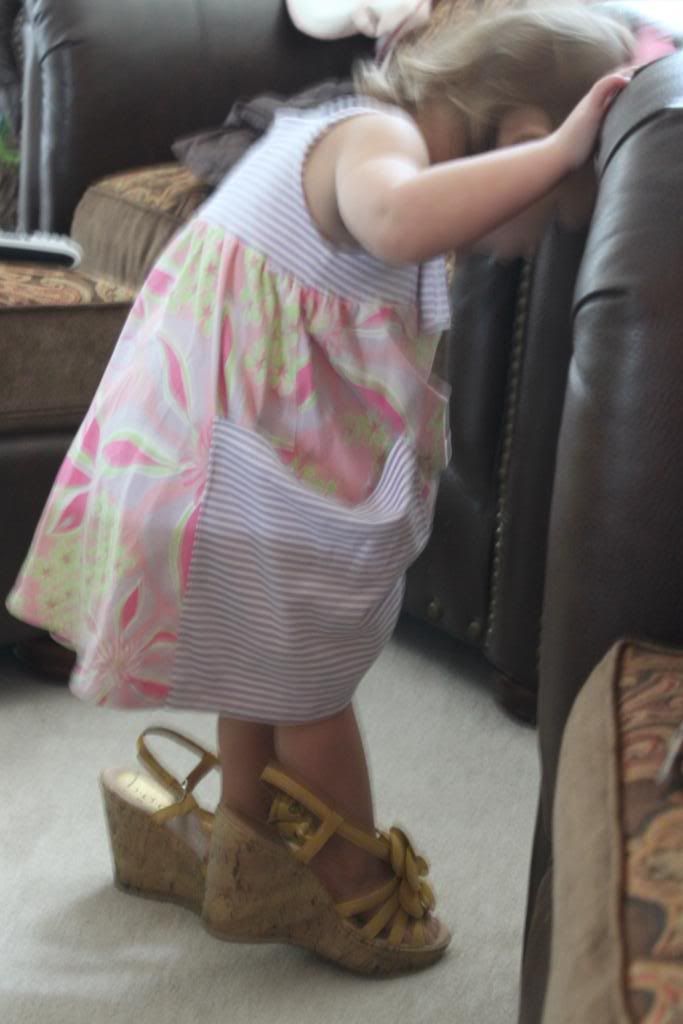 You are still very obsessed with birthdays and singing happy birthday. I recently got you the Melissa and Doug birthday cake set off of zulily, so we have been having LOTS of birthday parties. Just this week we've celebrated Minnie's, Daisy's, Laney's, mine, your's, Daddy's, and multiple baby dolls' birthdays. (But no matter whose birthday it is, you always get to blow out the candles) ;-)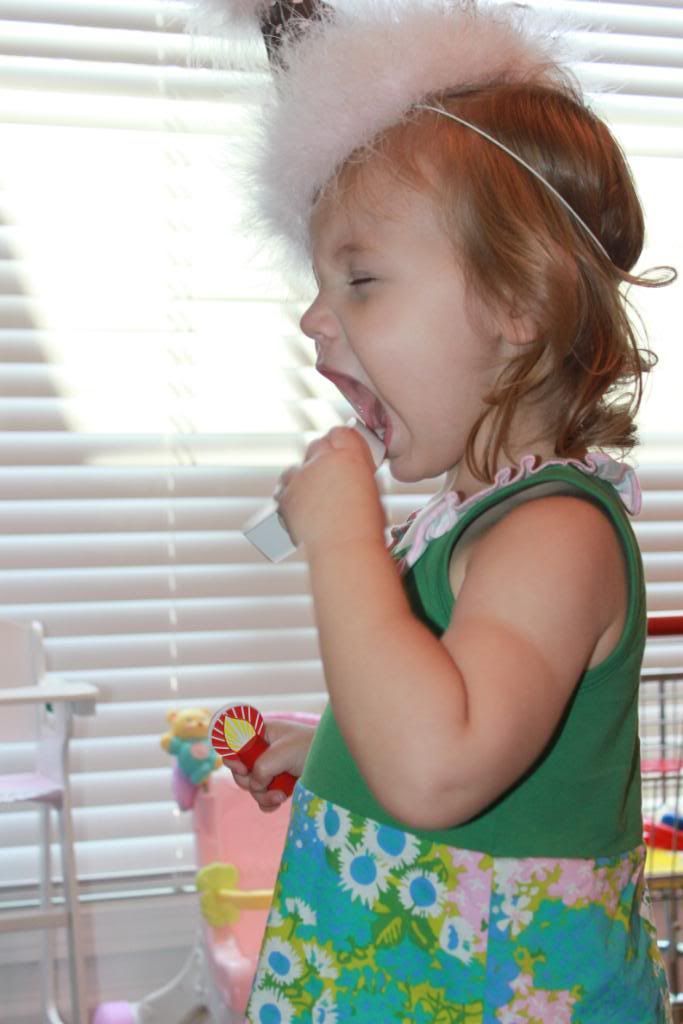 enjoying some birthday cake...while holding a candle - ha! :)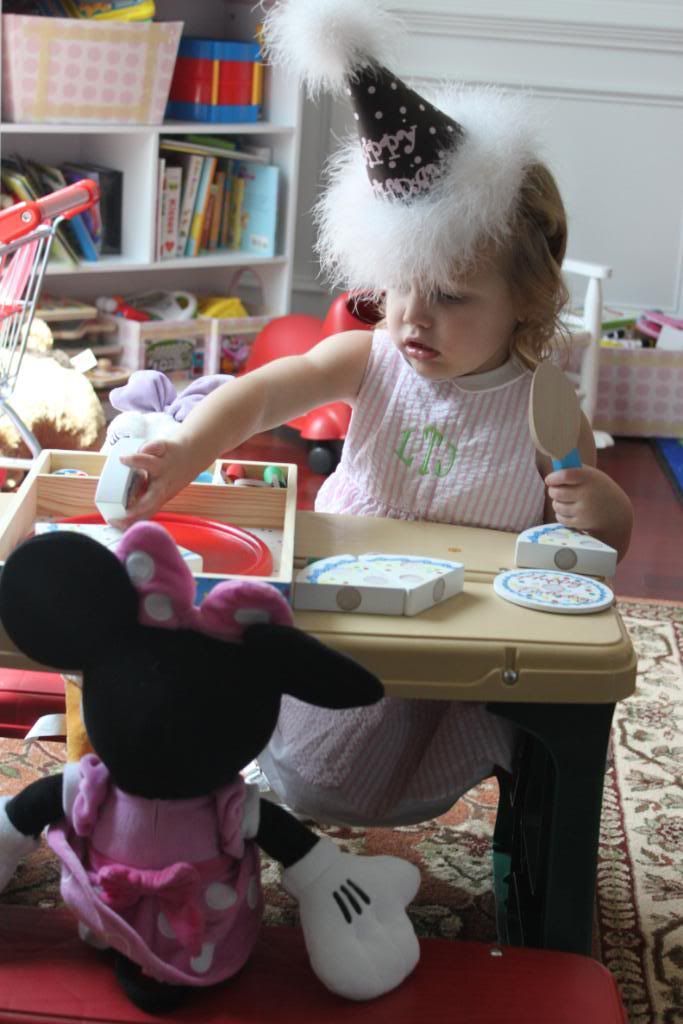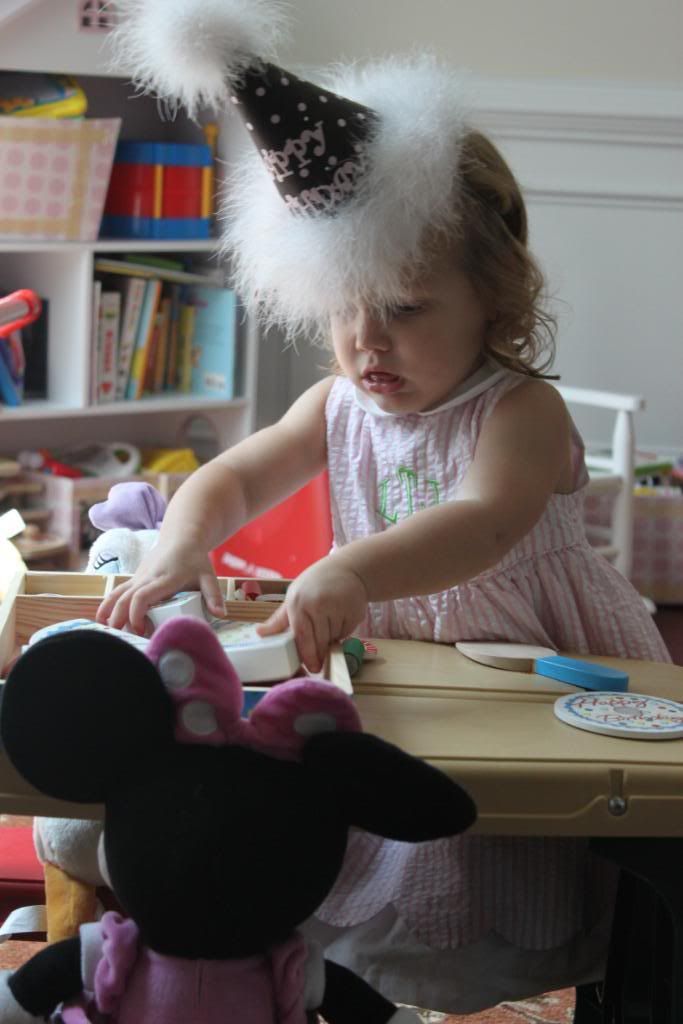 the ever gracious hostess
You definitely have a strong will - and you exercise it frequently. :) I pray that God will use your strong will for BIG things and that you will have strong convictions and the courage to stand up for what you believe in. (but, hopefully you will do it without screeching at the top of your lungs and throwing yourself on the floor....) ;-)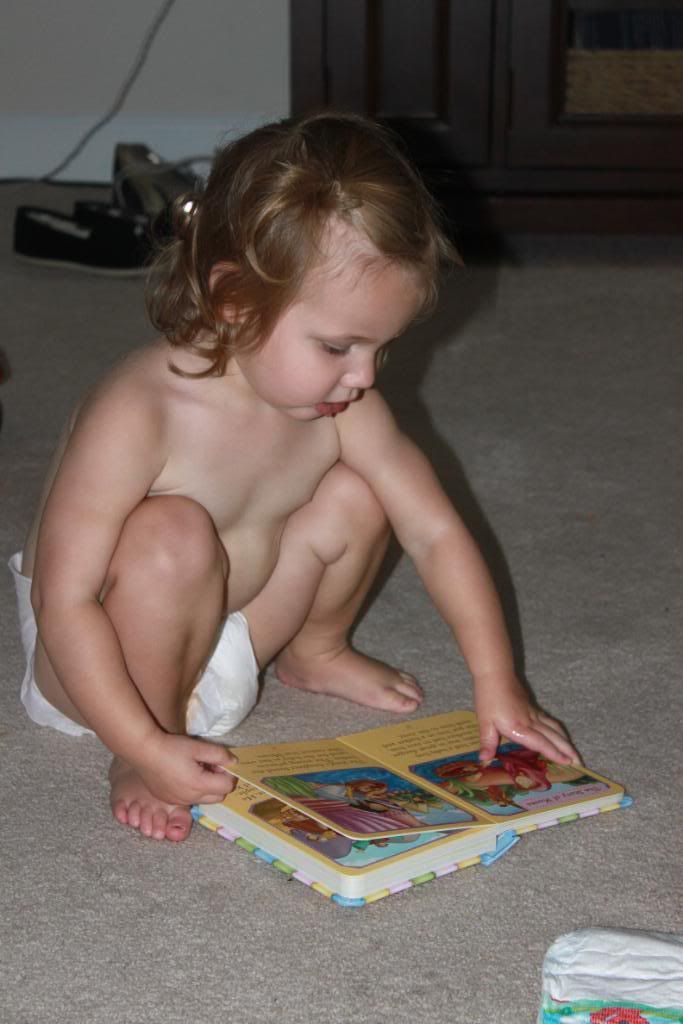 Don't we all like to read the Bible in the buff?!?!
You love to swim and you have NO fear of the water (which, in turn, creates GREAT fear in me!)
this was when you were going to chickfila with daddy....you came downstairs sans shorts, with a tiara and your sunglasses and said, "I READY!"
You love to read and to sing. You read books all day long and love to help retell the stories. You sing songs all the time - He's Got the Whole World in His Hands, Jesus loves Me, I'm Bringing Home a Baby Bumblebee, and lots more! If we say, "Libbi, can you sing....." and request a specific song, you'll sing it. But, if we say, "Libbi, can you sing a song?" you'll make up your own tune and just sing, "song, song, song, song, song....." ;-)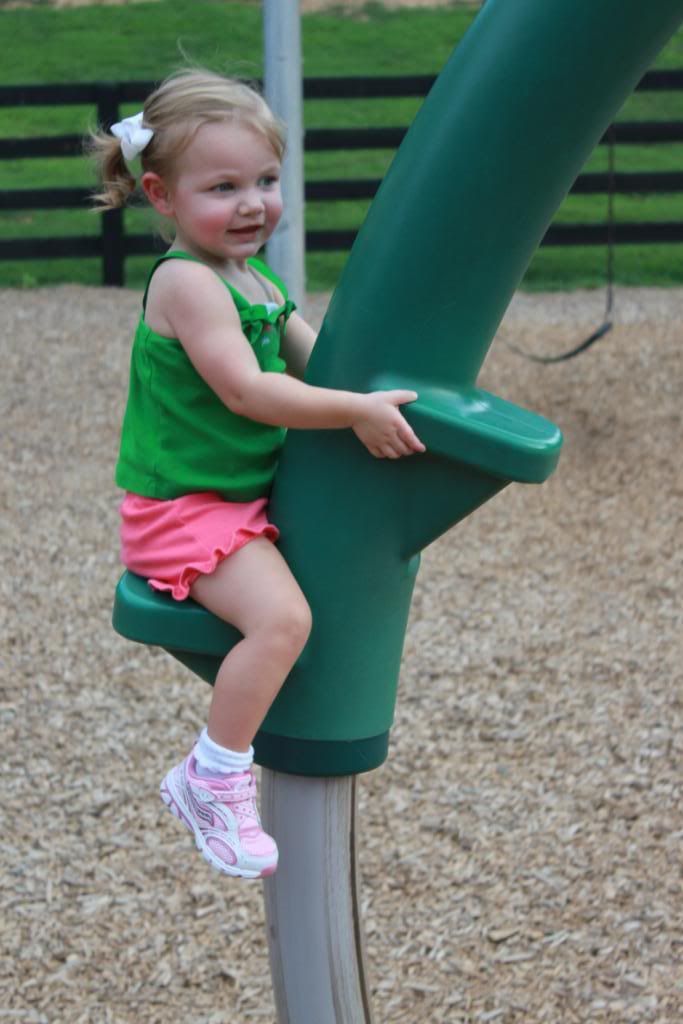 You have a crazy good memory. You remember everything we tell you. everything! (which seems like it should make listening and obeying a little easier, but....not so much). If I tell you that we're going to go to the library tomorrow, you'll wake up first thing in the morning and ask to go to the library. The other day we were driving in the car and you said, "School!" and sure enough, we were about to pass the road that your school is on.
You are borderline obsessed with the iphone. You will swipe any phone within your reach. I have found my icons rearranged, pictures tagged on facebook, and apps that I have paid for but have no idea what they are or where they came from. Your current favorite game is "Angry Birds" (you can thank your Daddy for that one!)
We laugh, because your Daddy will call us and we'll have "FaceTime" when he's out of town. You treat him like the cat from "Talking Tom Cat" and try to punch his face and make him fall.... (and if you have no idea what the Talking Tom Cat game is, this will make no sense to you - ha!)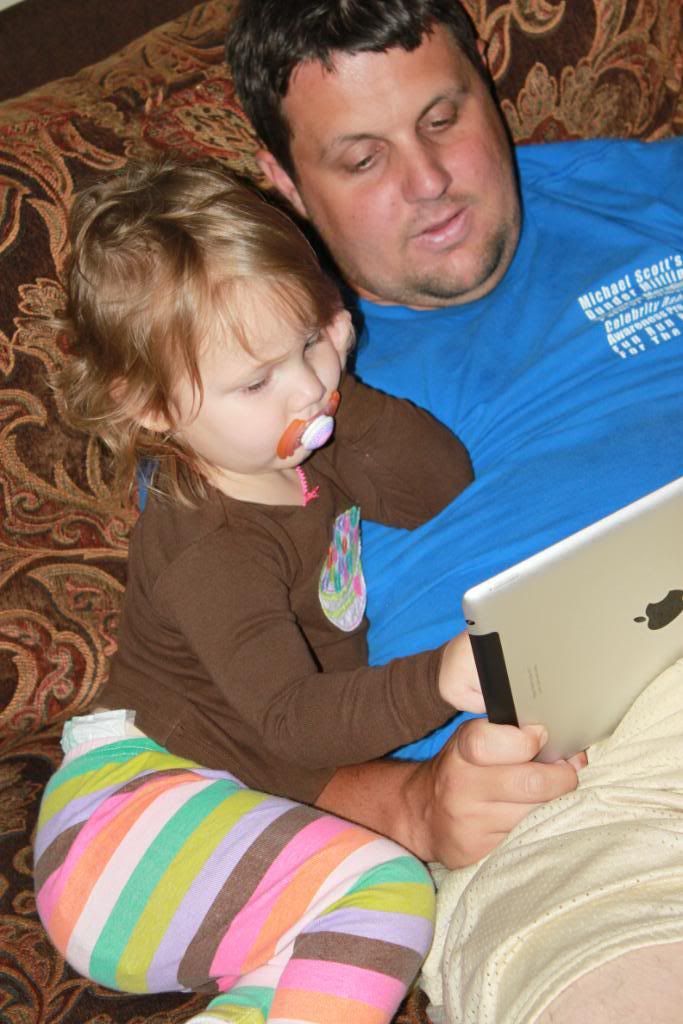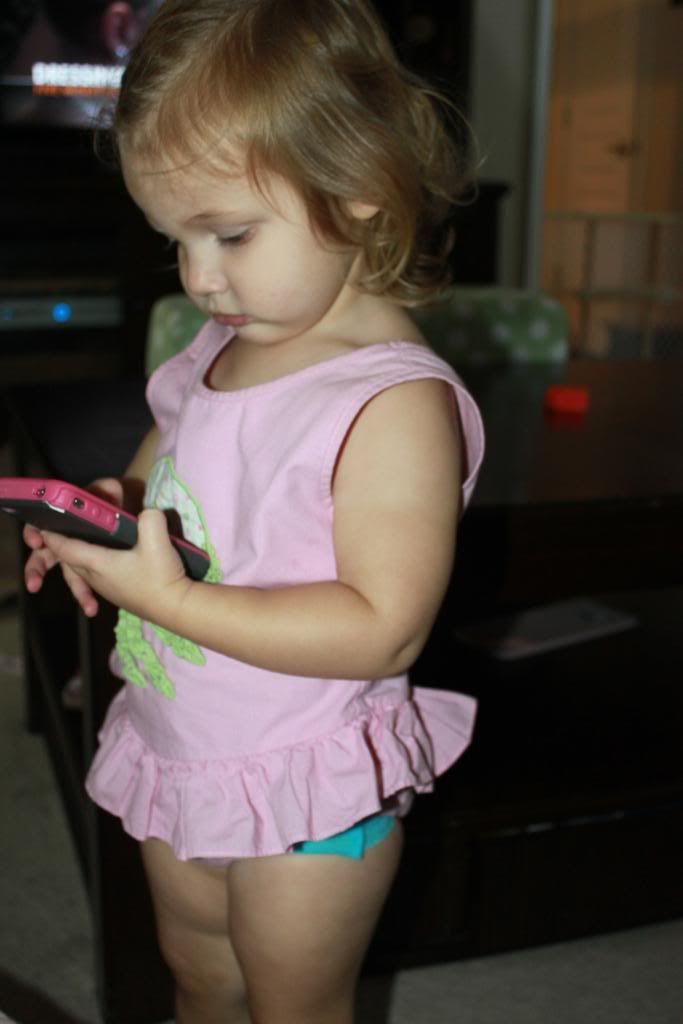 Libbi Jane, we love you so much and are so thankful that you are ours! Every day with you is an adventure and I'm sure it will only get more exciting with each new milestone you reach. I am so proud of how much you're learning and growing every day and I can't wait to see what the future holds. There are definitely days when you try my patience and I want to pull my hair out, but then you will inevitably do something so cute or so funny, that I can't help but just want to squeeze you! When you ask for "one more li-lul baby rock" at bedtime even after I've already rocked you for 15 minutes, and read the Bible, and said prayers, and sang songs - I gladly do it. I know that all too soon you won't ask me to rock you or you'll be too big to rock, so I'll happily give you "one more li-lul baby rock" while I can. :)
You are our sweet girl and we love every moment we get to spend with you. You (and your sister) are our greatest blessing!
"And I pray that you, being rooted and established in love, may have power, together with all the saints, to grasp how wide and long and high and deep is the love of Christ, and to know this love that surpasses knowledge—that you may be filled to the measure of all the fullness of God."
Ephesians 3:17 - 19