We're back from vacation! And I'm still trying to recover - ha! Do you ever feel like you need a vacation after vacation?? ;-)
Before I get lost in the never-ending piles of laundry, I thought I would do a recap and post a few pictures of our time at Fripp....
(I posted about our ride down and our first day HERE.)
Our first full day consisted of.....jammies. and lots of 'em. The girls stayed in their PJ's all day (they did change into clean ones before bed). We may have even made a trip to the playground in full on jammie-mode. In my defense, we looked at the forecasted WARM weather before leaving and so we were TOTALLY unprepared for COOLER temps that greeted us when we arrived. PJ's were the warmest things we brought. :)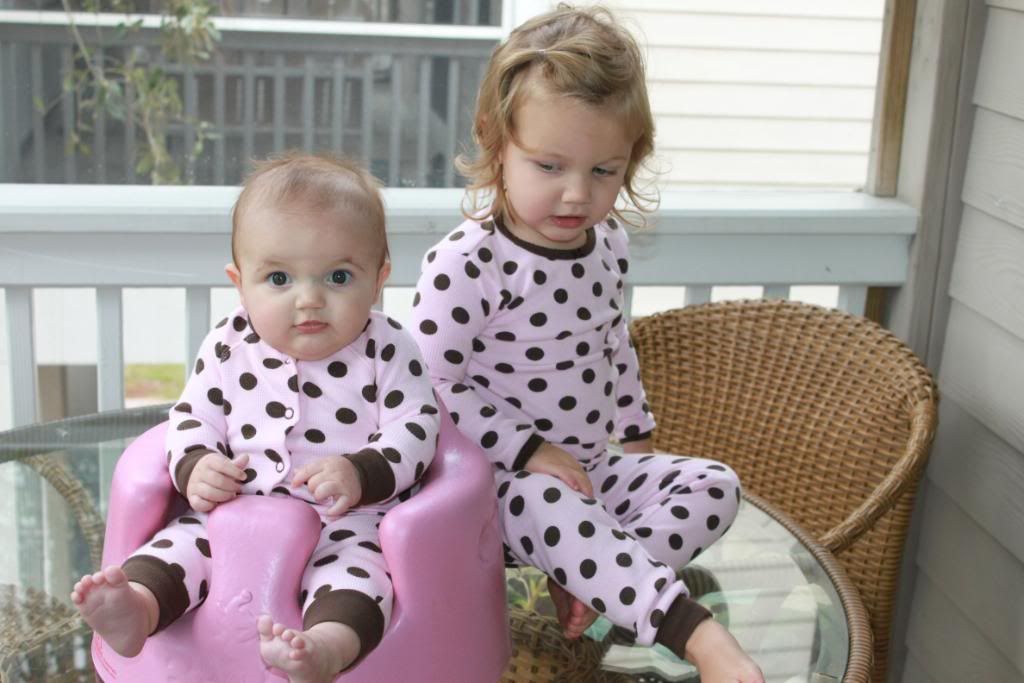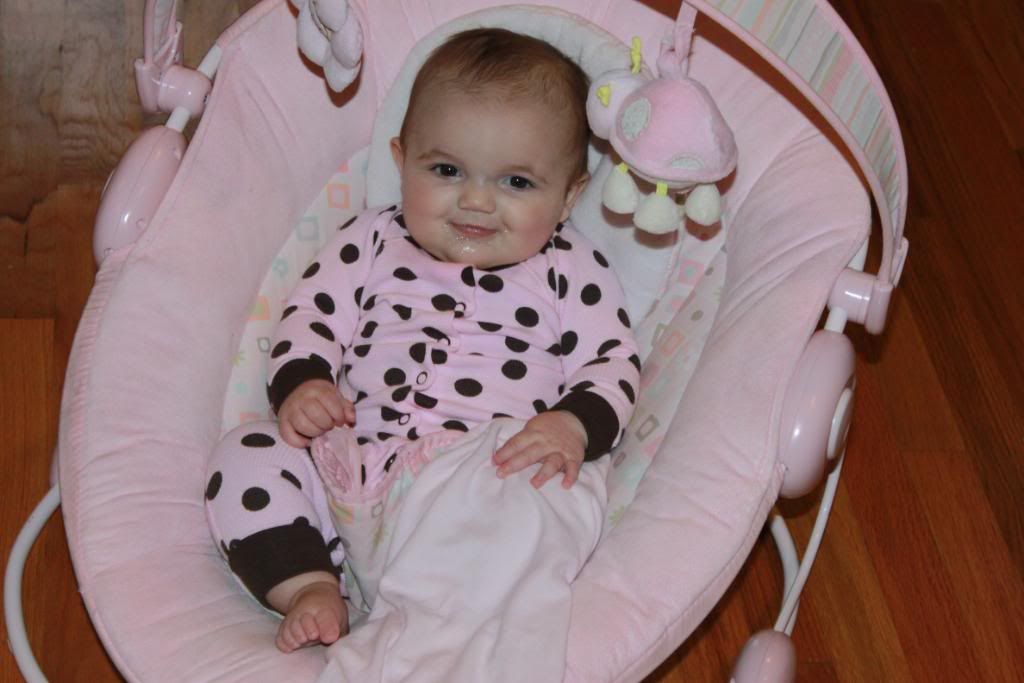 Sunday was another dreary/rainy day. We hung around the house and relaxed (as much as you can relax with a wild two-year-old and a nursing four-month-old).
We have been to Fripp many times before, but this was really one of the first times that Libbi was completely aware of her surroundings and the differences in scenery around her. The last time we went (in March) she didn't LOVE the sand, but she would at least run around on it. She also loved the pool, but it was FREEZING in March. So, based on our last experience, we had high hopes of Libbi having the time of her life.
We attempted to go to the beach later Sunday afternoon when it cleared up a little.....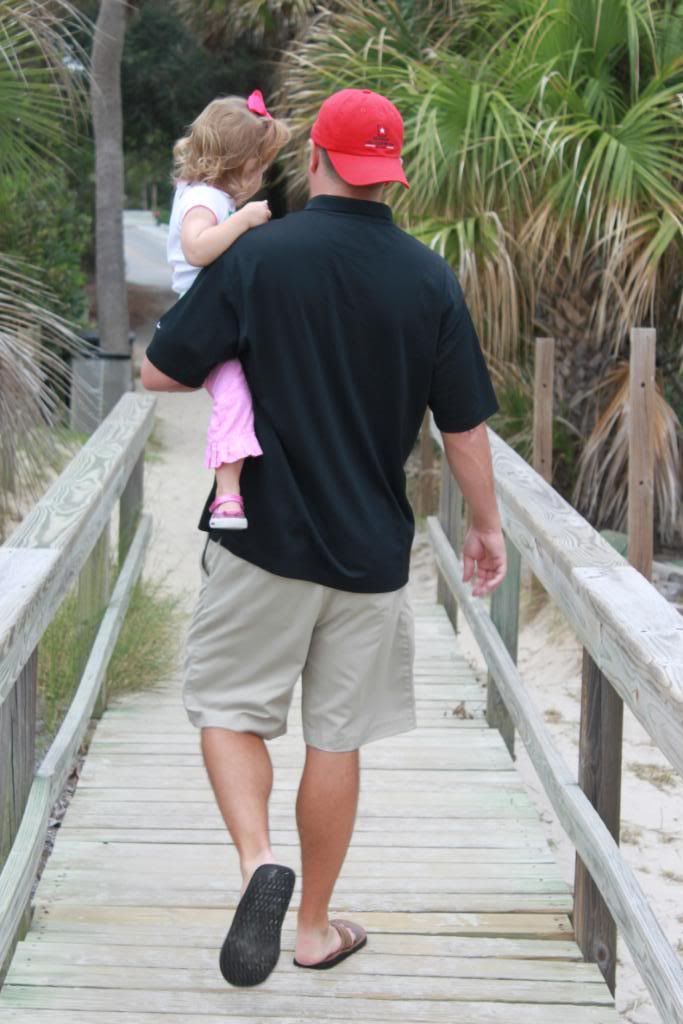 Libbi was not really a fan.
At this point, we began to worry. :)
Monday, we made attempt #2 at the beach. This was after Libbi pretended to be asleep and stated that she would rather "stay home and take a nap." We talked up the beach big time and went on and on about all the seashells she would find and how much fun she would have, etc, etc, etc. We finally talked her into going (after being bribed with a golf cart ride).
She wasn't too excited about the sand. She refused to take off her coverup (obviously she wasn't concerned with the photo-op of sisters in matching bathing suits - boo!) She just wanted to sit in the beach chair.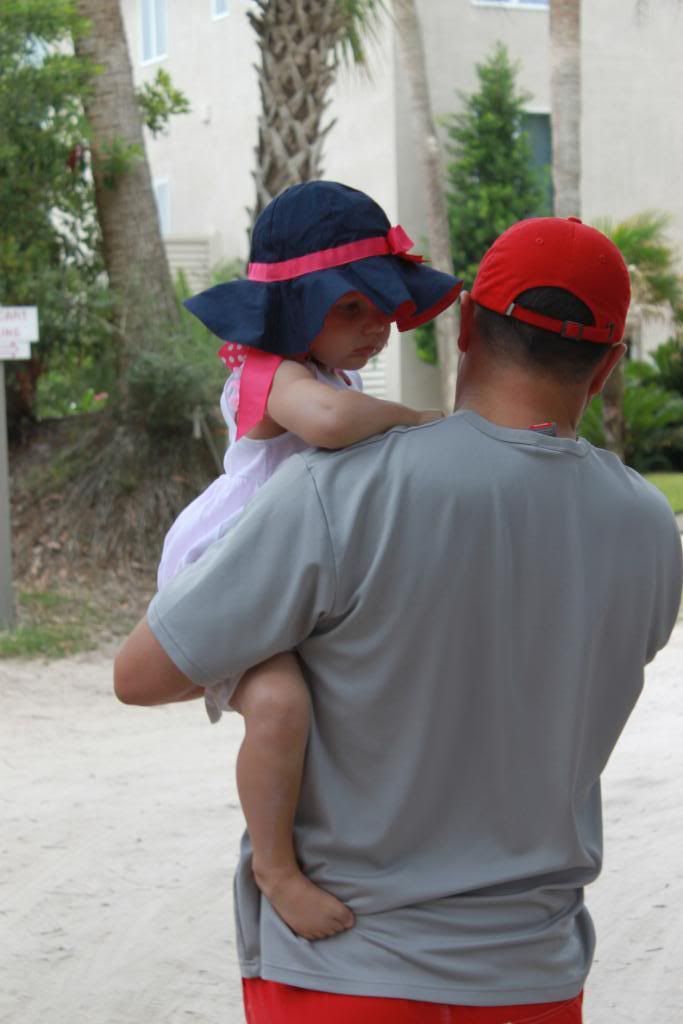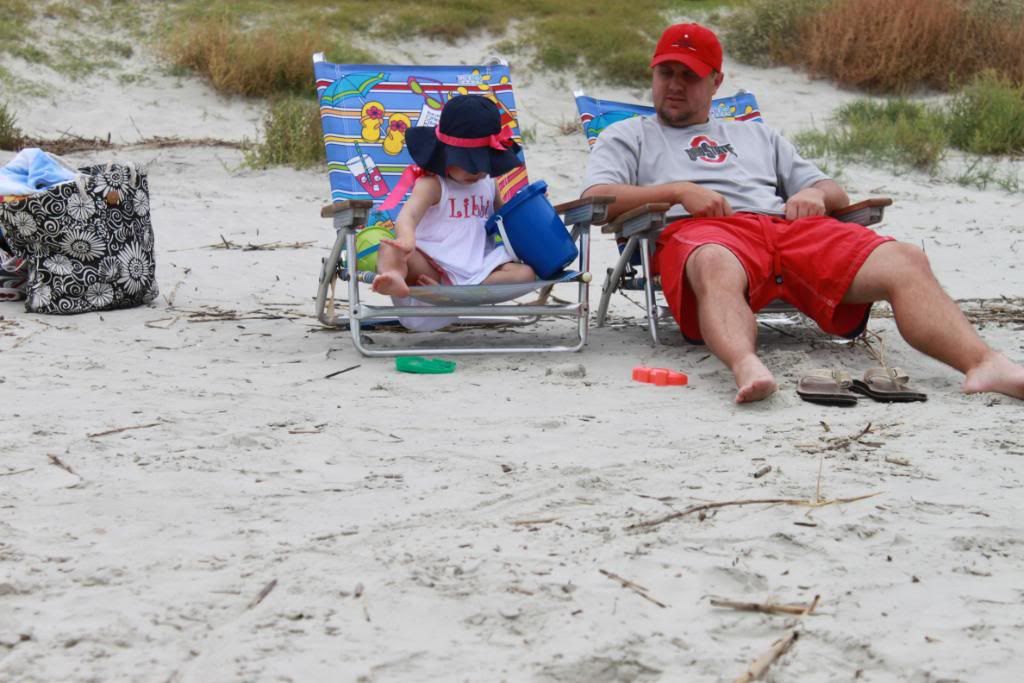 Luckily, this little butterball LOVED being out there! :)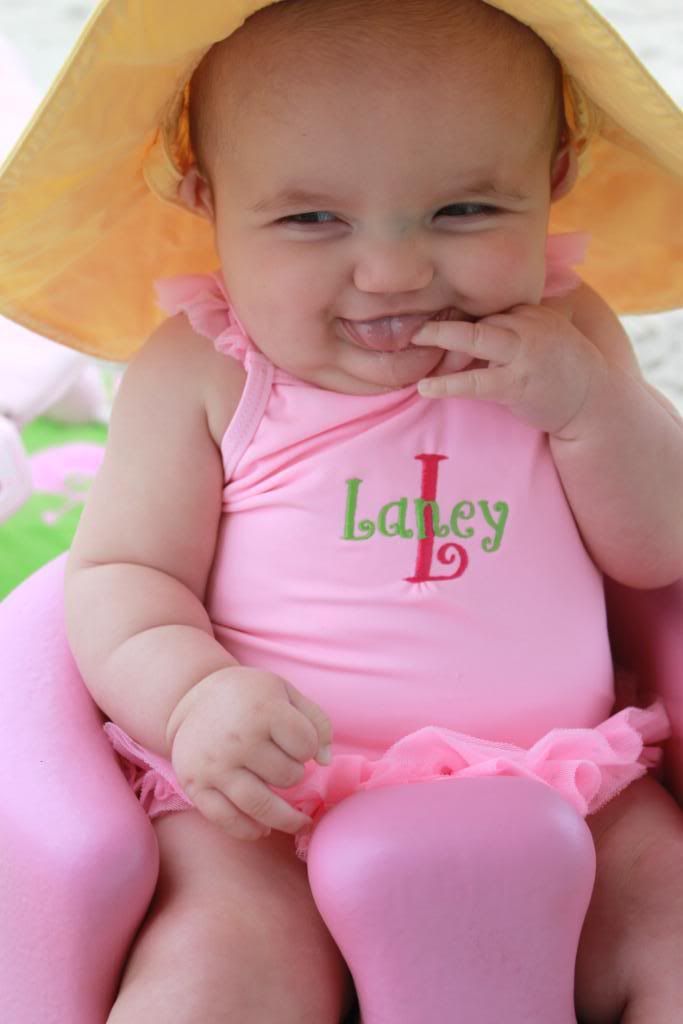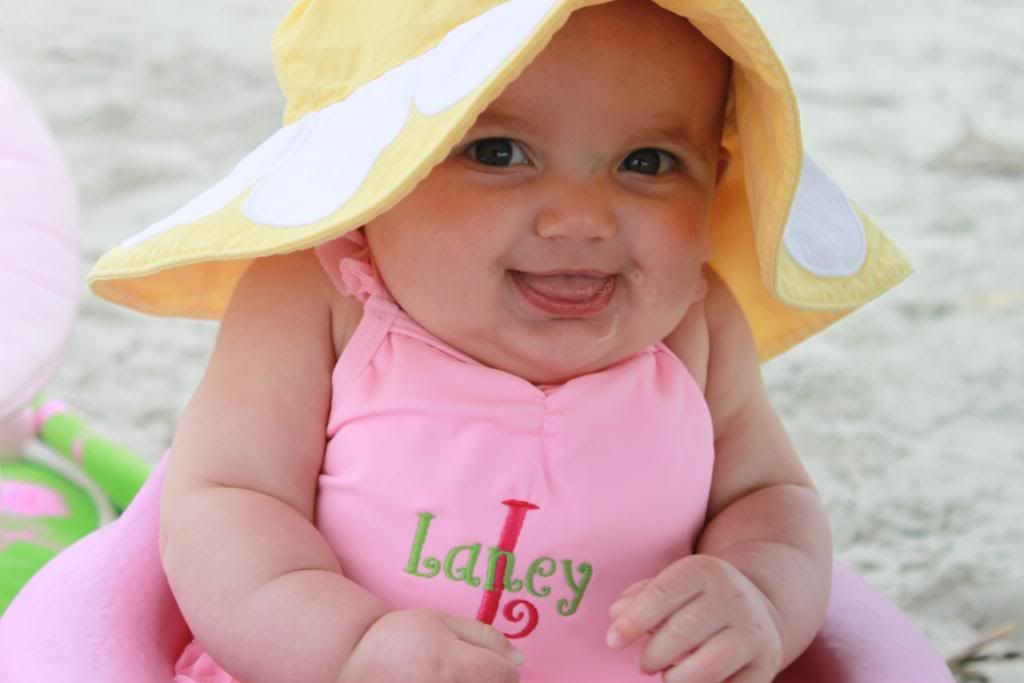 Libbi started warming up to the sand and shells right about the time Laney started fussing and needed to go back to the house. Oh the joys of babies on "vacation" :)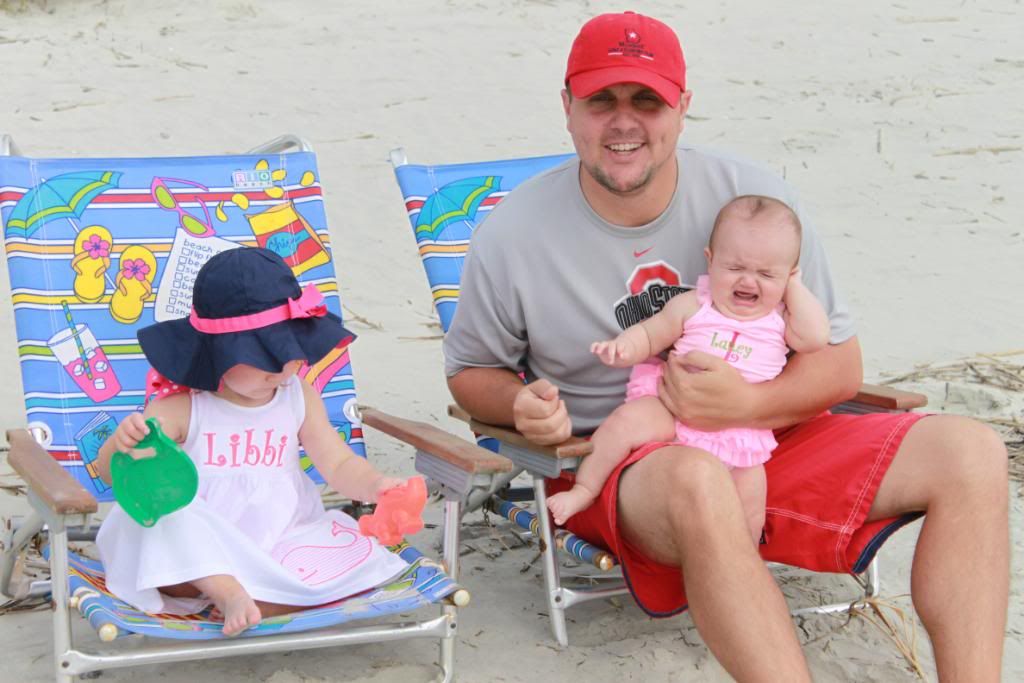 this makes me laugh, because it pretty much sums up that day on the beach...libbi fully clothed in a chair, jeffrey trying hard to smile, and laney crying - ha!
We spent the rest of the evening at the playground and riding in the golf cart. Fripp is such a beautiful place and there are deer everywhere. Libbi loved pointing them out and finding them everywhere we went. She thought their antlers were too funny. There are also plenty of alligators and Libbi loved looking for them (luckily, the ones we saw were a comfortable distance away). Laney was just happy to be there and incredibly thrilled that she brought her toes with her on this trip. :)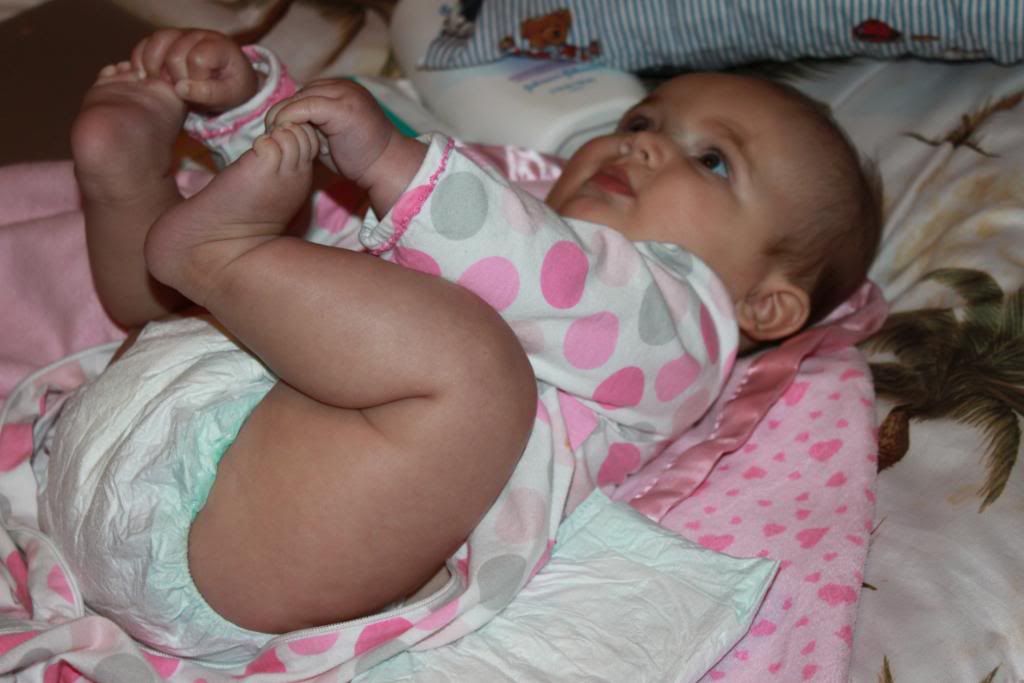 Tuesday was a rainy morning, so we headed into town for one of our family favorites - Chick-fil-A. :) Libbi enjoyed playing on the playground especially since she had it all to herself. When we got back, the sun had started to come out, so we decided to go to the pool. Again, Libbi said she would rather "take a nap" - ha! That girl is a trip!!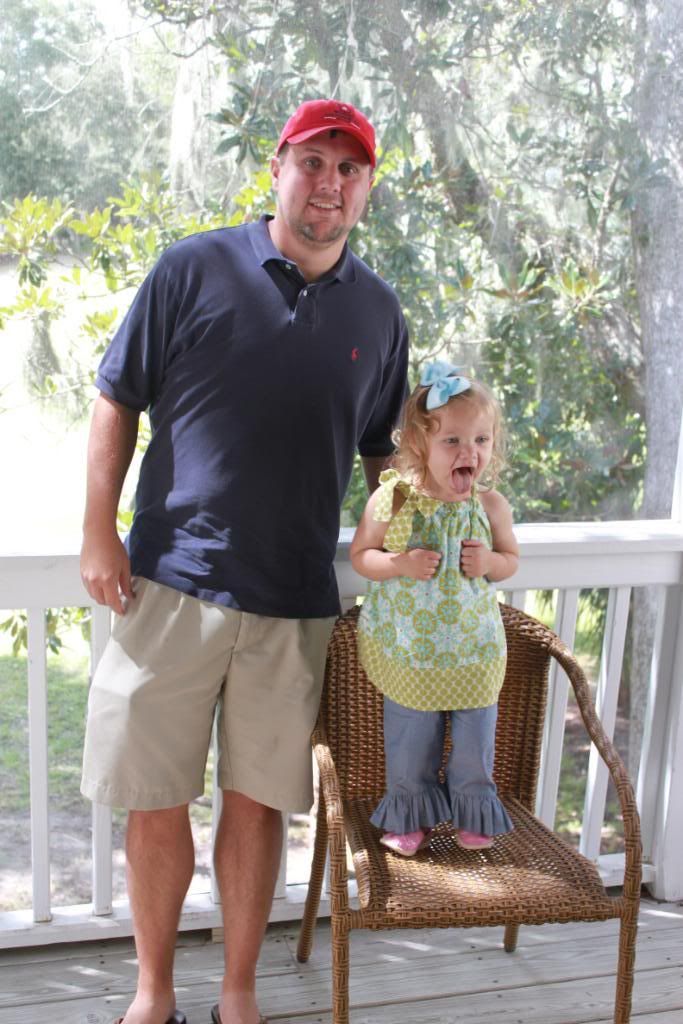 Jeffrey and the girls :)
We loaded up in the golf cart and drove Libbi over to the pool to show her how much fun it would be. After she saw it, she decided that she would like to try swimming, so we drove back to the house for bathing suits/sunscreen. Laney decided that she would just like to take it easy and get her tan on instead of swimming...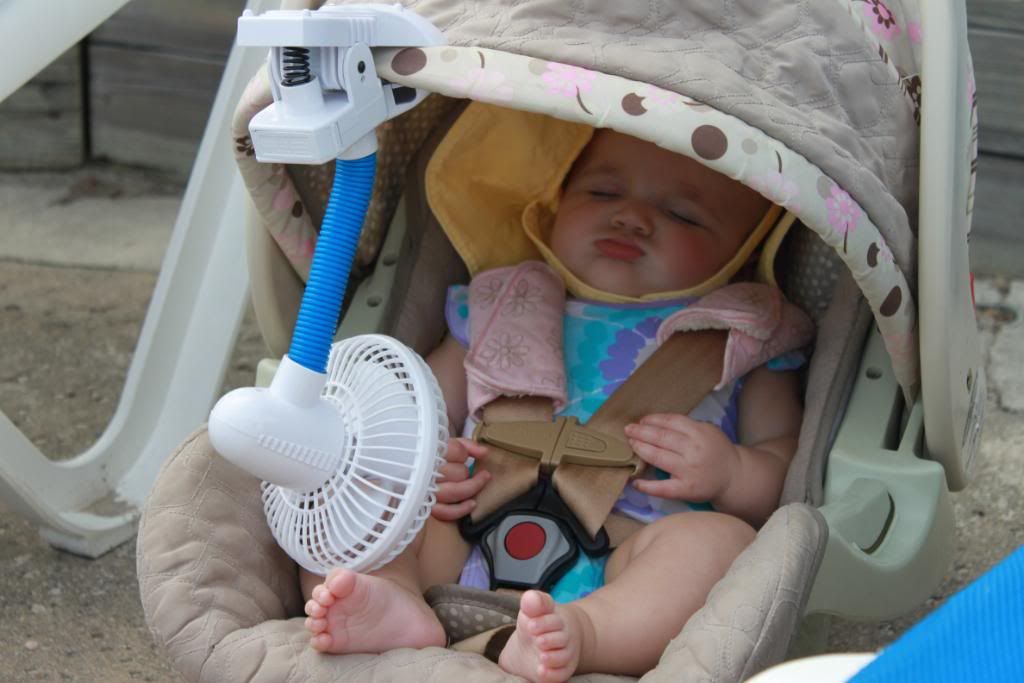 I think it's safe to say that this was Libbi's favorite day. :)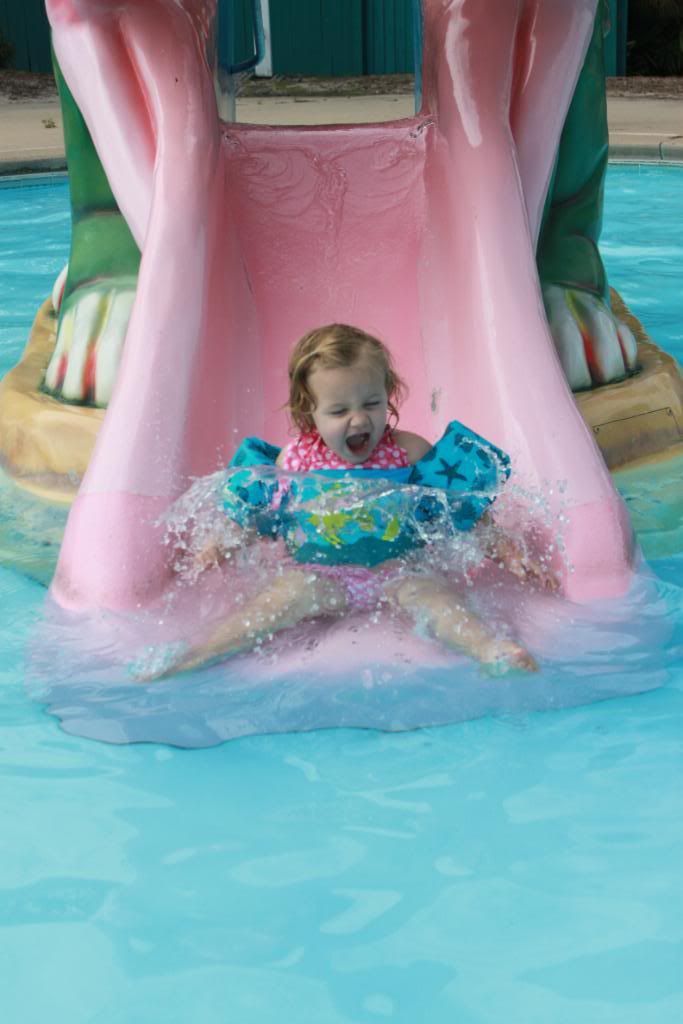 And I think it's safe to say she drank no less than five gallons of pool water....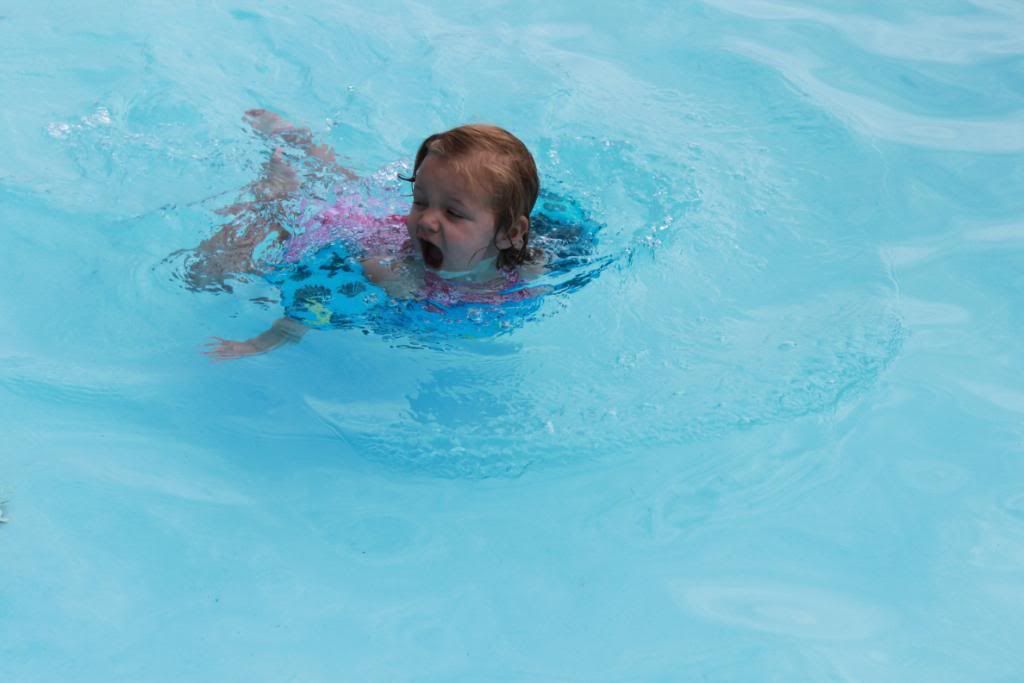 I also think it's safe to say that she pitched one of the worst fits of her little life when we had to leave.
I also think it's safe to say that we garnered the attention of quite a few pool goers/ walkers/ bikers/ animals/ children/ small dogs/ family members back in GA....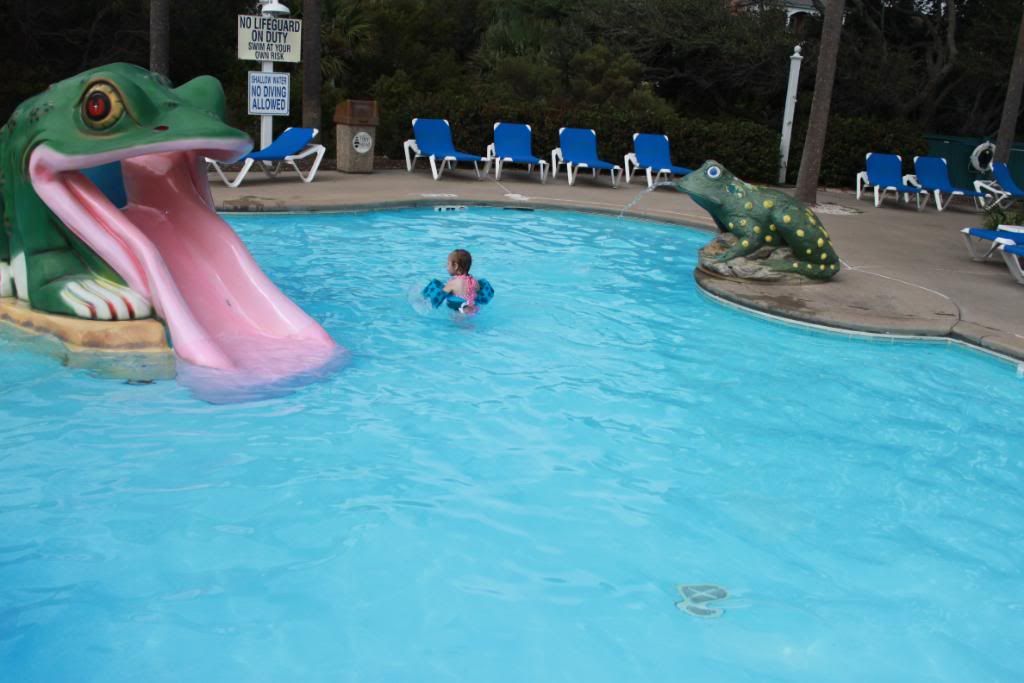 Have you ever had to ride in a golf cart with a screaming, writhing, flailing toddler and a screaming, hungry, tired baby and two stressed out parents??? Believe me, it was as fun as it sounds. I'm sure there were a few young couples that decided not to have children for at least 15 years after we passed them on the street. ;-)
Wednesday morning we woke up to rain again, and after Libbi said she just wanted to stay in bed (she was taking her "vacation" VERY seriously) we decided to go ahead and pack up and head home. Our ride home was not as smooth as the ride out and we did have to stop at least four times, but we made it home safe and sound and that's all that matters.
libbi pretending to "nap" ;-)
Overall, we had a wonderful time being able to enjoy our family away from the hustle and bustle and busy-ness of everyday life and it's responsibilities. It was such a blessing to be able to spend so much time together. I know that Jeffrey especially enjoyed it since he doesn't usually get to spend so much time with the girls during the day. It was fun to be able to experience some new "firsts" together with our girls and to be able to make some lasting memories. We're already looking forward to our next Fripp Trip!