Today was Libbi's first day of school!! To say she was excited is a serious understatement. She went to a mother's day out (MDO) program last year, but she didn't start until January. They ended up having an opening in the M/F class so we signed her up to start after Christmas. She went every Monday and Friday from 9:00 - 12:00 and loved it!
This year, she is going Tuesday's and Thursday's from 9 - 1, which means she gets to eat lunch at school. That is big time, my friends. :)
We are so thankful that she has the same teacher again this year. Miss Dody was such a blessing to us in MDO last year and Libbi LOVED her! I'm not sure she would be as excited about school if it didn't involve Miss Dody. :)
We went for Open House last week (in her precious sheshe dress!) to "meet the teacher" (even though we'd already met) and it was a family event. Jeffrey took the day off work and Laney cleared her schedule so we could all go together.
i tried SO hard to get a picture of the two of them together before open house, but libbi was far too concerned with laney's toenails...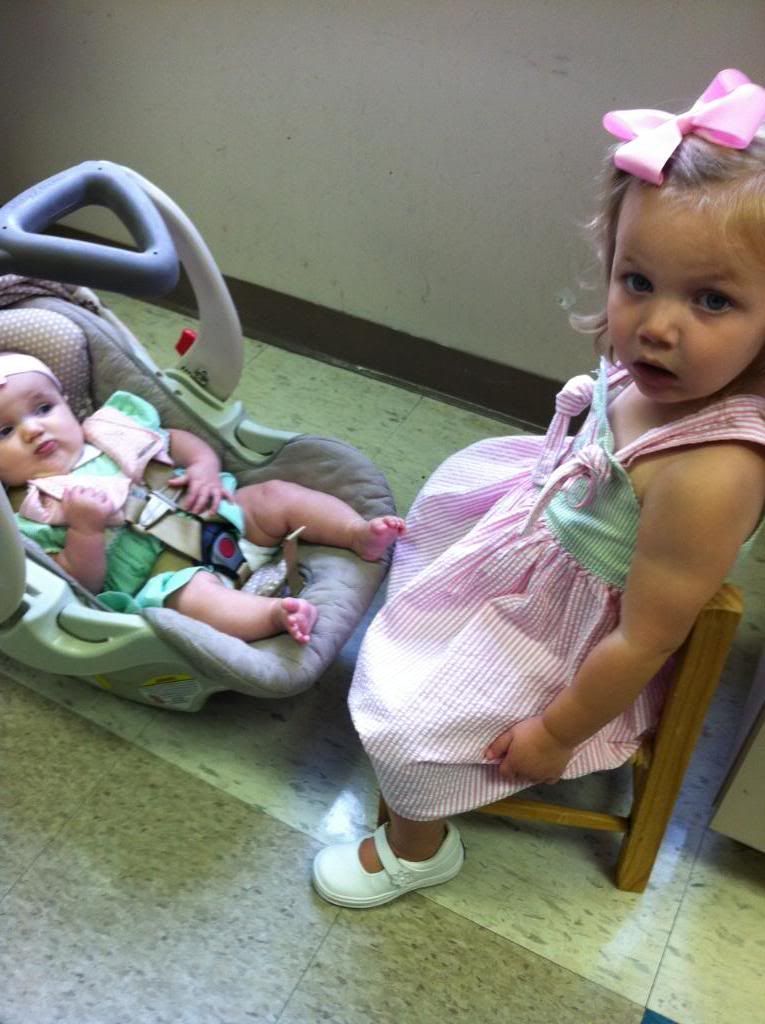 Libbi was a little hesitant at first, because Miss Dody was not in the the "right" classroom (she is nothing if not a creature of habit!) but she quickly warmed up once she saw that Miss Dody had plenty of her newest obsession....dinosaurs! (who would have thunk it?!) ;-)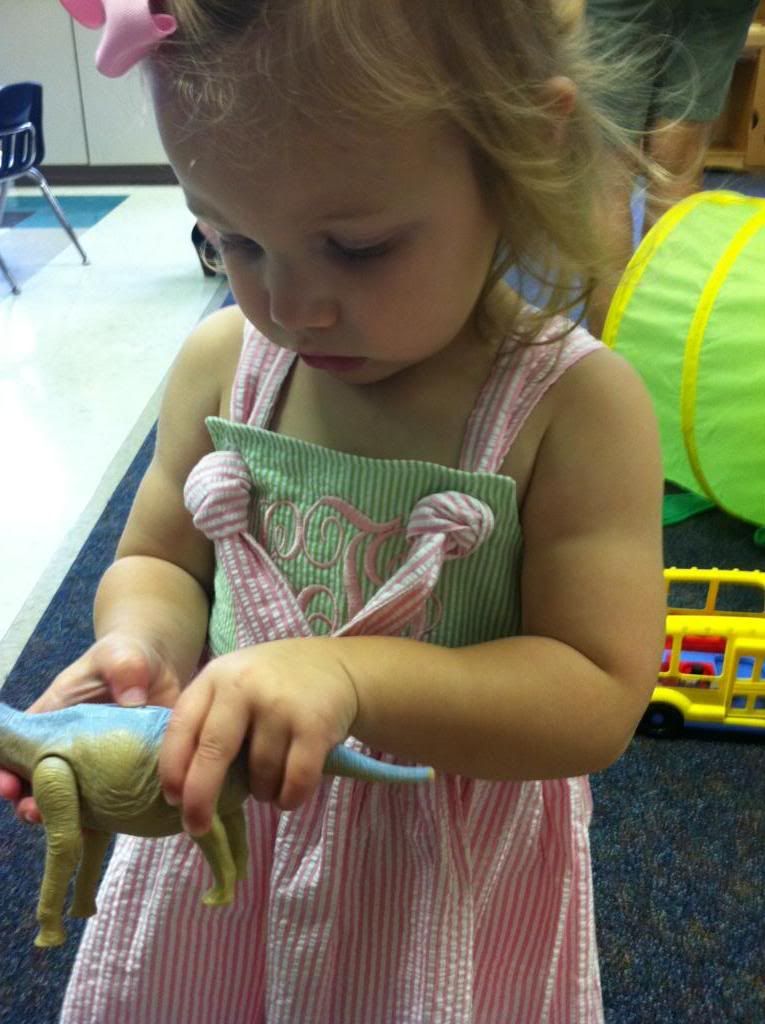 After a few pictures and some introductions to new friends, we were ready for the first day of school!
Last night, Libbi helped me prepare some gifts for her new teachers. We had fun baking cookies and she really enjoyed pouring in ingredients and helping me mix them together. We packaged them up and prepared them for this morning. I found this cute idea on pinterest and just tweaked it a little to suit what I wanted to do.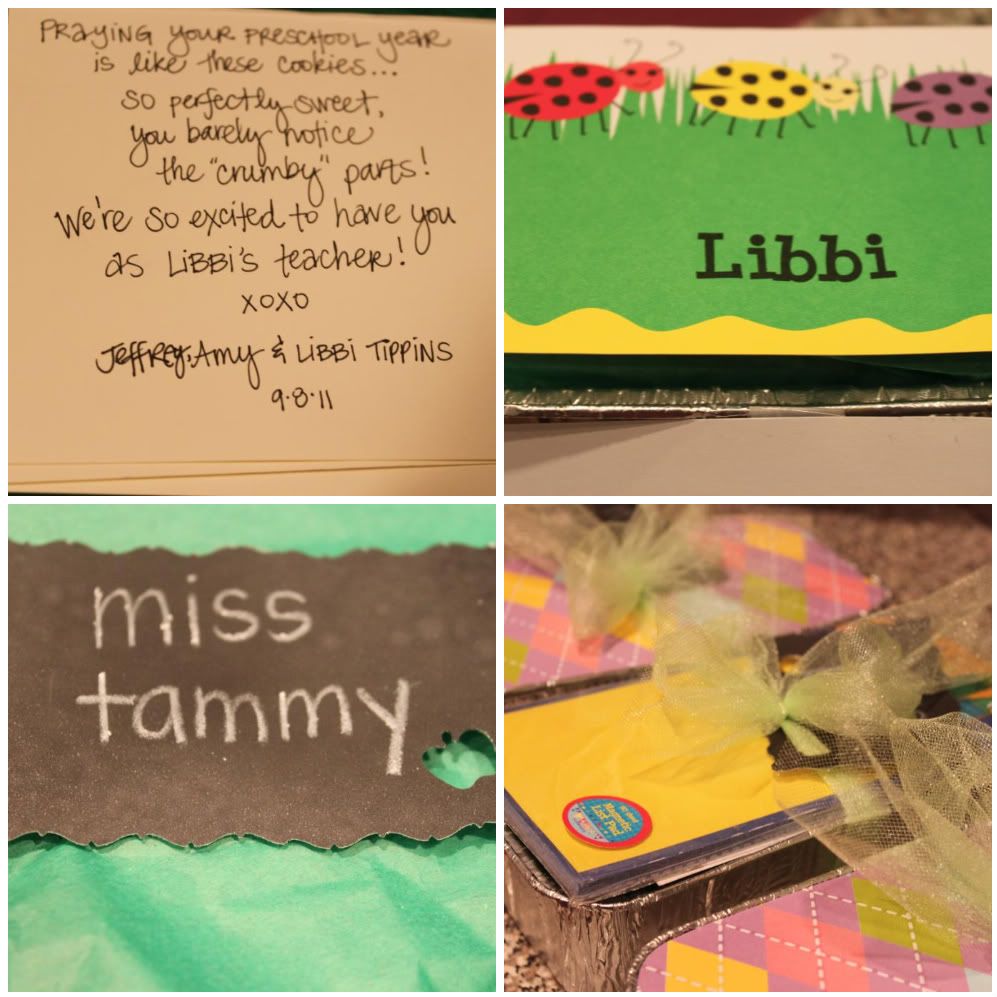 Normally Libbi will go to school from 9 - 1 and participate in carpool, but since today was the very first day, you had to walk your child in and the school day was shortened. I have to admit, I was a little frustrated at first, because the shortened day gave me just enough time to get out, but not enough time to actually get anything done before having to come back and get her. Or so I thought..... (more on that later).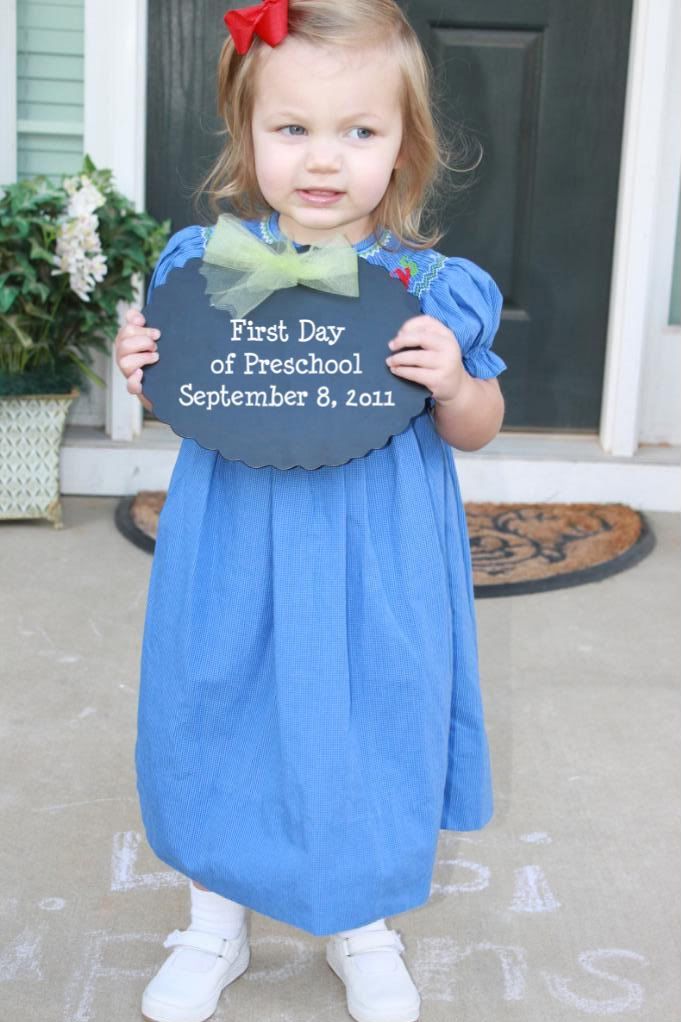 When we were approaching the school, Libbi excitedly yelled out, "allllllmost at school!!!" (I swear that child has the memory of an elephant and a sense of direction that could rival a GPS - neither of which she gets from me!) Jeffrey and I had been talking with her and telling her different things to say to her friends. My suggestion was a little more appropriate than his, though. I taught her to say, "Hi y'all! My name is Libbi!"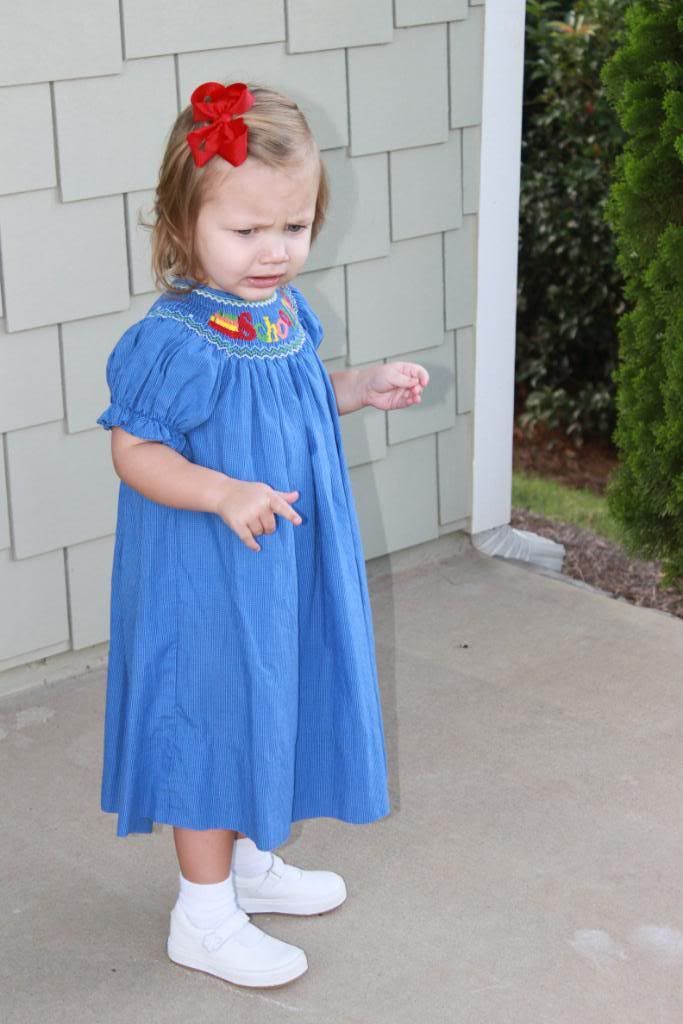 Jeffrey taught her to say, "wasn't me!" (if she happens to "toot" at school...which unfortunately, is another one of her many "talents") ;-) hopefully, she'll be using what I taught her more frequently than her Daddy's suggestion - ha!
She's so cute because most of the time she says, "Hi y'all. My Bibbi name" instead of "Hi y'all. My name IS Libbi" - precious!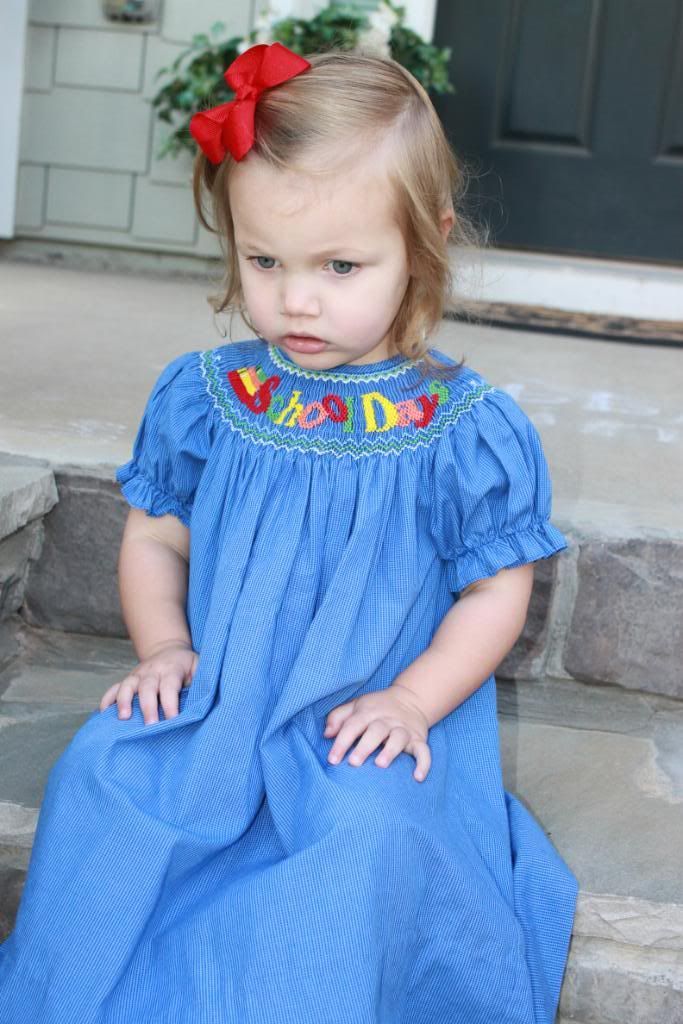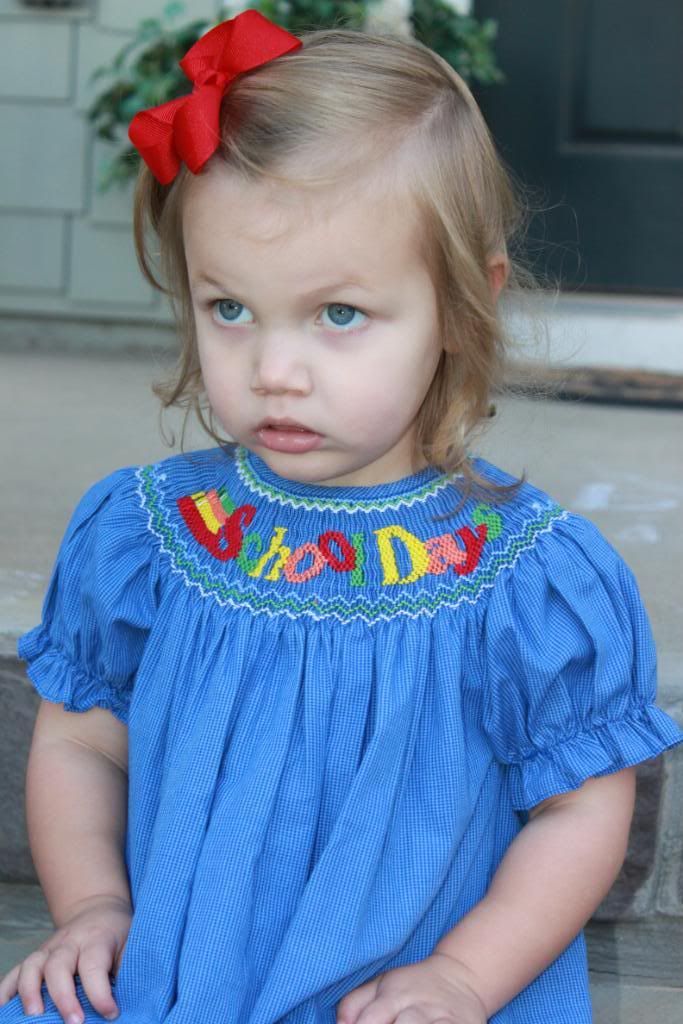 When we pulled up to school, she was immediately upset that I was parking the car and not going through carpool. She vehemently protested me walking her into school. Even to the point of tears. I thought she'd be thrilled that I was going with her, but when she threw out the, "Go 'way, Momma!" I knew that wasn't the case. Once I convinced her that I was not staying at school, she let me get her out of the car and we began to walk in - with my self esteem dragging behind us. We passed a friend from small group and Libbi grabbed her hand and said, "Bye, Momma!" and wanted Miss Lindy to walk her in. I'm pretty sure she thought Lindy was part of the carpool team this morning. :)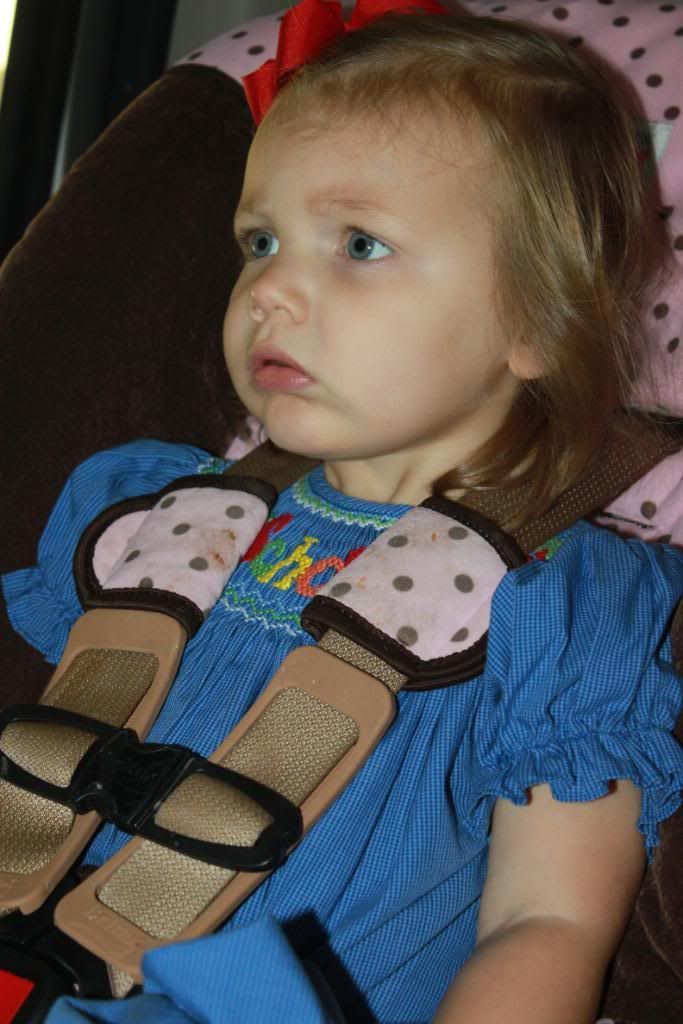 this is seriously the face she gave me when I told her I'd be walking her in. not. happy. (btw, please disregard the disgusto straps on her carseat. she uses them as napkins - ugh!)
We finally made it to her classroom and she was off and running. No hug. No goodbye. But thankfully, no tears and screaming fits for Momma not to leave (again, not a trait she gets from me!) ;-)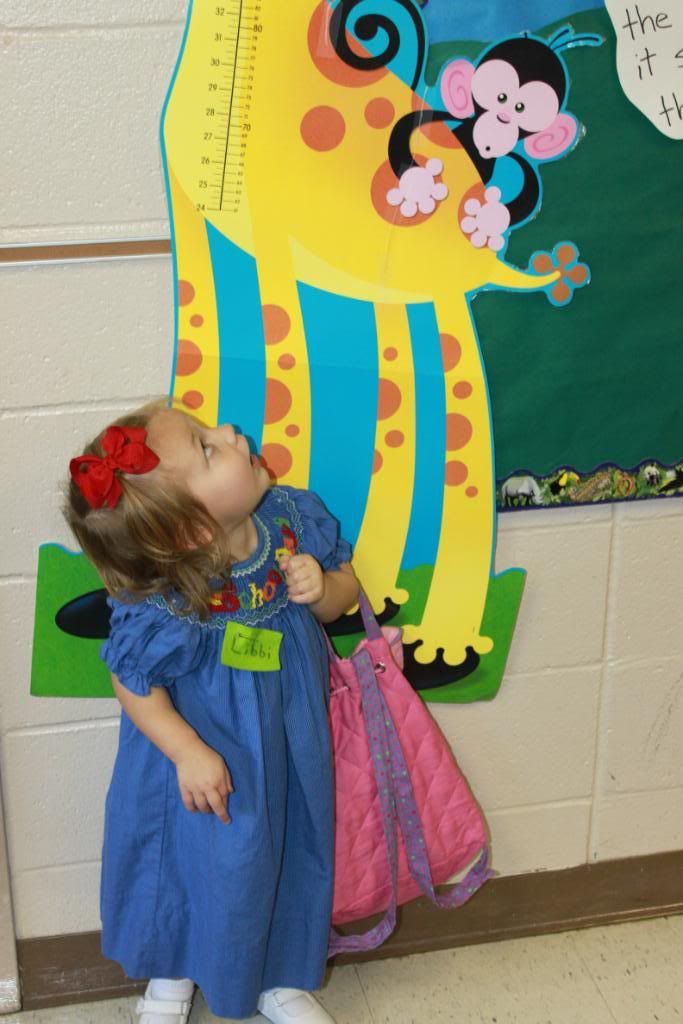 Laney was just happy to be along for the ride.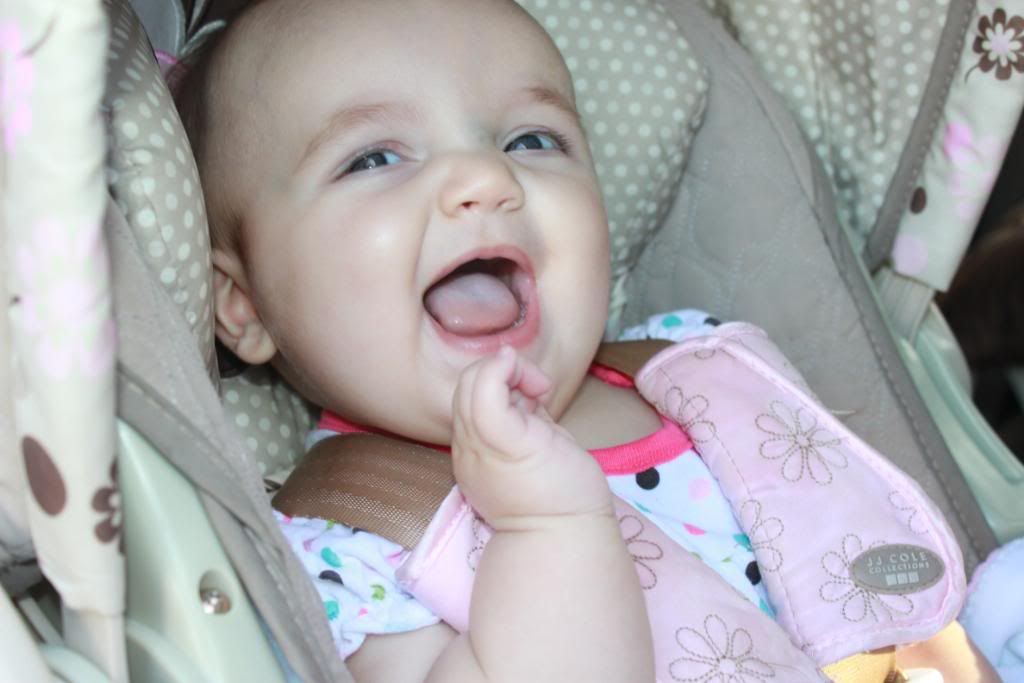 We stopped by chickfila to pick up our free breakfast - woohoo!! and just as I began to wonder what on earth I was going to do with the little bit of time I had....I heard the unmistakeable sound of a bomb being dropped in the back seat. Luckily, I had grabbed a diaper and a travel thing of wipes before we left the house. I didn't even bring the diaper bag since we were only going to be gone for an hour, but luckily I knew that the chances of needing a diaper change were pretty good, so I did grab A diaper. one. that's it.
As soon as I picked her up, I saw how bad it was. It was borderline catastrophic. Definitely a M.O.A.B. It was all over her. I changed her in the backseat of the car, gave her a "bath" with some baby wipes and stripped her down. I didn't even have any clothes to put her in. Y'all it was so bad that I just bagged up her dirty clothes and threw them in the trashcan. It was that bad. I ran over to Target with my jaybirded little baby and bought some clothes for her to wear. We ran back over to Libbi's school just in time to walk back in (with clothes!) to pick her up. And to think, I was complaining about how I would spend that little bit of time between drop-off and pick-up. I would say breakfast, diaper change, wipe bath, Target trip, and a wardrobe change made for a pretty eventful hour of "Free Time."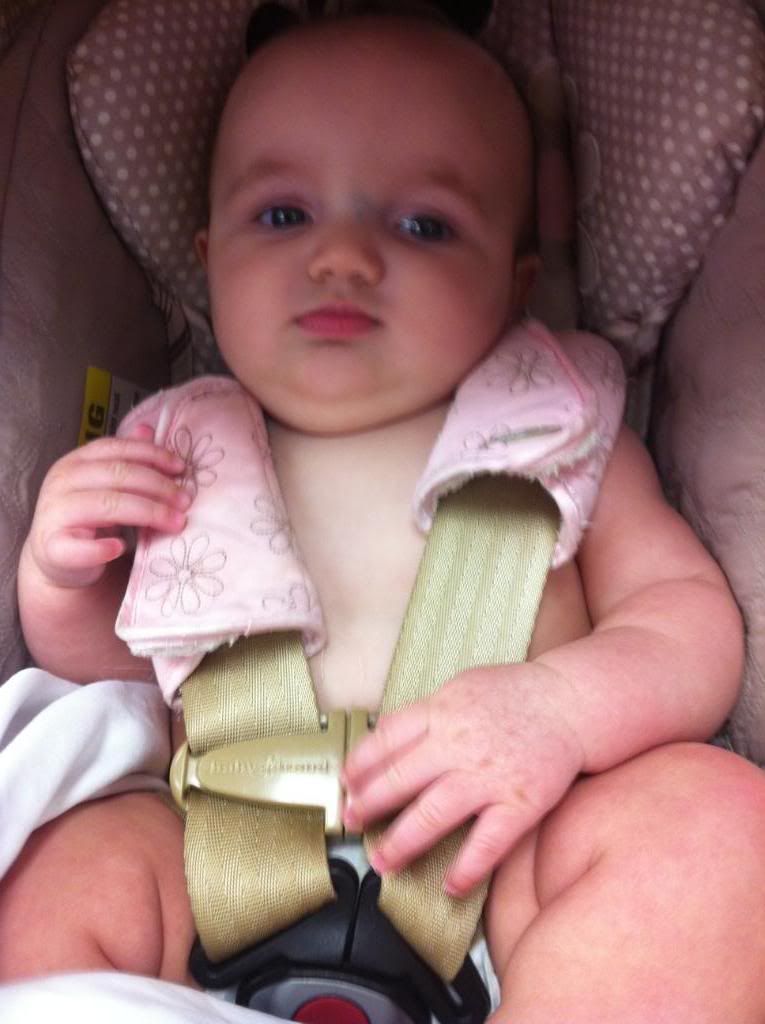 you'd think she'd be embarrassed about being in tar-jay in her bday suit....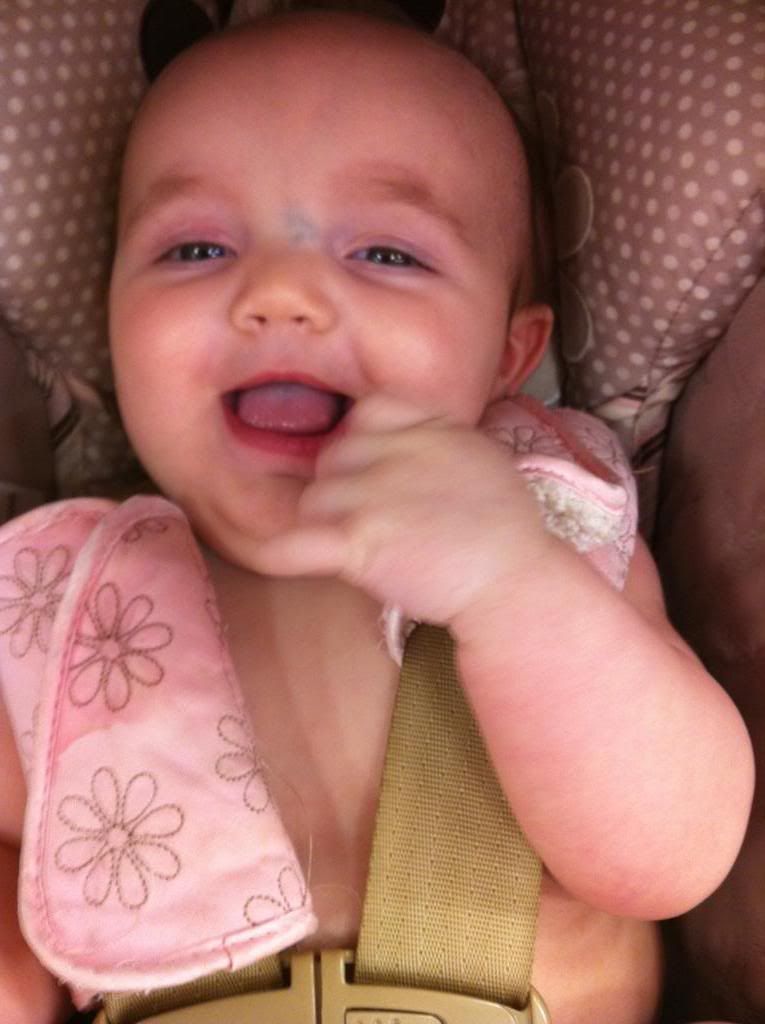 ...but she was just as happy as could be!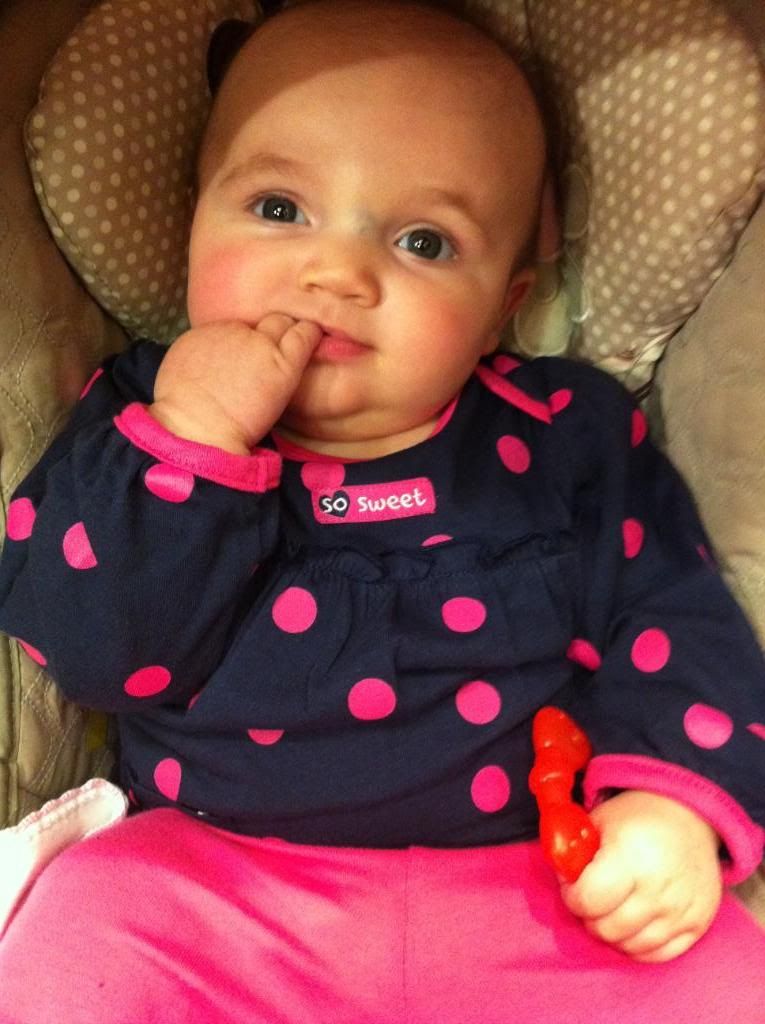 "after" :)
Fortunately, Libbi was excited to see us and did decide that she wanted to go home with me. (and I'm sure it had NOTHING to do with the fact that there were "emma- em's" waiting for her in the car).
She had a wonderful day and I think we're all ready for her to go back on Tuesday for her first FULL day. :) As much as I'll miss her while she's gone, I am so thankful that she has the opportunity to interact with other kids and adults that she loves. I am also incredibly thankful that she is in a place full of people that love her and love Jesus....what more could I ask for? We're praying for a school year that fills her heart with truth, love, learning, and fun!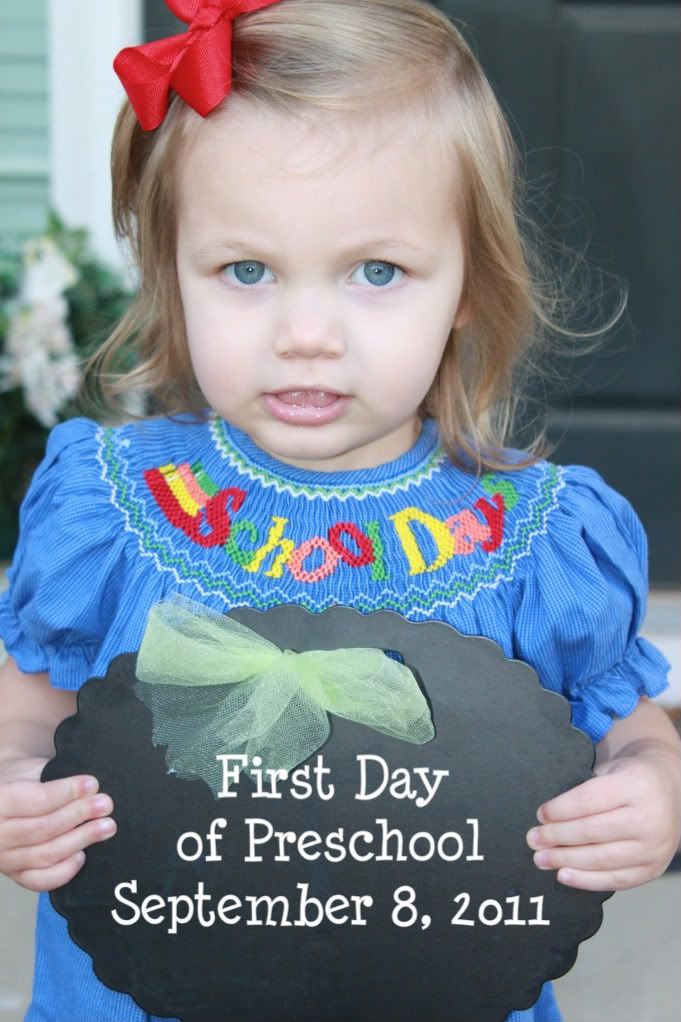 "O God, you have taught me from my earliest childhood, and I constantly tell others about the wonderful things you do. Now that I am old and gray, do not abandon me, O God. Let me proclaim your power to this new generation, your mighty miracles to all who come after me."
Psalm 71:17-18