This weekend had it's ups and downs. Saturday was disappointing. Our Georgia Bulldogs had a poor showing in their first game of the season. There was however one teeny, tiny, precious, little, redeeming quality to an otherwise disappointing Saturday evening.
The sweetest little ball of sugar you've ever laid eyes on. We were so thrilled to be able to meet (and squeeze, and kiss, and completely hog) Lyla on Saturday. Since my cousin Jenny and her husband Jeff live in Mississippi, we had not had the chance to meet Lyla yet. She was born two months ago, almost 6 weeks after Laney. We miss Jenny and Jeff so much, but since they are doing AWESOME things in Mississippi and impacting the lives of the youth at their church, I guess we forgive them for moving away. ;-) but, we still miss their sweet family, TONS!
My Aunt Cindy and Uncle Daniel had all of our families over for a cookout on Saturday. I have such wonderful memories of family get togethers at my MawMaw and Grandad's house with all of my Aunts, Uncles, and Cousins. It's fun to make even more memories now that we all have families of our own. It's always exciting when there's babies running around. I'm telling you what, the first boy that is born into the family is going to be in for a whole lotta bossing! Right now there are five little girls between all the cousins (with one more little girl on the way). Needless to say, there is no shortage of stickers, bows, glitter, and d-r-a-m-a with all these little girls runnin' around. ;-)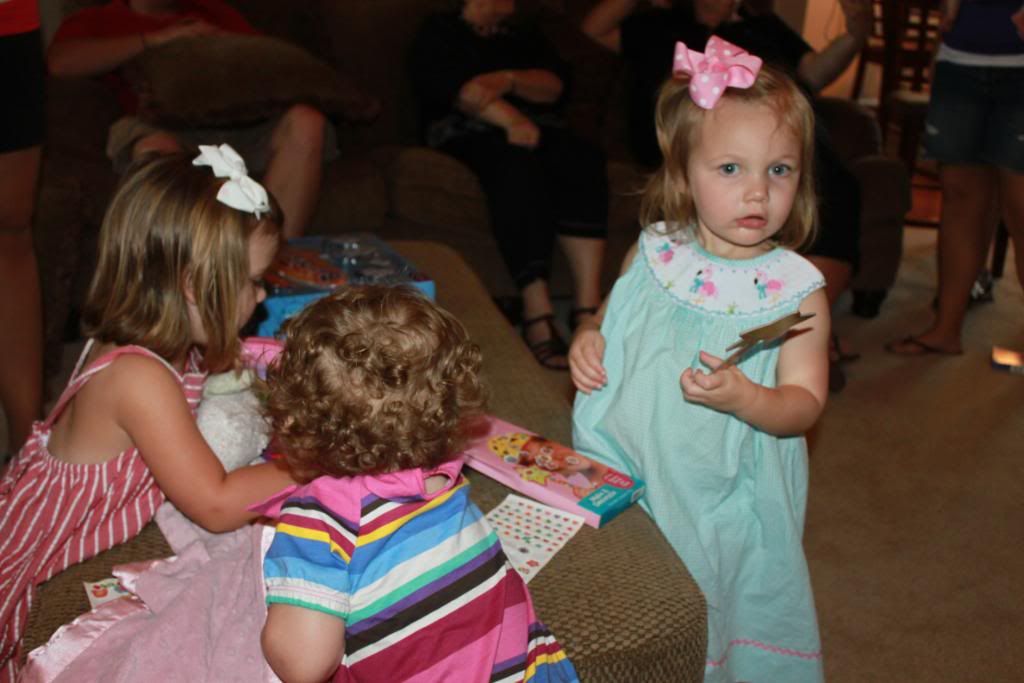 Here are a few pictures from our night:
I have no idea why my girls make this face. Apparently they both have the blank stare down to a science.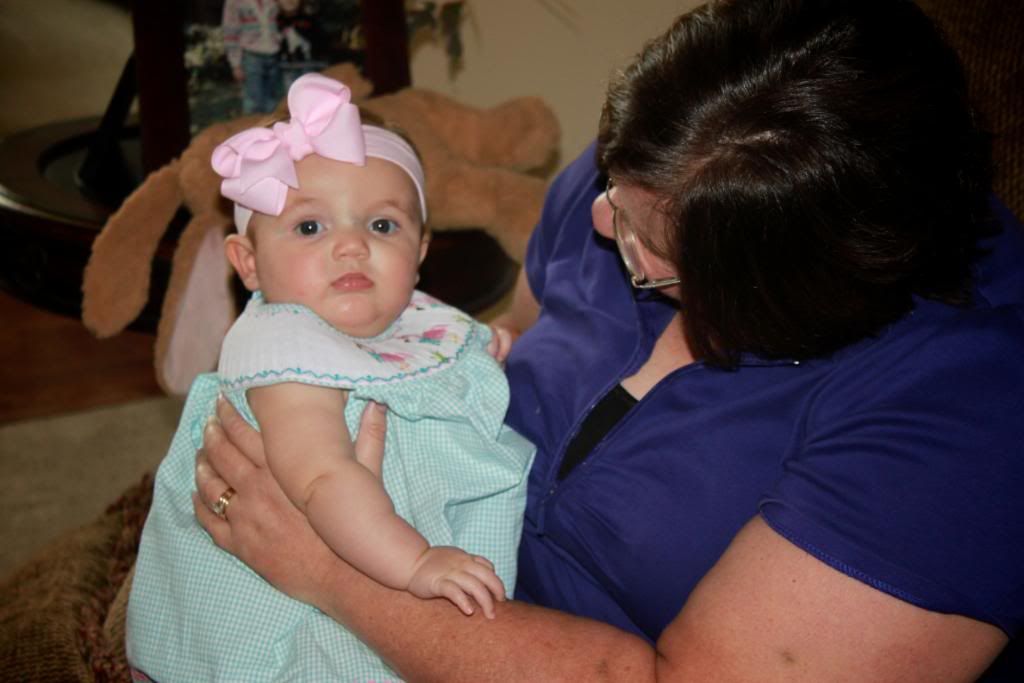 I wonder where they got it from?
Maybe it's hereditary?? ;-) We'll just call it the curse of the generational stare.
There's just something about holding Laney that makes you want to "squuuuueeeeeeze" her :)
Sweet Lyla and her precious Momma (doesn't she look great?!?) I had no idea what it was like to hold such a delicate little baby. Both of my butterballs were born weighing more than Lyla does now - ha!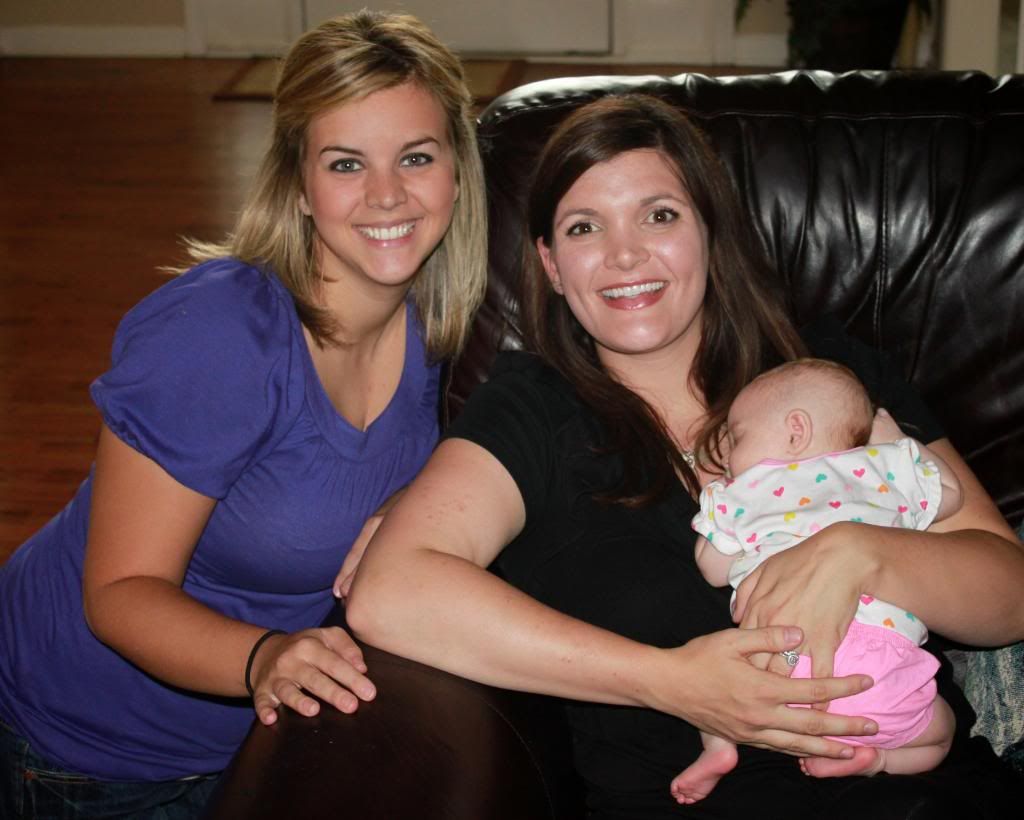 I don't think "dainty" is a word that will ever be used to describe my babies :)
Some of the girl cousins and their babies... (and yes, I did "crop" myself out of this picture. It was awful. Unlike my cousin stephie in the white tank top. She is 37 weeks pregnant with Baby Girl #2, Khoen. - Doesn't she look amazing? You can't even tell she's pregnant in this picture.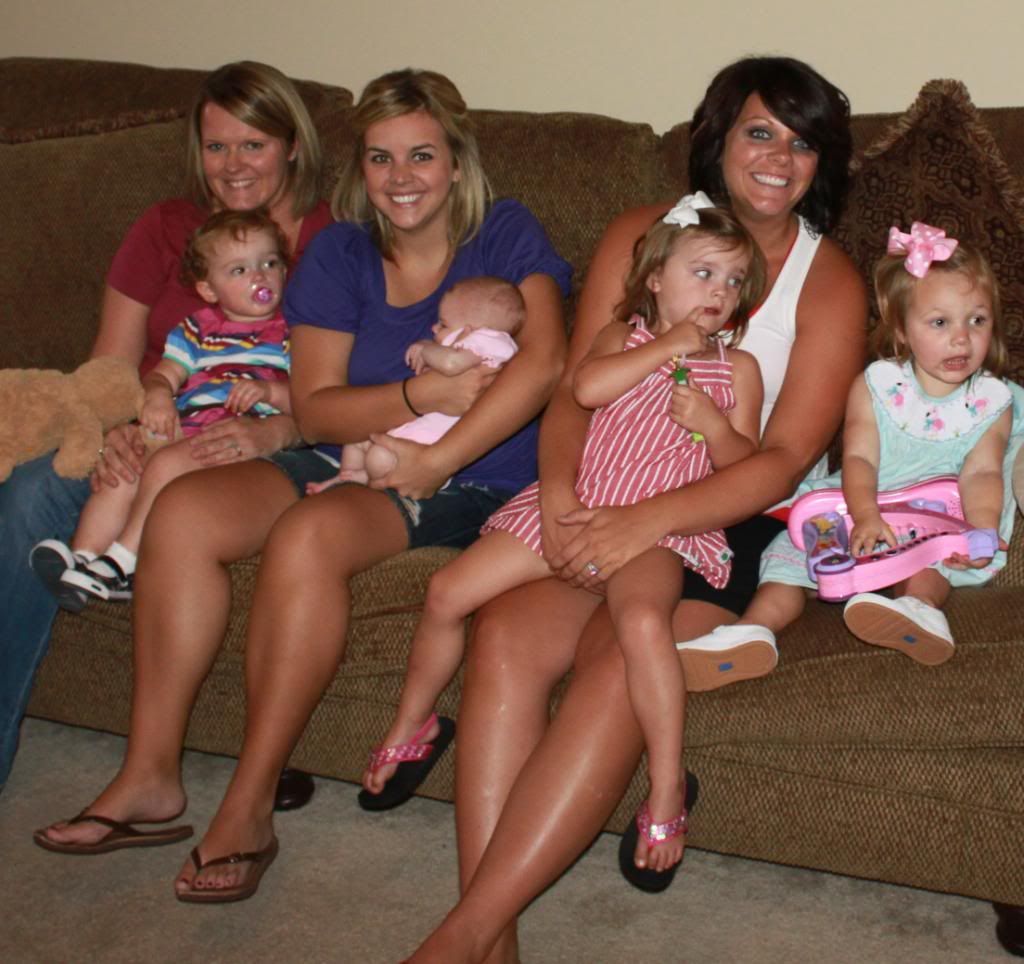 Poor Libbi. "Diggs" the dog snuck up on her at one point and just about scared the living daylights out of her. From then on, she kept a close eye on him at all times and she kept saying, "Diggs no get me..." She wouldn't let Mimzy put her down. Bless her heart. Looks like she got her momma's "love" of animals.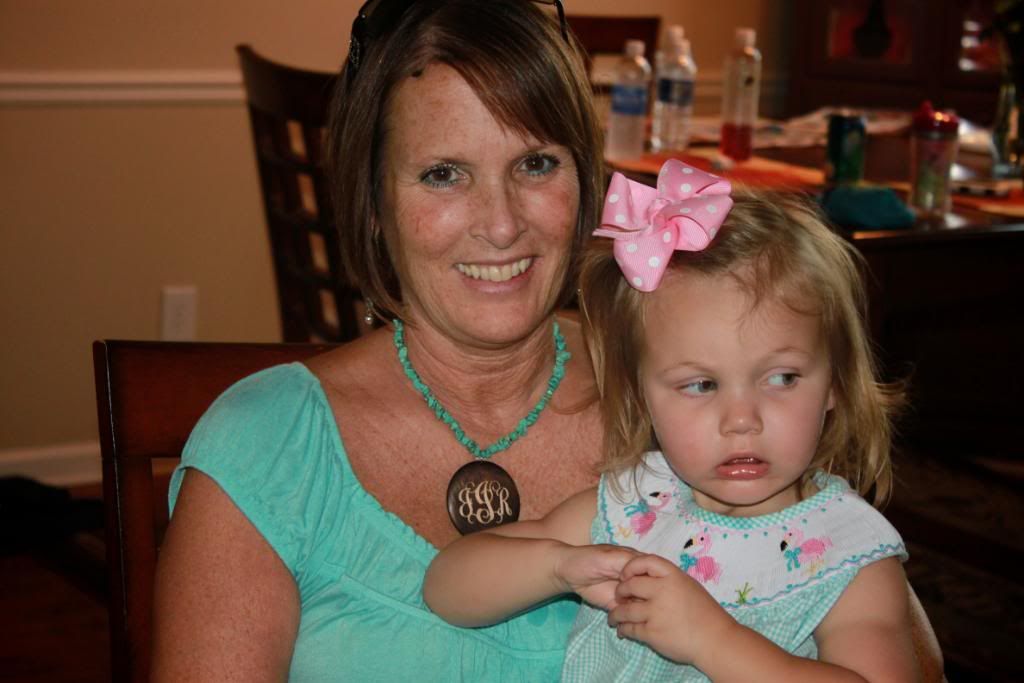 This picture makes me laugh, because it looks like Laney is comparing her legs to Lyla's. Sorry baby, you can't deny those rolls! ;-)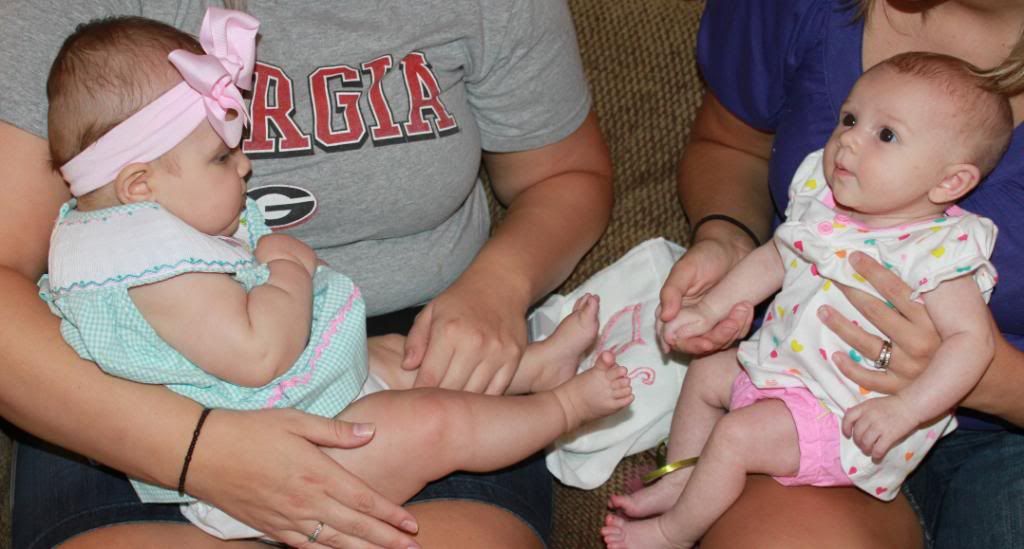 Laney just wore herself out. It's hard work being loved on by so many people! :)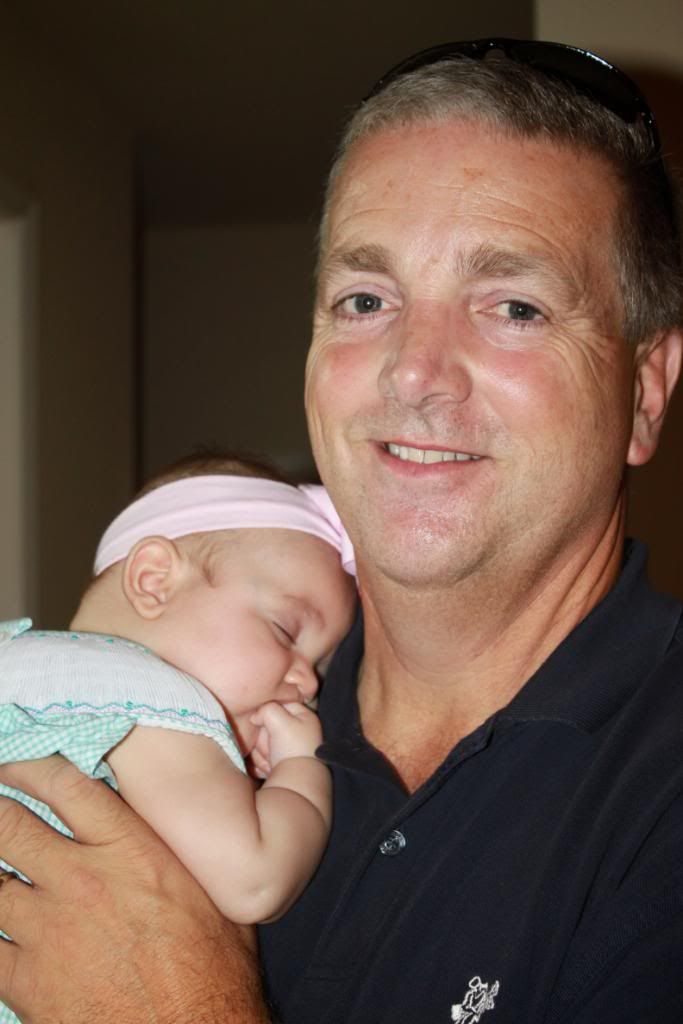 Mimzy and Buddy and the girls (again, Libbi is watching Diggs like a hawk)
When Libbi started climbing the furniture, I knew our night was coming to an end.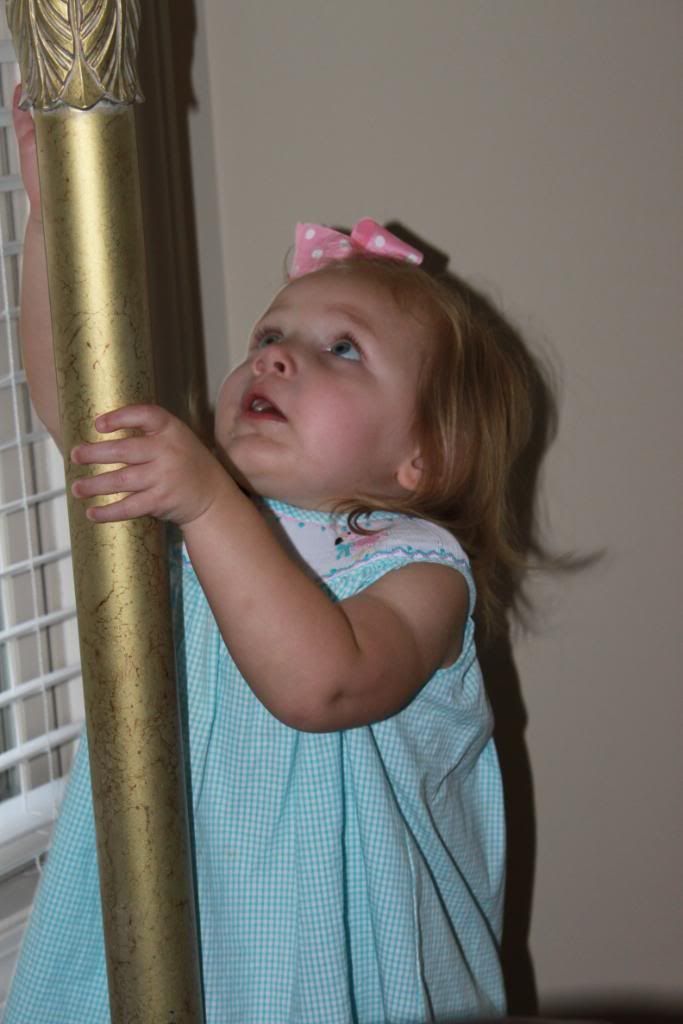 And by this point, I knew we had surpassed our limit.
It goes downhill fast, doesn't it y'all?
Luckily, we made it out alive and without breaking anything :)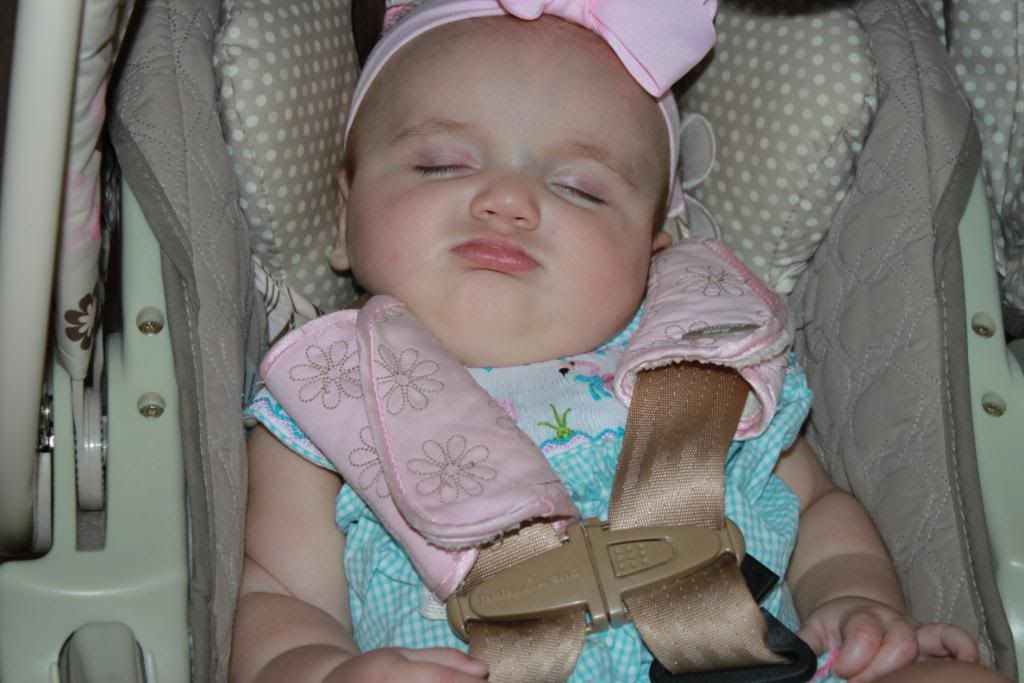 I am so thankful for the time we had to spend with our family and for all the new blessings being added!