*****COMMENTS ARE NOW CLOSED*****
A few months ago, the kind people at Bright Starts sent Laney their
Bouncin' Around™ Door Jumper
. It's been hanging out in her closet just waiting for her to grow a little bit more and wouldn't you know it, all too fast...she did!
Since sister was at school today, we decided today would be the perfect day to try it out! That way Laney could test out her new toy in peace (since sister is usually all too willing to offer her "assistance" with every.little.thing ;-)). There was a little bit of assembly required, but believe me, if I can I set up the door jumper easily by myself - anyone can! :)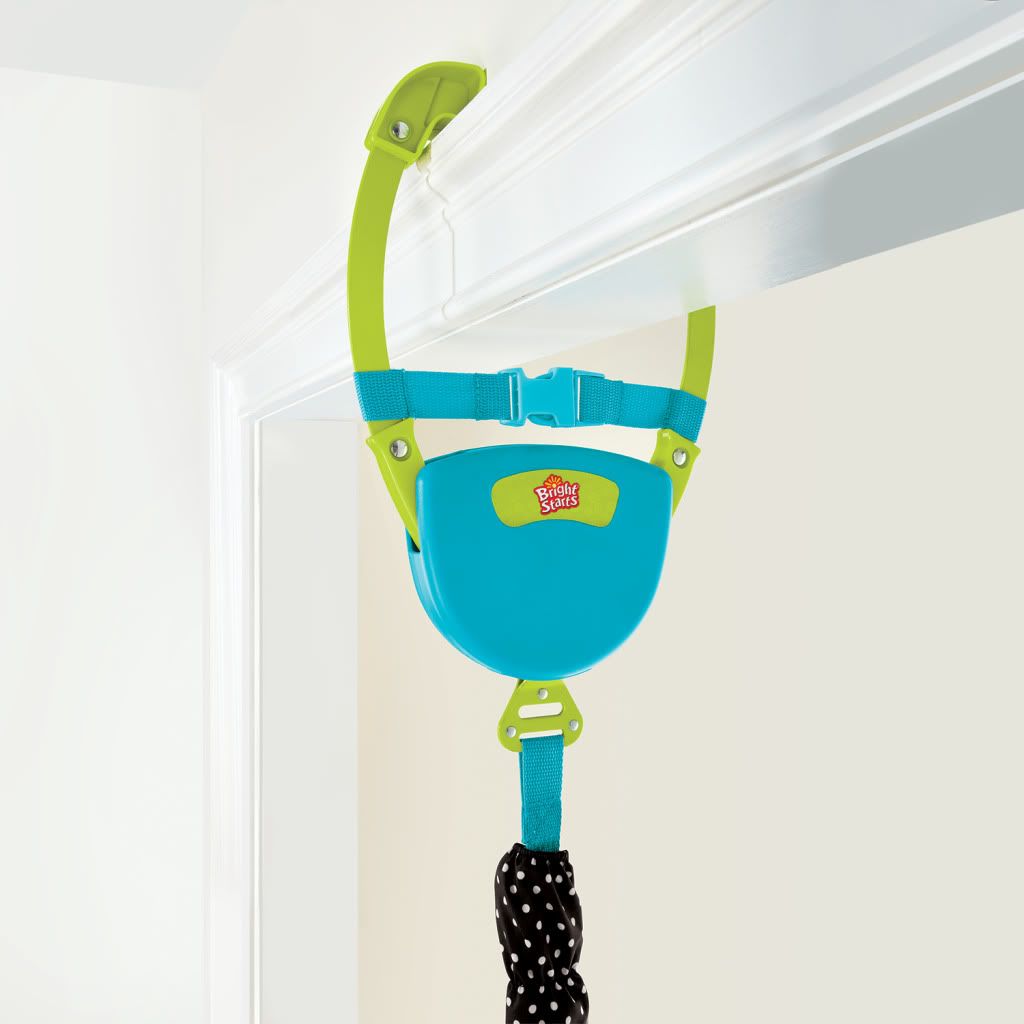 Once I had The
Bouncin' Around™ Door Jumper
assembled, I attached it to our door frame and my little tester was all too happy to give it a whirl.
I looked on the Bright Starts website beforehand, so I knew a little of what to expect: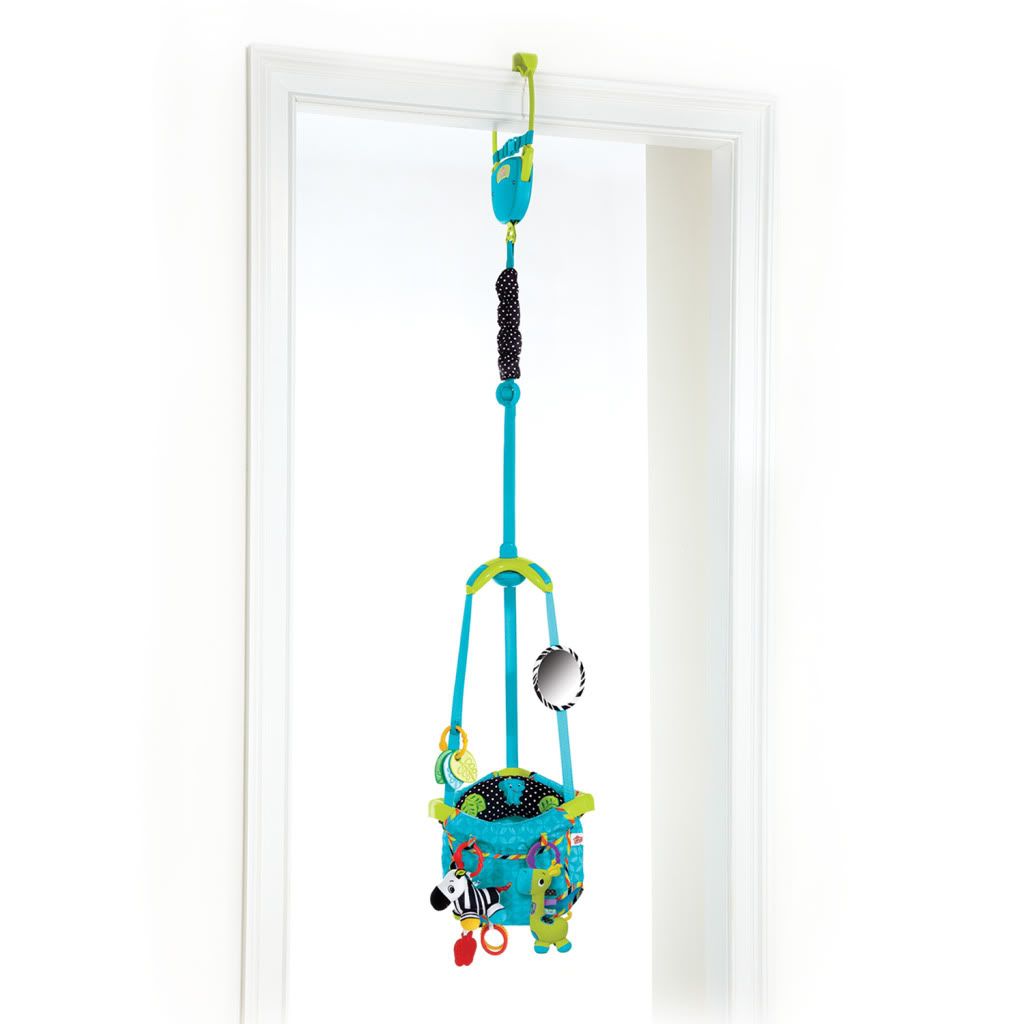 This door jumper provides hours of bouncing fun for baby!
The 4 playtime toys including a plush zebra and giraffe, teethers, and mirror, will also entertain baby while jumping. The straps are adjustable for use as baby grows, and the Support Me Pillow™ provides extra support for smaller babies.
Cushioning seat for baby's comfort features bright colors and high contrast patterns
Sturdy door frame clamp provides a secure fit into doorways
Support Me Pillow™ provides added support for smaller babies
Straps are adjustable for use as baby grows
4 playtime toys: Plush zebra with teether and clacking rings, Plush giraffe, 3 leaf teethers with multiple textures, Large mirror for self discovery
Machine washable seat pad
Age/Height/Weight Requirements:
Weight/Height: Up to 25 lbs
Age: 6 Months and Up
I have to admit, their description was pretty spot on. Some of my favorite features of the
Bouncin' Around™ Door Jumper are:
The Support Me Pillow™ offered that little bit of extra cushion that Laney needed to help her feel supported while in her seat. And if I'm not mistaken, I do believe she even reclined on it just a little when she got tired of jumping. :)
The playtime toys are in the perfect position for her to grasp and actually be able to "play" with them. We've tried other jumpers before that had the accessories so far out of reach, they were more like decorations than toys.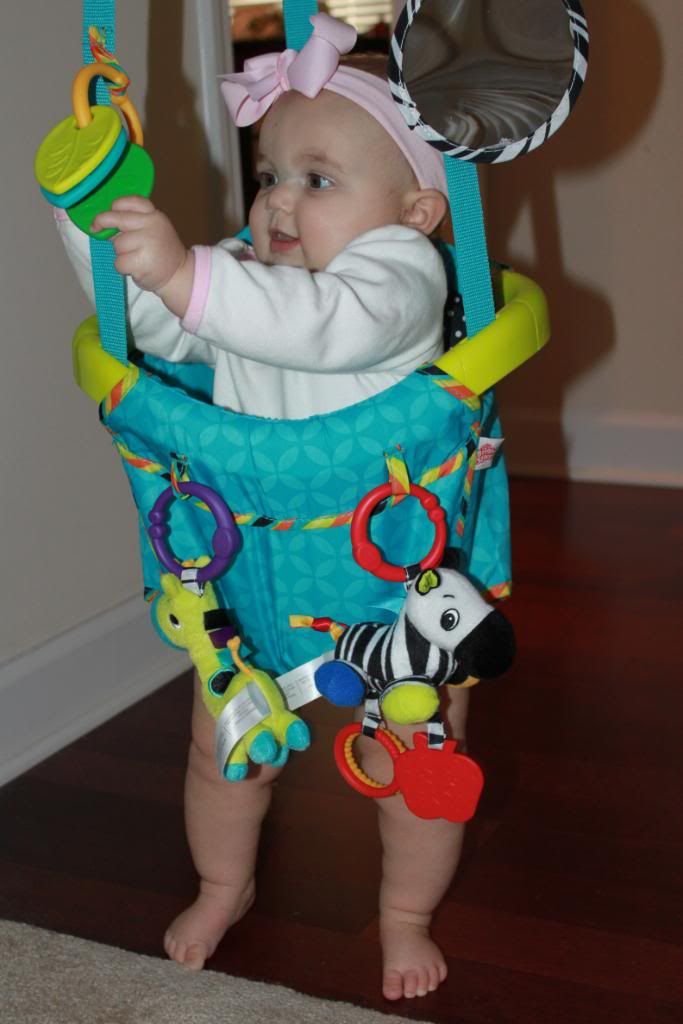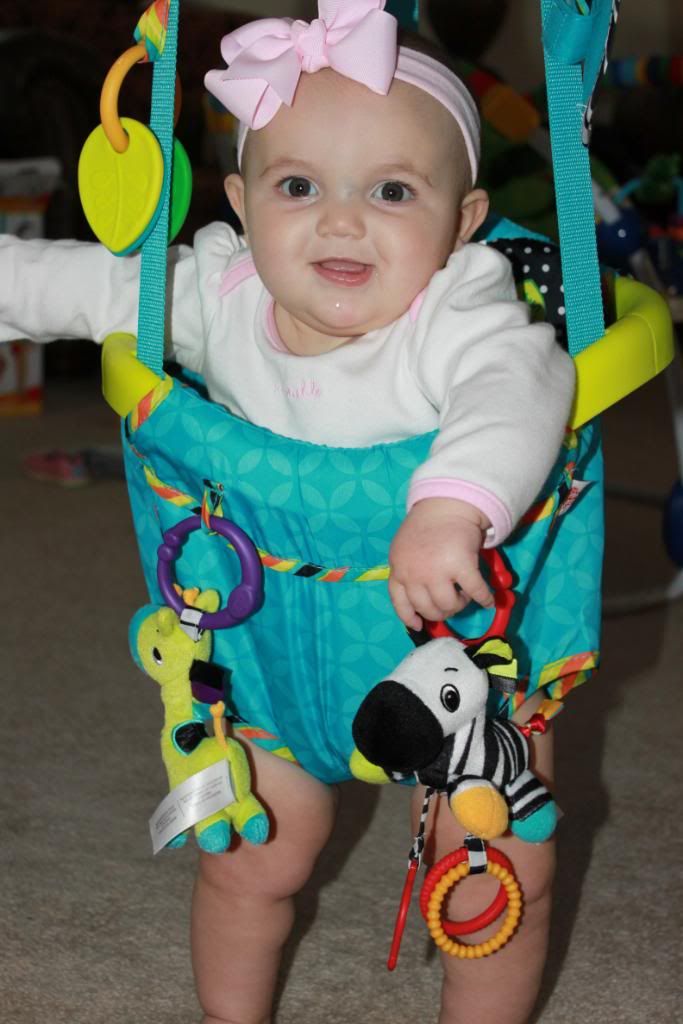 *The easily adjustable straps.
The easily adjustable straps made it super simple to lower or raise the jumper to the perfect height for Laney.
The
Bouncin' Around™ Door Jumper also came with easy to understand directions and diagrams that showed exactly how she should be positioned in the jumper.
*The machine washable seat.
need I say more? I have a 6 month old. In diapers. Accidents happen. Machine washable is a MUST! :)
The
Bouncin' Around™ Door Jumper is the perfect fit for our little Laney girl and she definitely enjoyed the time she spent bouncin' around!
Would you like to win a
Bright Starts Bouncin' Around™ Door Jumper of your own??? It would be perfect for your little one or even as a gift for any little one in your life. The Holidays are coming up and The
Bouncin' Around™ Door Jumper would make a great gift!
For one entry, all you have to do is leave a comment on this post. Easy, right? :)
For an additional entry, "like" Bright Starts on facebook (click HERE to go to their FB Page) and come back and leave another comment letting me know that you did.
Two easy steps and you've got two chances to win a
Bouncin' Around™ Door Jumper of your own!
The giveaway will end on Sunday, November 13th at 9pm EST.
I will use random.org to pick a winner.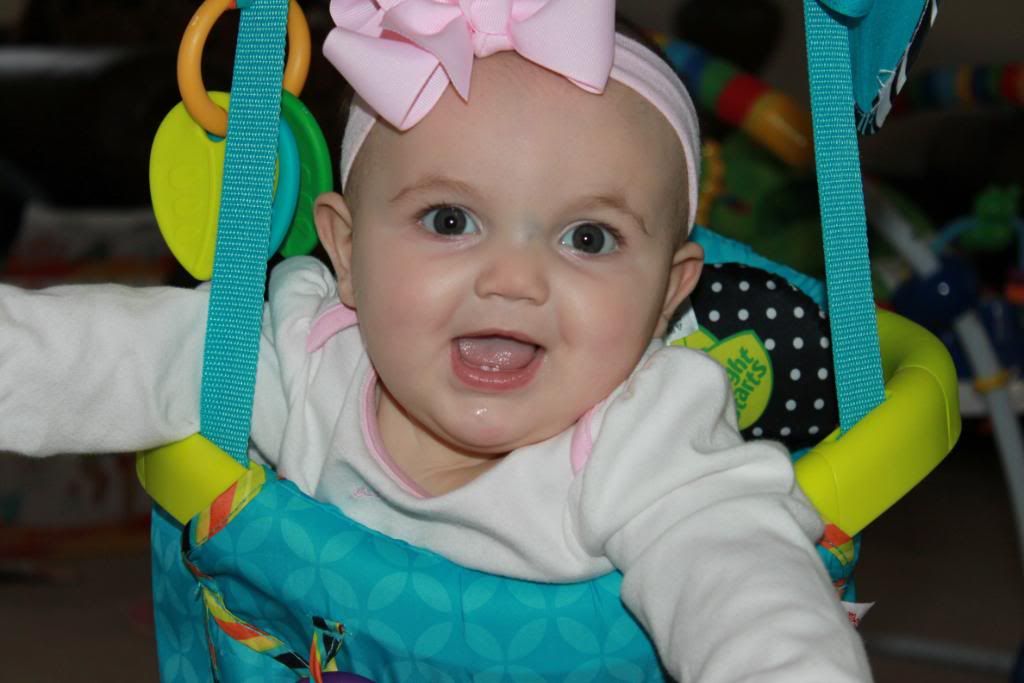 *disclaimer: I was gifted a Bright Starts
Bouncin' Around™ Door Jumper to review for this post. However, all thoughts and opinions expressed in this post are my own. Other than the product for my review and a product to give away, I was not compensated in any way for this post.*