how's that for a random title? :)
first of all, thank you all for praying for our precious laney as she had her tubes put in this morning. it literally could not have gone any better! she went to bed last night around 7:30, woke up at her usual 11:00 and then fell right back asleep until I woke her up at 6:00 this morning. Praise the Lord!
She had a nice relaxing ride over to Children's (until she somehow unplugged her elmo DVD...ugh!) and was happy as a clam while we waited for her to be taken back.
They took her back for her procedure around 7:45 and she was back with us by 8:15. She slept for a little while, woke up and nursed, and we were on the road by 8:45.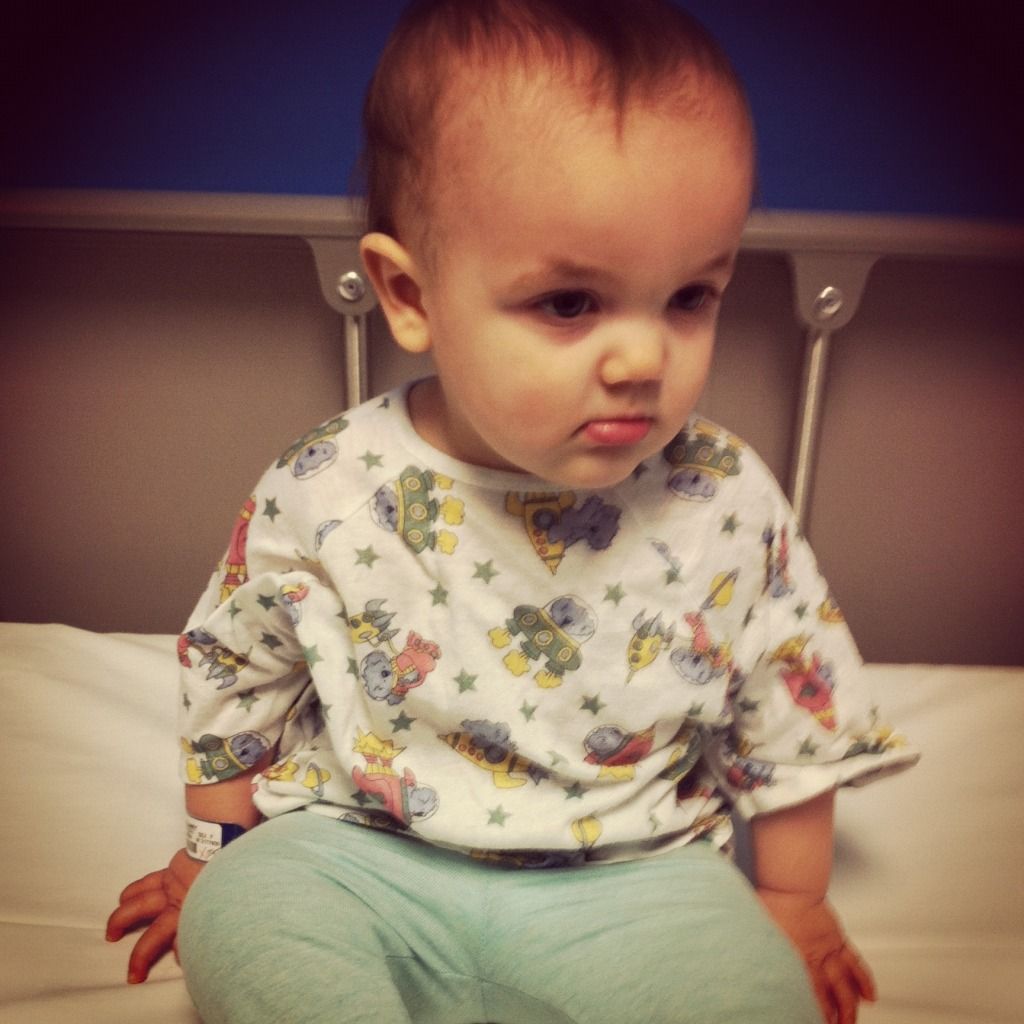 and of course, there really is no better medicine than chick-fil-a, so we had to stop on the way home. (just don't tell libbi...she'll be so disappointed) ;-)
we are so thankful for a team of doctors that the Lord provided to care for our sweet baby. We're thankful for all of our friends and family that prayed for laney (and for us!) during her surgery...our prayers were answered! she was content, comfortable, and did amazingly well. now we're just praying that the tubes will not only help her little ears, but will help her sleep, too ;-)
now onto a few other things....
the shabby apple giveaway ends tomorrow. if you haven't entered to win a $50 gift card you still have time! i wanted to tell y'all about a special promotion shabby apple has going on right now, too. for a limited time you can buy a $30 giftcard for just $15! they don't run these kinds of deals often, so scoop it up while you can! it won't last long!!
and the "code" for the day...
shutterfly has created a Father's Day video that has a FREE father's day card offer at the end of it. you can view the video by clicking HERE
you can also check out shutterfly's facebook page to see FREE father's day offer! (click HERE)
finally, i've had a quite a few people email me lately asking where i buy the girls' bows. my favorite place to buy bows is polka dot posies. they are THE BEST! the best prices and quality. and their shipping is ridiculously fast! i've also had a few emails wondering what size bows i order for the girls.... for libbi i usually order the 6inch bows (i like hers a little bigger) and for laney i typically order the 4.5inch bows. they're still big enough for libbi to wear too, but not overwhelming for laney. let me know if you have any more "bow" questions! and be sure to check out polka dot posies!
thanks again for all of your prayers for our sweet laylay girl! we are so grateful! :)
have a great night, friends!