Today Kelly is hosting "Show Us Your Life - Kid's Bday Parties" and I thought it would be fun to reminisce on Libbi's first birthday. (I was also having a complete "blogger's block, so I figured this may help jumpstart my brain!) ;)
I first posted about her birthday here, (was it really almost a year ago?!?!) but I just realized there were many pictures that I never posted! So, I'll share some of those today :)
(MOST of these pictures were taken by an
amazing
photographer and friend
- he also photographed our wedding! - but the ones that were taken by me will be blatantly obvious ;))
I loved planning Libbi's party and have already started planning bday #2 (especially since we will have a new baby when Libbi turns 2!! I want to have as much prepared ahead of time as possible.) I cant believe that I will have a two year old this summer.... sigh....
on second thought, maybe it wasn't such a good idea to "reminisce" while almost 8 months pregnant.... ;(
THE THEME:
We did a "Sweet Shoppe" theme for Libbi's first birthday. I scoured the internet for months beforehand just looking for ideas. I decided on the theme nice and early so I could collect little odds and ends periodically without having to make a lot of big purchases right before her actual party. I wish I had taken a picture of our dining room before it was all said and done - it was like party planning central for at least a month or so. Poor Jeffrey had to eat supper surrounded by lollipops, gumdrops, and birthday favors for weeks on end.
THE LOCATION:
We had the party at my parents house since it was in a central location. Plus, they have a really open backyard and large covered porch so we could be in or outdoors if needed.
We mostly invited close family and friends and were so blessed with all the people that came to celebrate our sweet girl.
THE ATTIRE:
I ordered her dress from
Lolly Wolly Doodle
waaaay
back before they began doing their crazy facebook sales. (If you are a "fan" of theirs on facebook you know what I'm talking about). When I ordered this dress, LWD just had their online store and an ebay store (which is where I think I got it from...) and it wasn't any of that madness of commenting "
sold
" etc, etc, etc.... I also ordered some cute little bloomers from
this etsy sho
p along with a bib. She was great and made sure to coordinate them with our dress. Finally, I ordered a cute little lollipop bubble for her to put on after she ate her cake. (A girl's gotta have at least one wardrobe change during her main event! ;0) )
THE INVITES:
I found the invitations at a fun little local shop -
la ti da
- which I LOVE! I bought them in March because I knew that we would eventually be using them that June. We actually ended up needing more room to print, so I hot-glued two invitations together and used one side as the "front" and one as the "back." (so all in all I ended up buying A LOT of invitations - which is also why I bought them when I found them in March - I was so afraid I wouldn't be able to find them later).
I wish I would have taken a better picture of the invites, but you'll get the idea....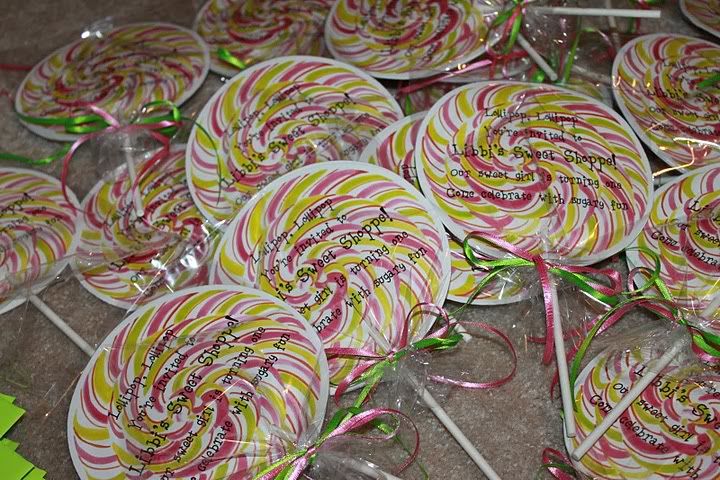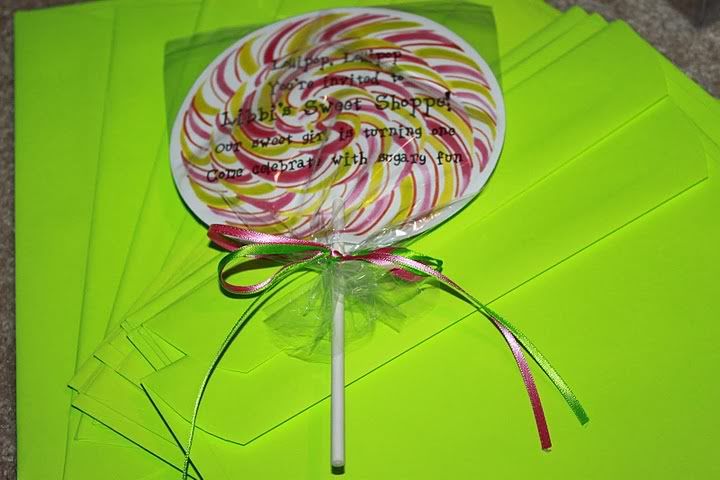 this was the front of the invite....
"Lollipop, Lollipop; You're Invited to Libbi's Sweet Shoppe!; Our sweet girl is turning one; Come celebrate with sugary fun!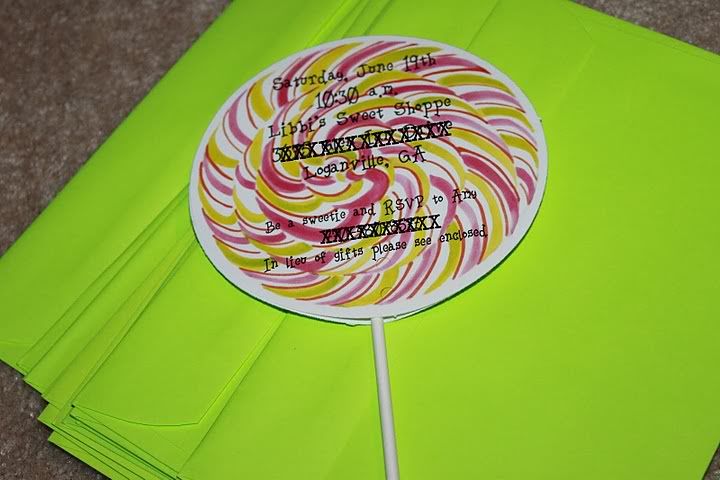 The back: "
Saturday, June 19th; 10am; Libbi's Sweet Shoppe (address here....); Be a sweetie and RSVP to Amy at....; In lieu of gifts, please see enclosed.
"
THE DECOR:
I have to say, this is where I had the most fun! There were
SO
many things that I wanted to do, but I was on a budget and had to really restrain myself from going overboard.
Here are a few pictures of some of my favorite things.
ring pop and candy watch napkin holders....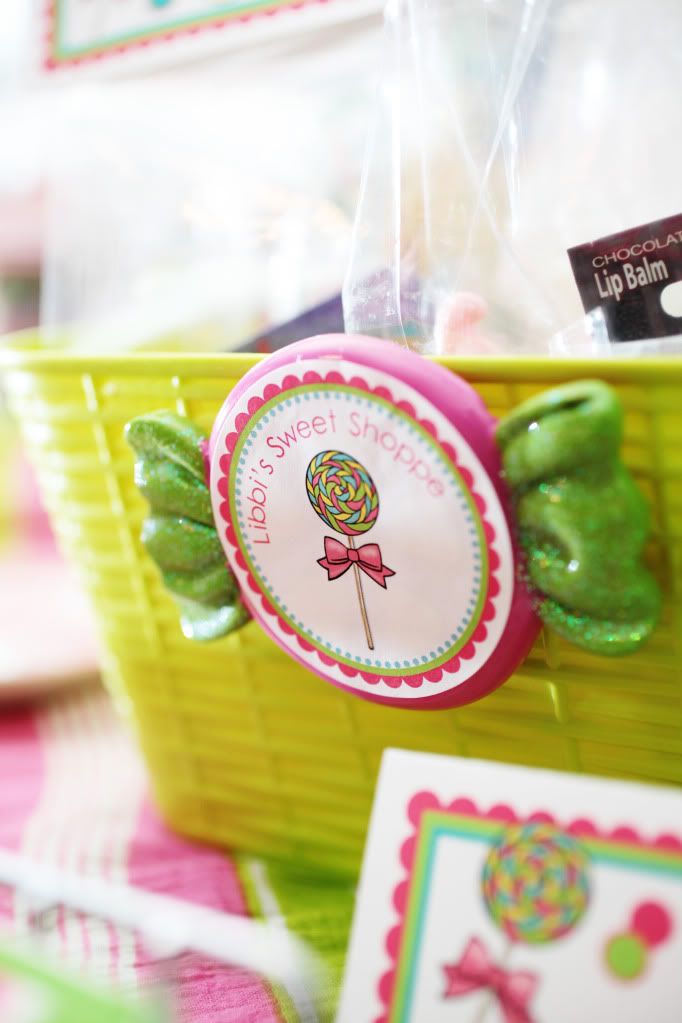 box that held the party favors. the candy accent came from hobby lobby and i just glued it onto a basket I already had. the stickers came from
HERE
.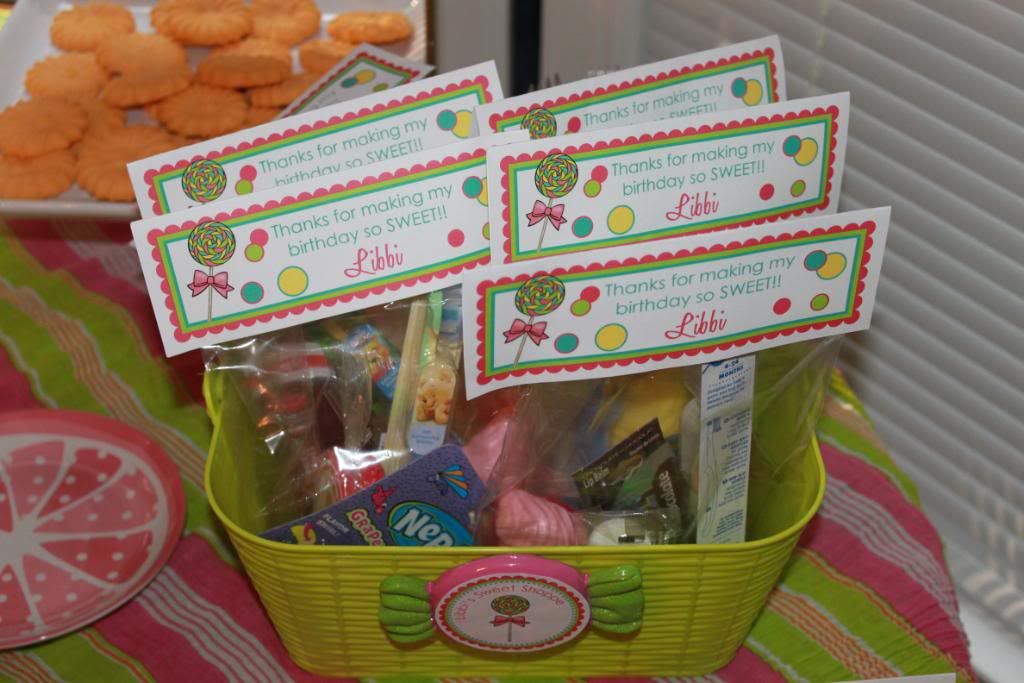 Goody bags for the guests...the favor tags came from
HERE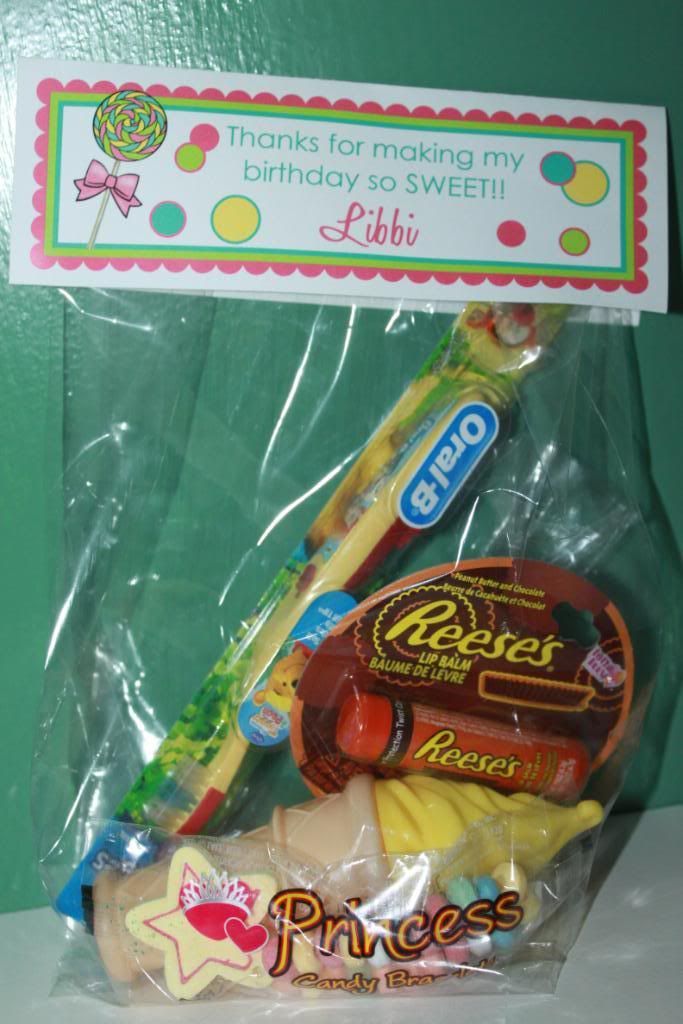 the goody bags included - ice cream cone bubbles, candy bracelet (or watch for the boys), candy flavored chapstick, and a toothbrush, of course ;)
this was a "piggy bank" from hobby lobby that I stuffed with candy and a cupcake topper that came from
HERE
another "piggy bank" with coordinating cupcake topper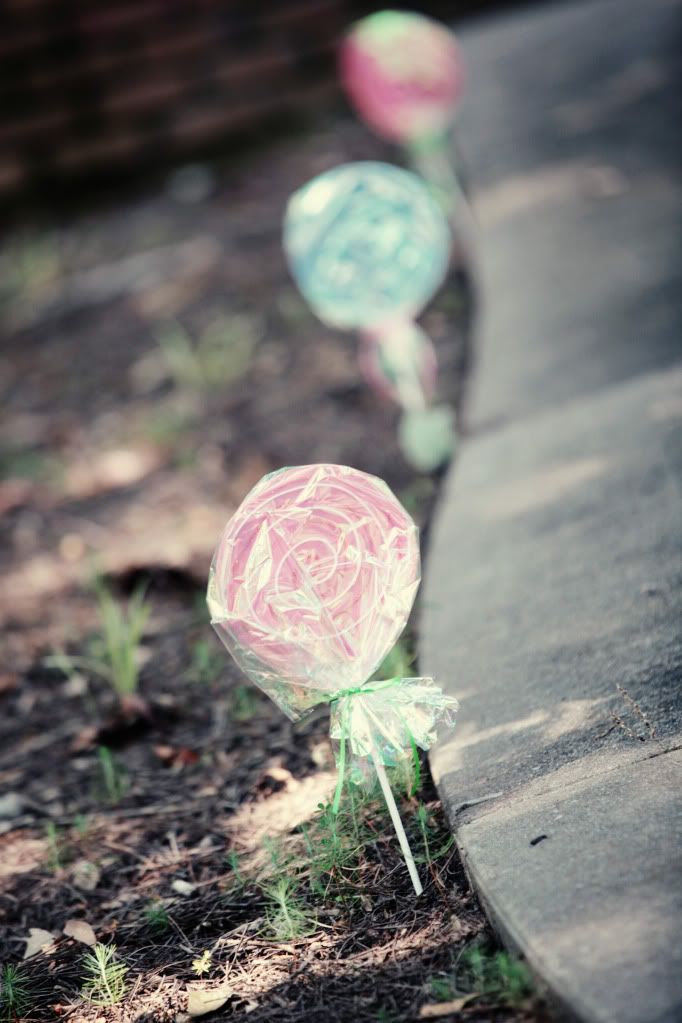 lollipops that lined the walkway to the front door (foam circles, painted with swirls, covered in cellophane, and attached to a dowel rod).
wreath on the front door with the lollipops (see above) and candy attached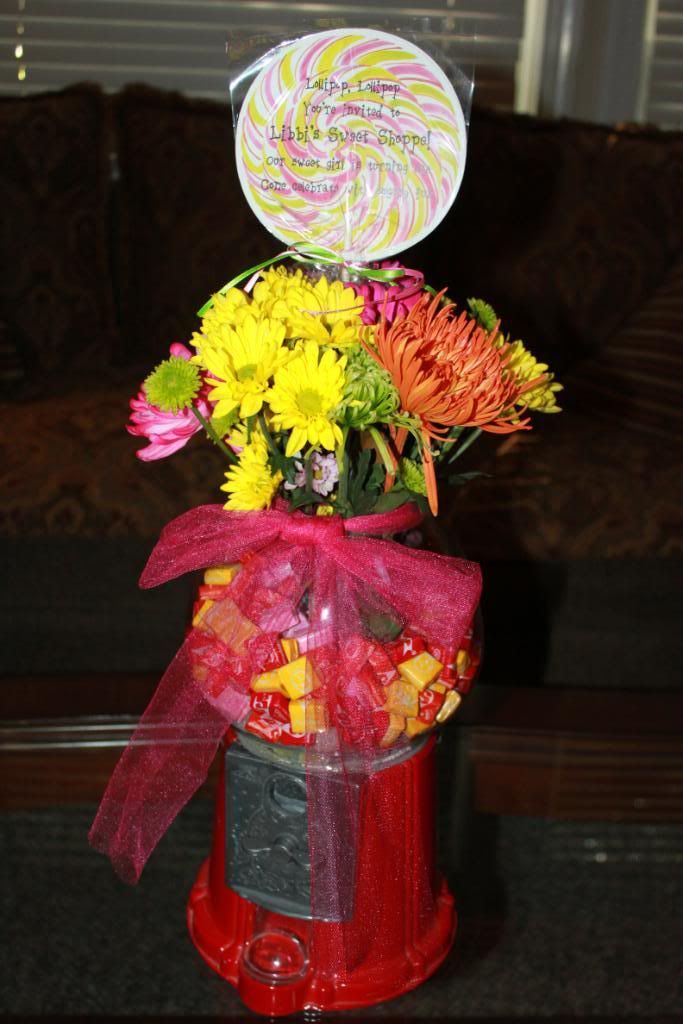 centerpiece for coffee table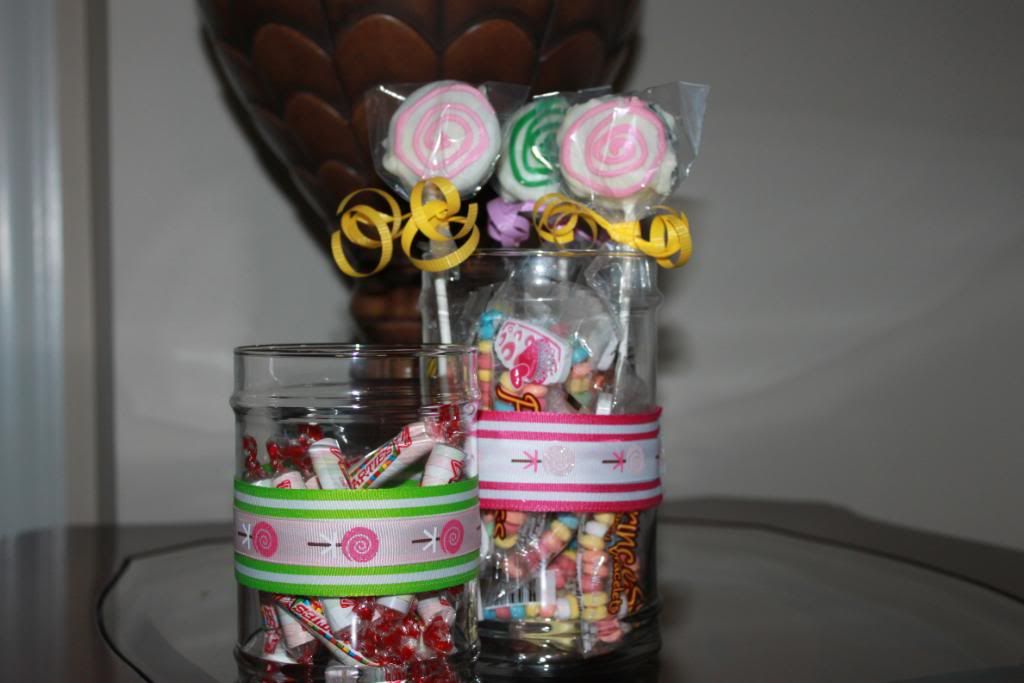 of course we had candy EVERYWHERE!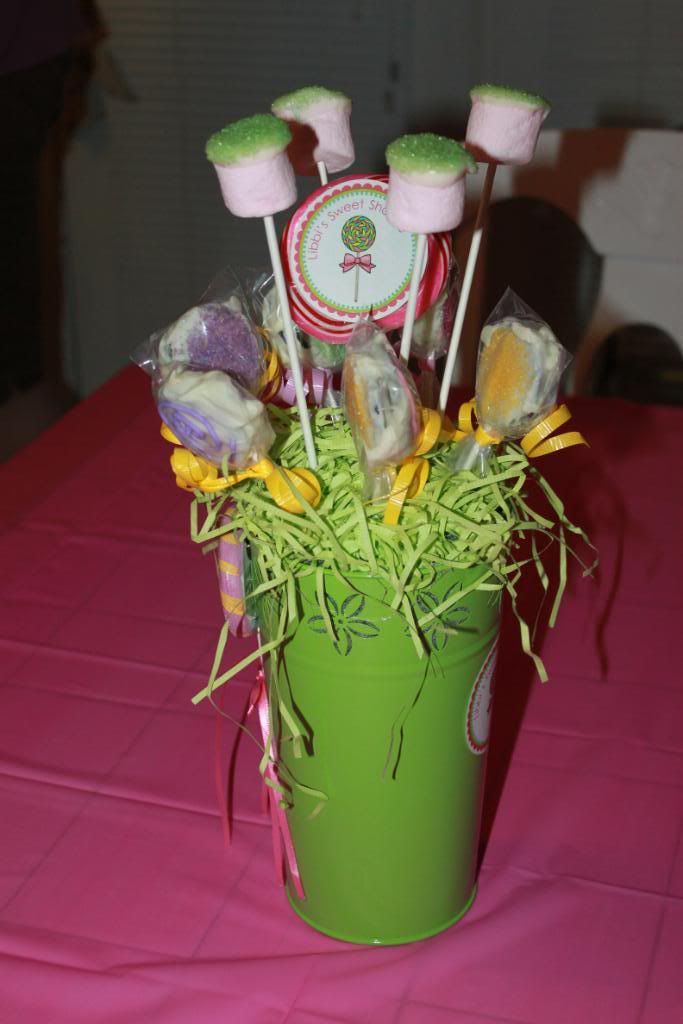 centerpieces for individual tables....chocolate covered oreos wrapped like lollipops and marshmallows dipped in candy melts and sprinkles.
monthly pictures on "lollipops" in mason jars filled with gumdrops (months 1-4)
months 5-8....
I used coordinating scrapbook paper and cut out circles for the pictures and attached them to sucker sticks...
months 9-12
THE FOOD:
Since Libbi's birthday party was in the morning, we had a brunch menu. We served donut holes, muffins, fruit, cheese stars, and a few sweets ;0)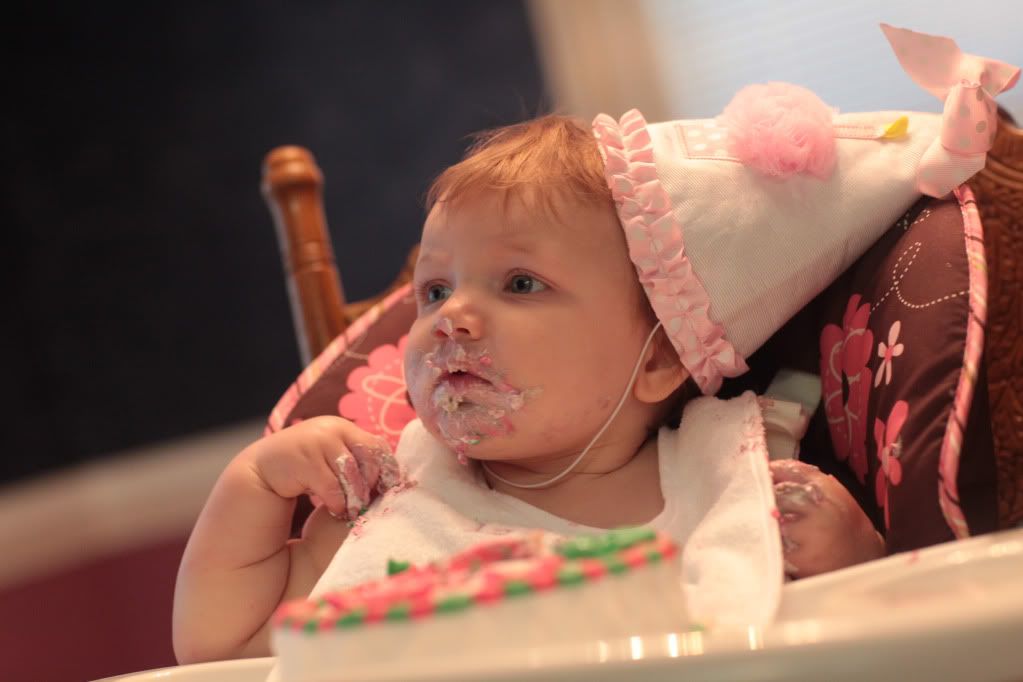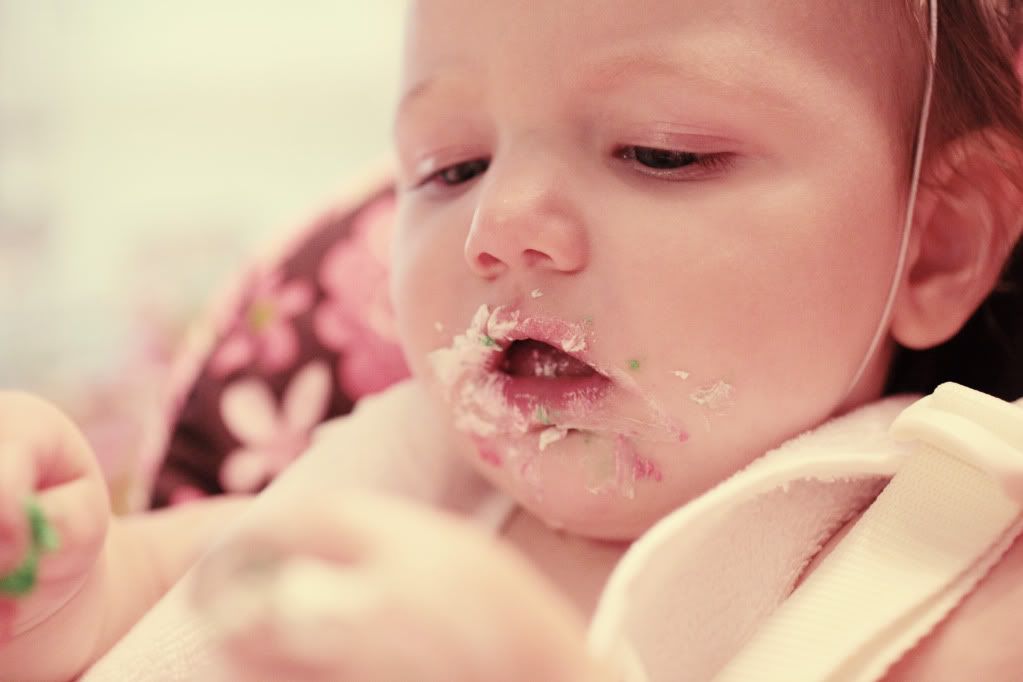 THE GIFTS:
We asked all of our family and friends to bring donations for the local chapter of our Ronald Mcdonald House. They went above and beyond and we were able to make a very generous donation together as a family a few days later!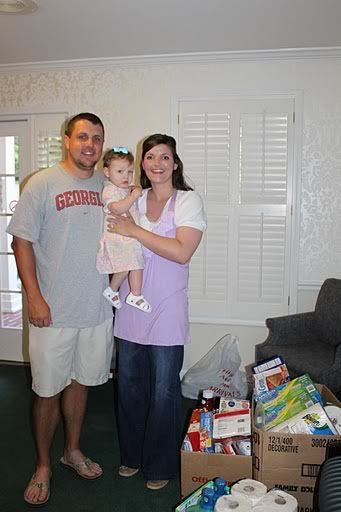 Finally....
THE PROUD PARENTS
:)
Hope you enjoyed the walk down memory lane...I know I did! :)