Don't we all love to get mail? I'm not talking about bills, fliers, and the odd mailer that comes every so often. (and FYI....I debated way too long on whether or not it was "flyer" or "flier" and my trusty sidekick dictionary.com said either would work. So just go ahead and call me a nerd right now.)
Anyway...back to mail. you know, the good kind. Handwritten letters, personalized cards, special treats. - That kind of mail. Since we love to get fun things in the mail, it makes perfect sense that our little ones would, too!
Meredith from The Tichenor Family came up with a fabulous idea of creating mini mail partners. It's kind of a modern day "pen pal" for our littles. I signed Libbi up, because I knew she would love it. Sister is ob-sessed with the mail. She watches for the mailman every day and immediately wants to run to the mailbox when she hears/sees him coming. I usually give her all the "junk" mail and she is just over the moon. She'll ask, "'dis my mail????" as she tears into each and every piece of it. :)
For our mini mail partner, we were paired up with Kennedy. Her momma is Hether from The Transplanted Texan. It's so neat, because we're *almost* neighbors - what a small world! :)
I totally forgot to take any pictures of the items that we sent to Kennedy, but maybe Hether will include some in her post. When we received Libbi's "happy box" full of goodies, it's safe to say that she was in the middle of a melt down (which is not all that unusual these days - ha!) She had just recently gone through a bad breakup and was having an "off" day. :) But, upon seeing a package addressed to her (and one that she was free to open!) she quickly turned her frown upside down.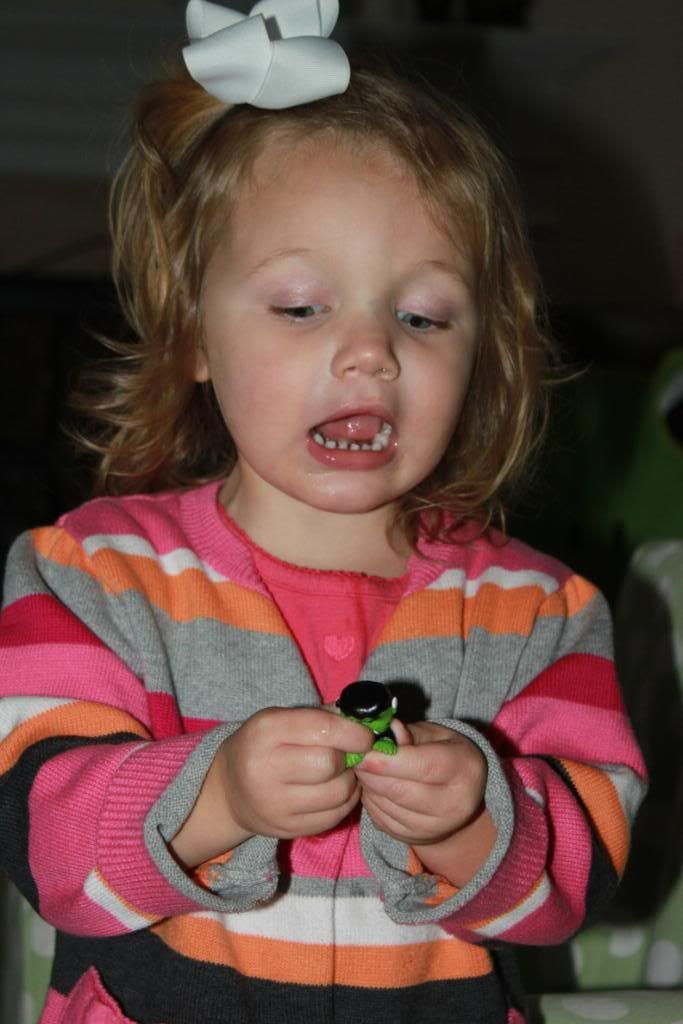 she loves finger puppets...especially when they're monsters and she can make them "ROAAAAAR!" and she loves them even more when they can fit on lay-lay's toes. ;-)
Kennedy sent Libbi some of her favorite goodies - playdough, a book, stickers, even a harmonica (Oh, Kennedy - how did you know that Libbi loves to play instruments?!?) ;-)
Needless to say, Libbi was beyond excited. It was like Mary Poppins's bag - she kept pulling out more and more stuff! If I had a nickel for every time I heard, "open 'dis momma. open 'dis!" I'd be one rich lady. :)
she's worn her "pi-ver rings" everywhere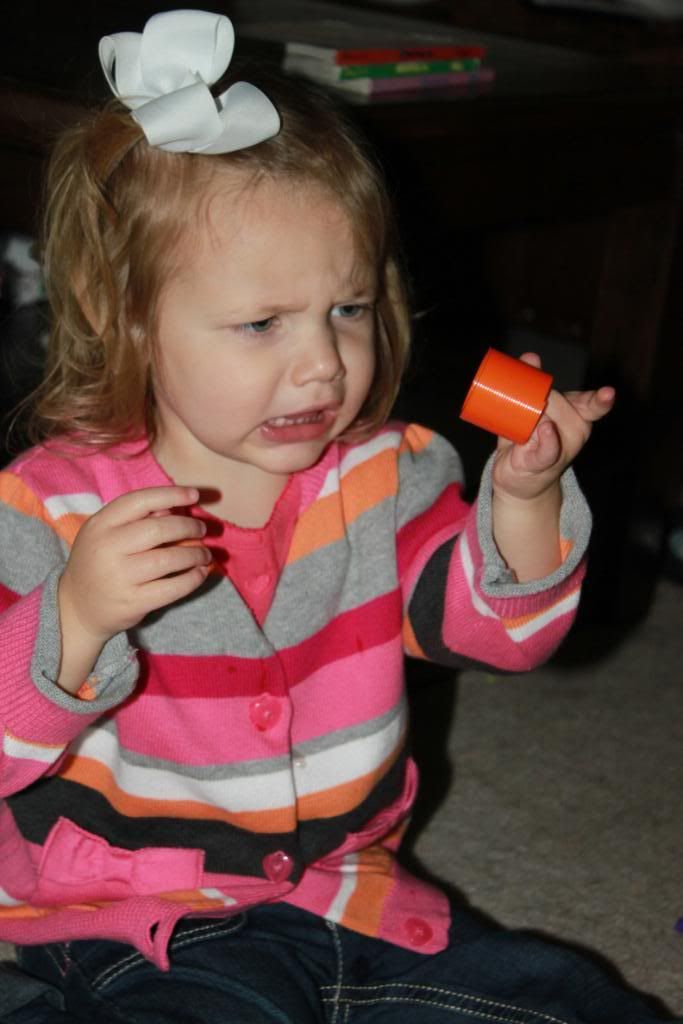 my poor deprived child did not know what a slinky was - haha! :)
Thank you so much Kennedy (and Hether!) for all of Libbi's goodies! You definitely helped turn a cold, rainy day into a Happy Mail Day!! We hope you enjoyed your happy box, too! :)
(of course it didn't take libbi long at all to break into the chocolate!) :)
If you'd like to sign up your little one(s) to participate in the Mini Mail Swap, it's not too late! Head on over to Meredith's blog to find out all the details. And while you're there, read about all the other mini mail partners!