when i was in the first grade, my teacher gave us little tree seedlings to take home and plant in honor of earth day. of course i took it straight home and planted it expecting to see a full grown tree by the end of summer. unfortunately, i forgot to mention to anyone that i had "planted" this tree in our backyard. the next day when i got home from school, grandad was out back cutting our grass and my little tree was nowhere to be seen. to the untrained eye, the tree seemed to have blended in with the grass and was now a few wood chips shy of tree heaven. bless grandad's heart.... he didn't know about my tree. and i'm pretty sure he didn't even know there was such a thing as "earth day."
but, the one thing he did know was that our grass needed to be cut. we were having hard times-my dad was working a lot, my mom was working and trying to take care of three young children, and they were just doing the best they could to make ends meet. grandad knew there was a need, and he did what he could to help.
that's the kind of man he was. grandad would see a need and without hesitation and before he was even asked, he'd step in to help. it didn't matter if you were family, friend, or stranger - he would give you the shirt off his back....although you might not even notice since he sported his own au naturel fur coat underneath :-)
when i think of my grandad i can't help but smile. he was one of the funniest people i have ever known, even when he wasn't trying to be. there are so many "family stories" that revolve around grandad and his antics, that we could (and do!) tell them every time we get together. it doesn't matter if you were present when it happened or just heard about it after the fact, it's still just as hilarious as if you were in the moment with him.
i think every family member has their own personal "favorite" grandad story. whether it's his infamous "trickster" golf swing, his love of aquanet hairspray, or his declaration that every meal is "the best he's ever had" there are more than grandad stories to share! and some of them are told over and over to anyone that cares to hear them, others are kept safe within the family circle and we never tire of telling them and laughing together.
grandad had a way of making everyone feel included. he truly cared about people and he had heart like no other. even though he had eleven grandchildren, he and mawmaw made sure none of us ever got lost in the shuffle. they came to every basketball and softball game, piano recital, school function, and church production. if we invited them, they would do their best to be there.
without grandad, i wouldn't know some of life's most important lessons, like: how to tell when "the devil is beatin' his wife" (aka the sun is shining while it's raining); how to tell "dirty jokes" (aka - "a white horse fell in the mud"); or the fact that zero candy bars taste so much better when they're "king size." without grandad, laney wouldn't be laney JAMES. over the years, i've seen grandad impersonate elvis, eat an apple in two bites, get more than one speeding ticket, and scream "GEORGIA TECH!" as he pushed a piano up a set of stairs.
out of all my favorite "grandad stories" and all of my precious memories that i have of him, there are two things that stand out to me the most. grandad's love for the Lord and his love for mawmaw. not a day would go by that he wasn't professing his love for both. he couldn't help but tell anyone that would listen about the way the Lord changed his life. grandad lived like a man that knew he had the assurance of eternity with our savior. and he wanted other's to have that same assurance. he was unapologetic in his faith and it truly did overflow into every aspect of his life. when you were around grandad there was no denying he was filled with the kind of joy that can only come from jesus.
it was also evident that he loved mawmaw more than anything on this earth. there's was the kind of love that had seen good times and bad, famine and feast, and they were stronger because of it. and when grandad began to slip away, and his memories began to fade, there were two things that could always put a smile on his face: singing about Jesus and having mawmaw by his side.
of course we are sad that grandad is no longer here with us, but what greater comfort is there than knowing we WILL see him again one day? i believe whole heartedly that grandad met his maker early this morning. and i believe that he was greeted with, "well done good and faithful servant." the life that he led was a true testament to God's redeeming love and abounding grace. grandad is no longer with us on this earth, but the legacy of faith that he left behind will live on. children, grandchildren, great-grandchildren, and countless others that have drawn closer to the Lord because of something they saw in grandad. only God knows how many seeds were planted during grandad's days on this earth and how many lives were changed because of his obedience. i know that my life was forever changed. and i am eternally grateful that not only do i have precious memories of grandad, i have the hope and assurance of knowing that i WILL absolutely see him again in heaven. and when i do, i'm pretty sure he'll be a fantastic clogger.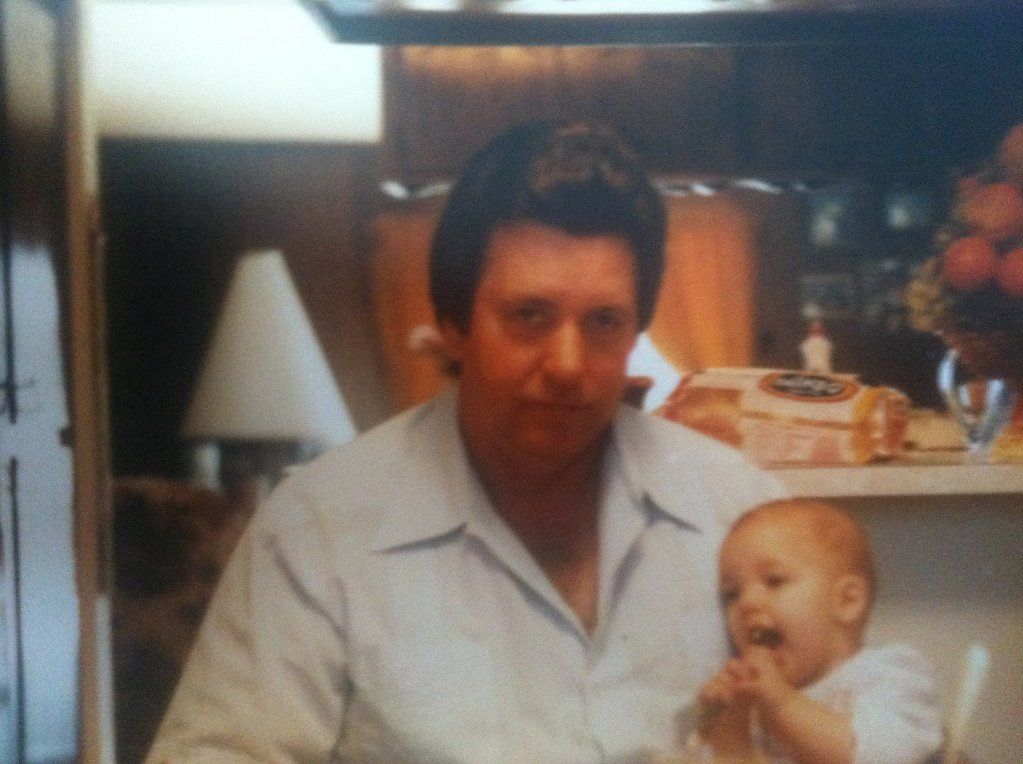 grandad and me
meeting libbi for the first time
meeting his namesake, laney james for the first time
"For the LORD is good and his love endures forever;
H
is faithfulness continues through all generations."