we had libbi's third birthday party on sunday and it was a blast! her party was at the little gym and i think it's safe to say she enjoyed it :)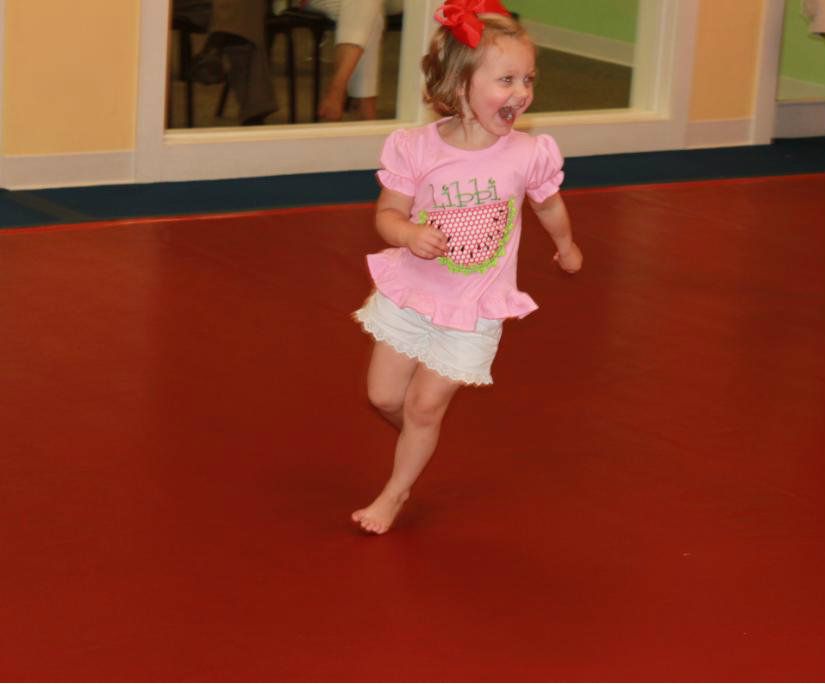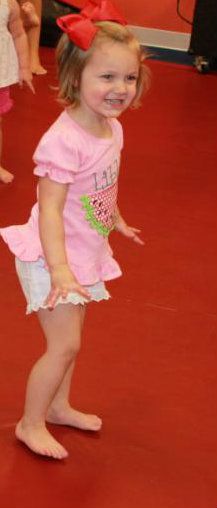 even though it wasn't at our house this year, i still wanted to do a few decorations and have a simple "theme"...because what's a party without a theme?! we settled on a picnic theme, because it was simple and fun - just my style :)
(let me also preface this by saying, i am (very obviously) not a photographer. if it looks like the picture was taken by someone either half blind, confused about the camera, or under the age of 5.... it was more than likely taken by me) :)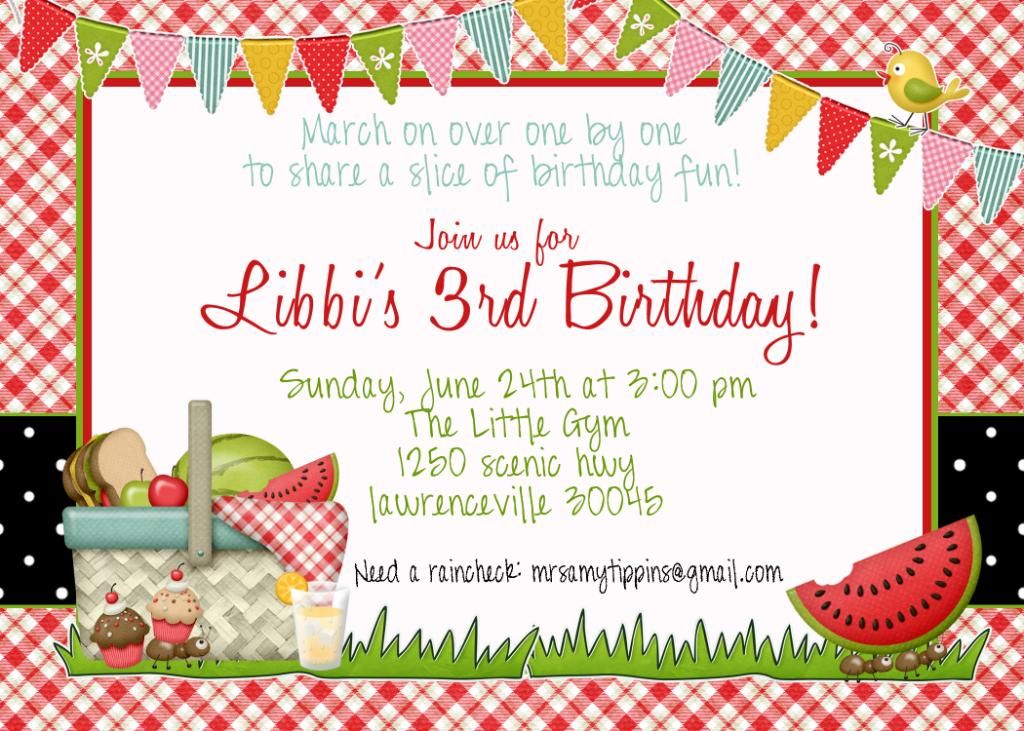 just for fun, we put a thumbprint ant on the back of the invite and on the envelope. we even added a thumbrprint watermelon on the back of the envelope, too. libbi loved doing these. and since we used lunchbags for the envelopes, it wasn't a big deal to throw away 2 or 3 (or 10) when she she got a little paint happy with the finger prints.
i used fabric from hobby lobby as our table cloths. 2 yards usually works perfectly for rectangular tables. i had all of the vases and metal containers already. i even had the inserts with green streamers on them stored away (thank you, kindergarten "mom's day!") i added in some of the cupcake toppers that i glued to lollipop sticks i found in our pantry (unused, of course!) the watermelons were from a set of thank you cards that i found in the dollar section at target. and i cut the ants out of black foam i had on hand.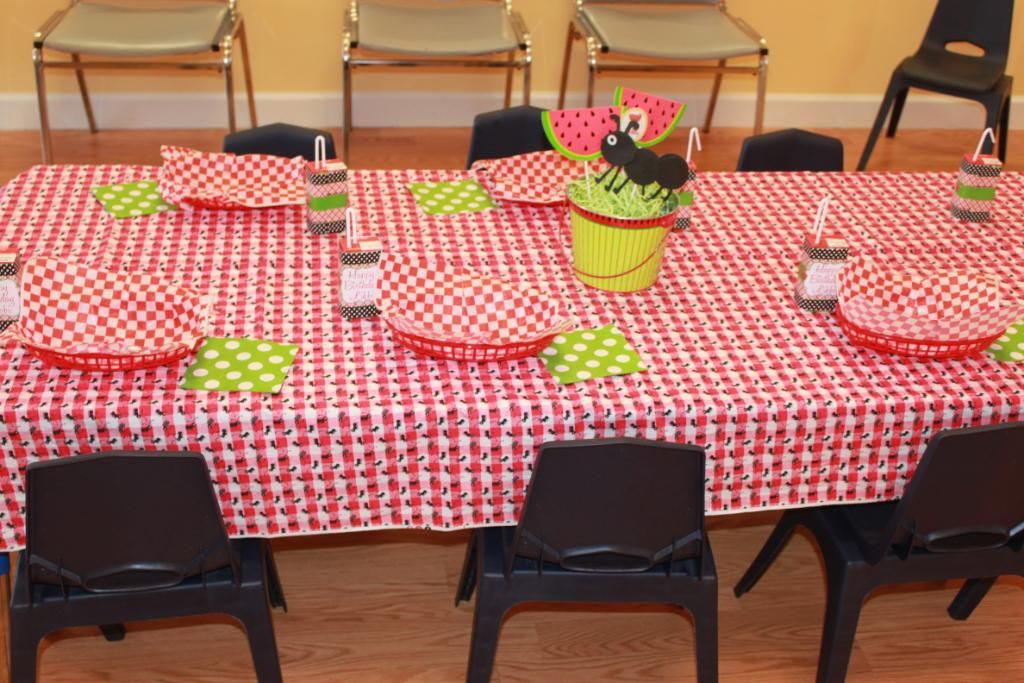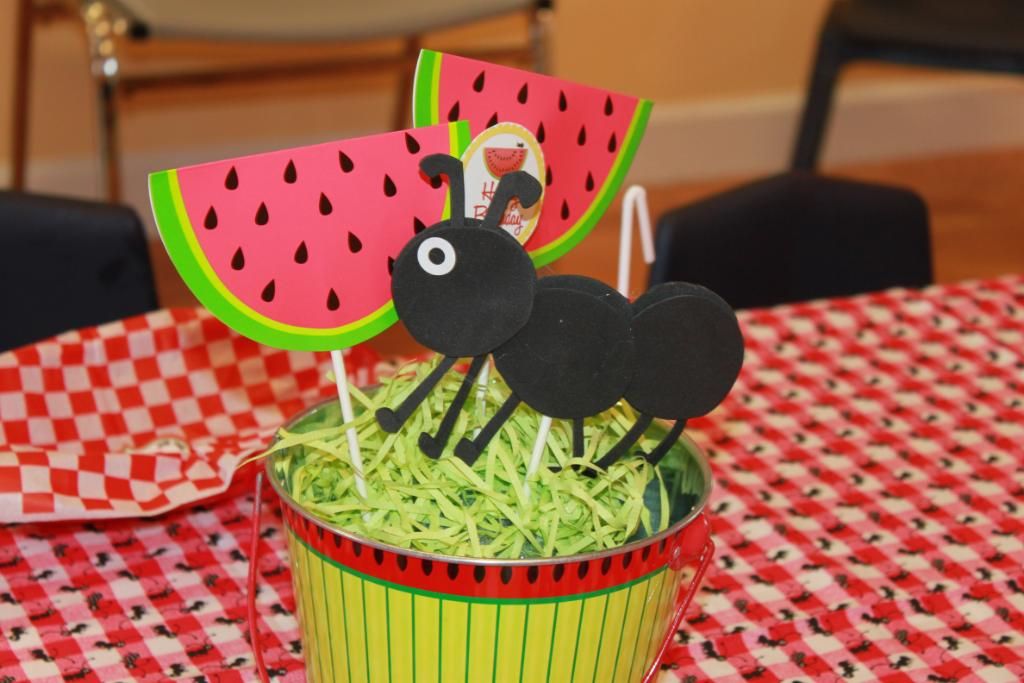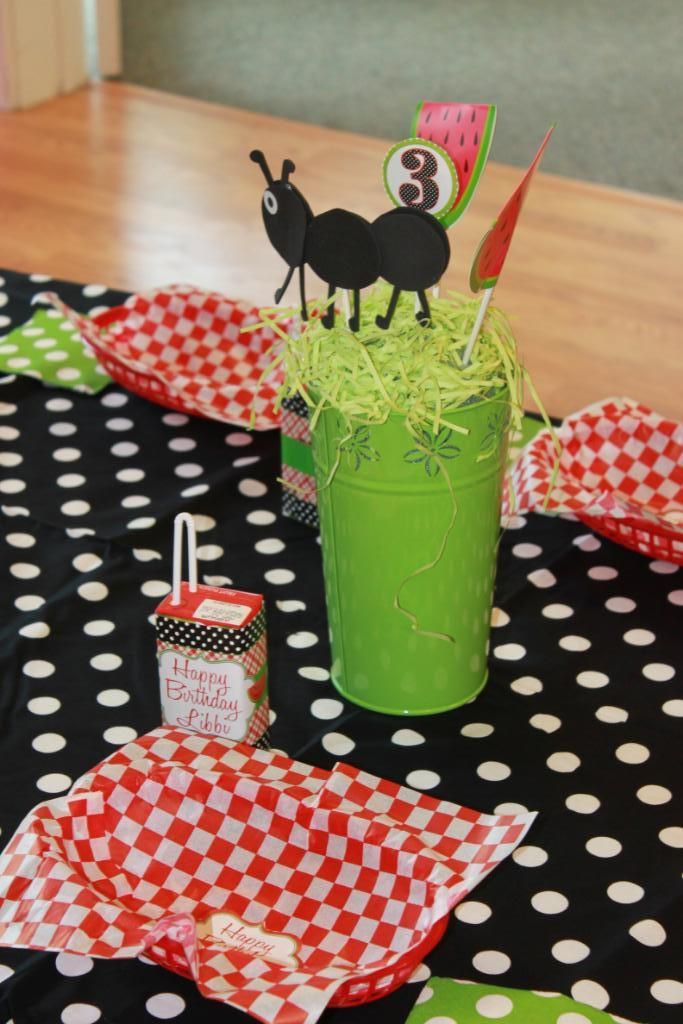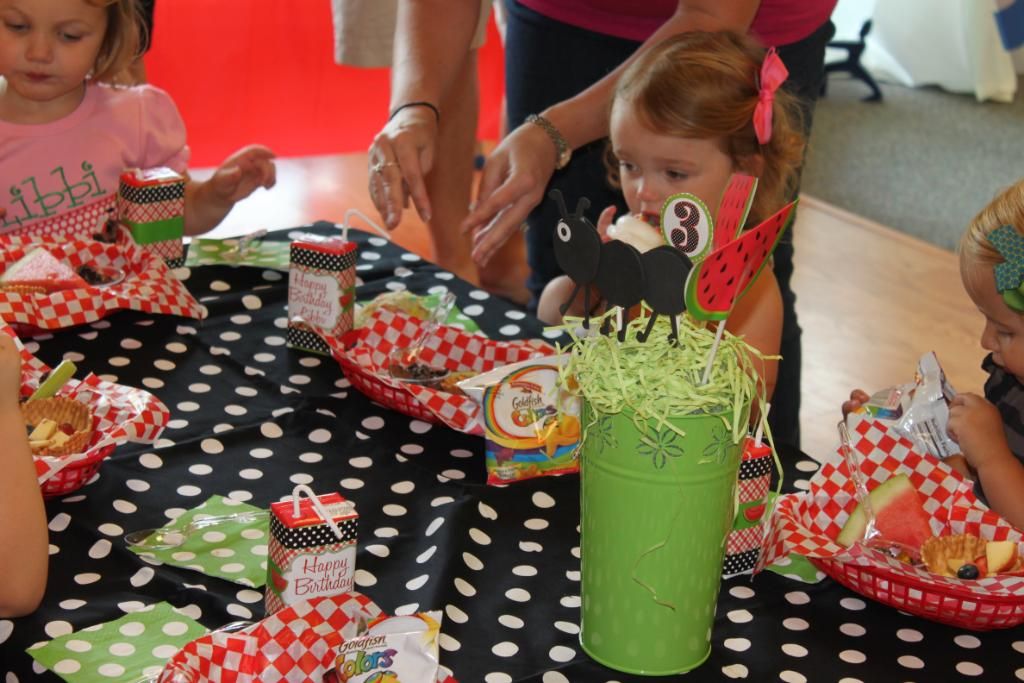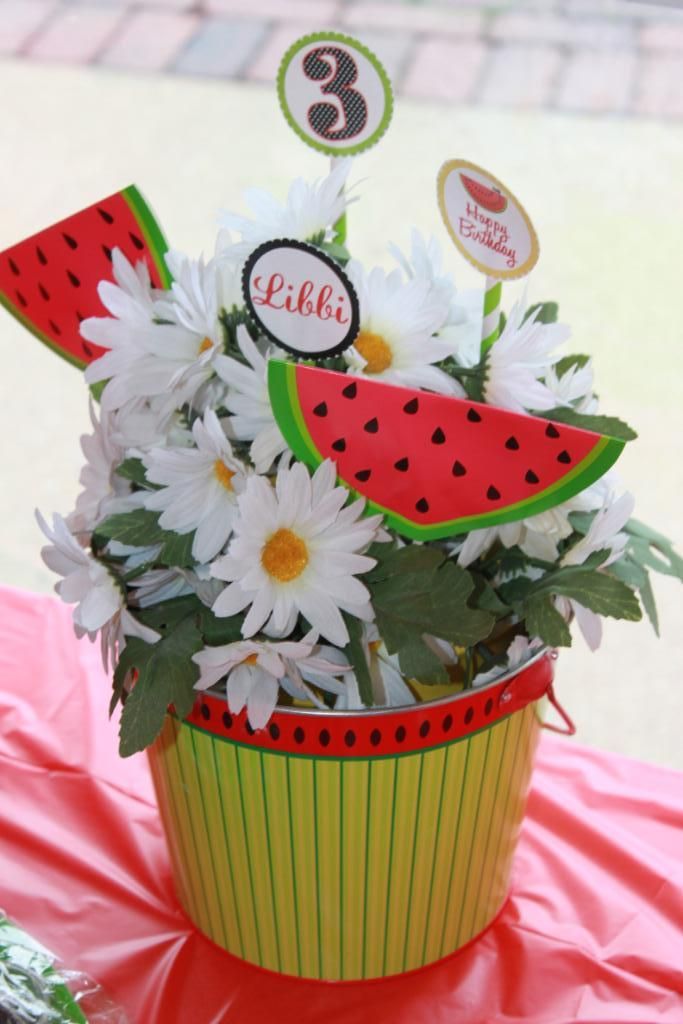 we used "picnic baskets" as plates. i bought a set of 8 from walmart and they came with the cute little gingham paper inserts. i used labels that i attached to the inside of the baskets. perfect for a picnic! :)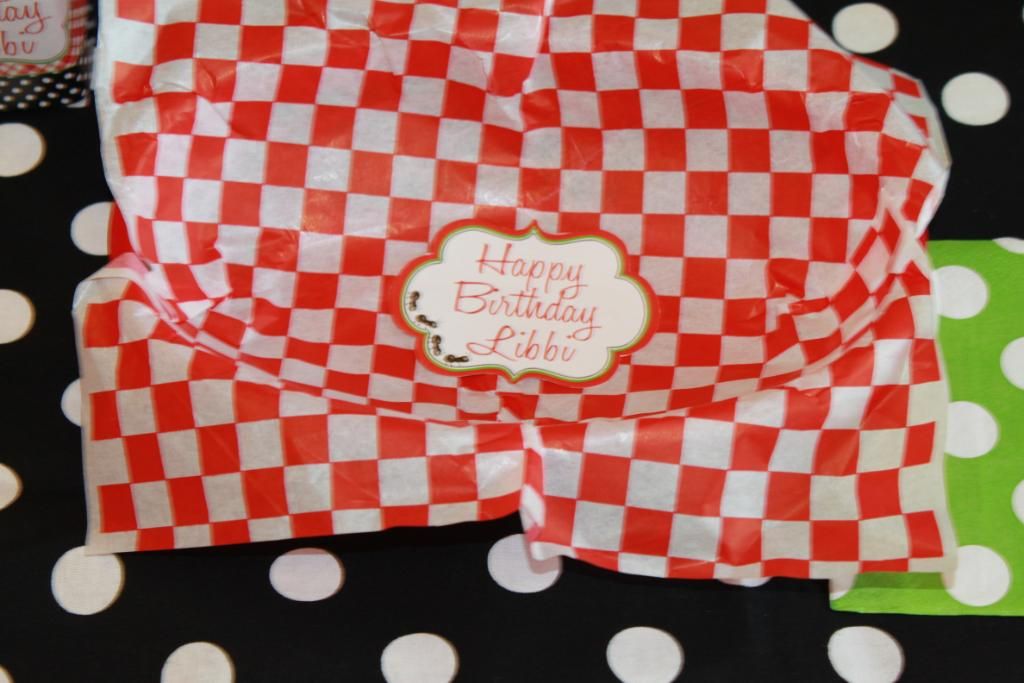 i tried to keep the menu "picnic-y" but still kid friendly...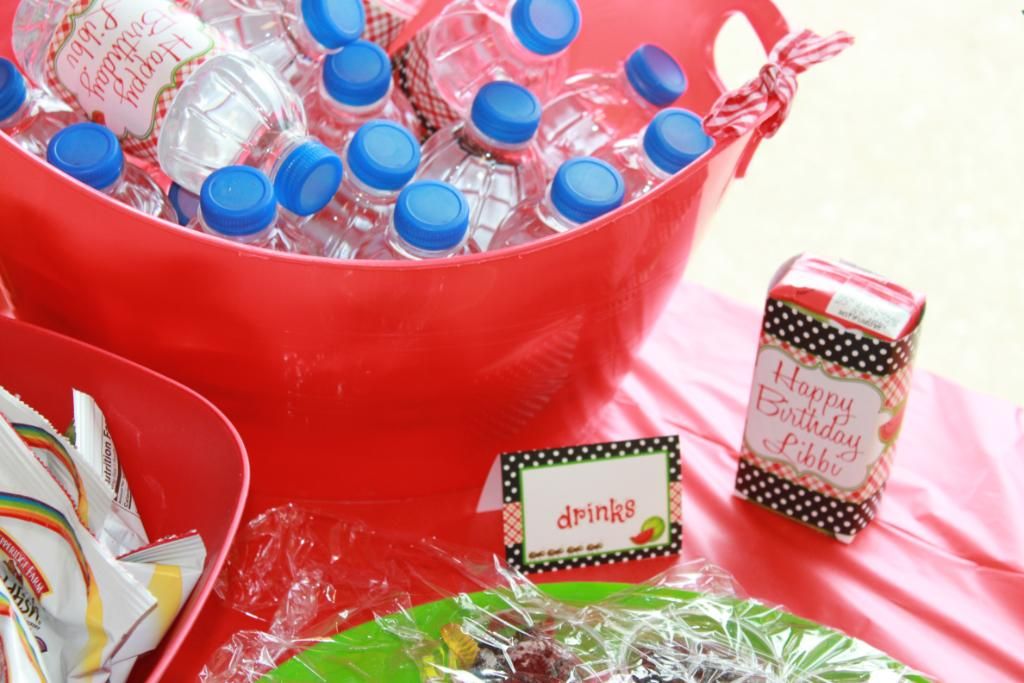 water and juice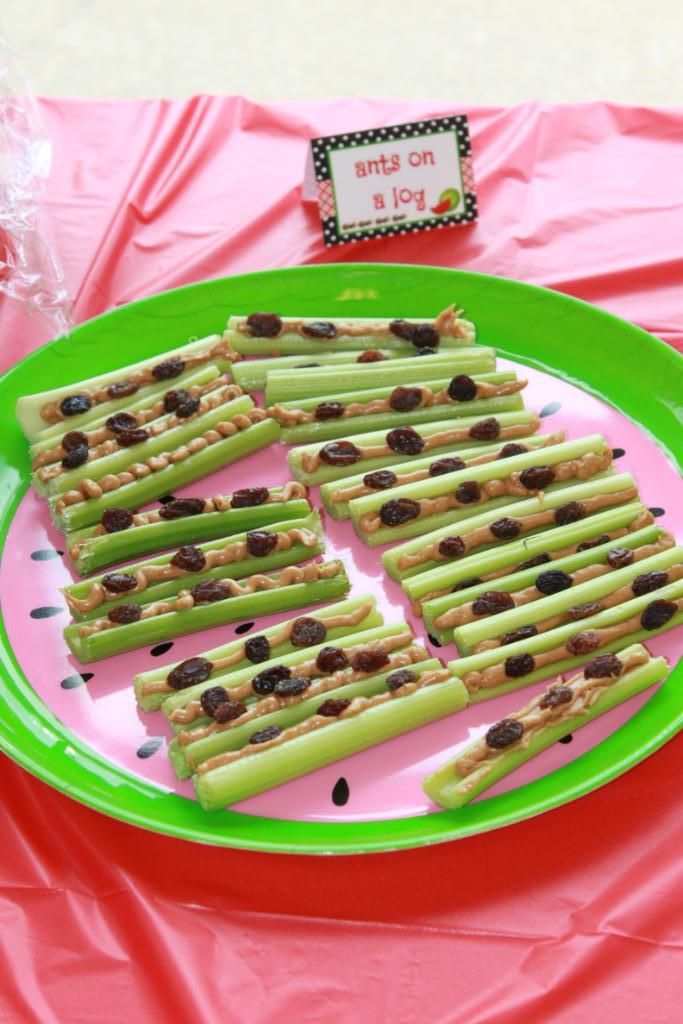 "ants on a log" (aka celery, peanut butter, and raisins)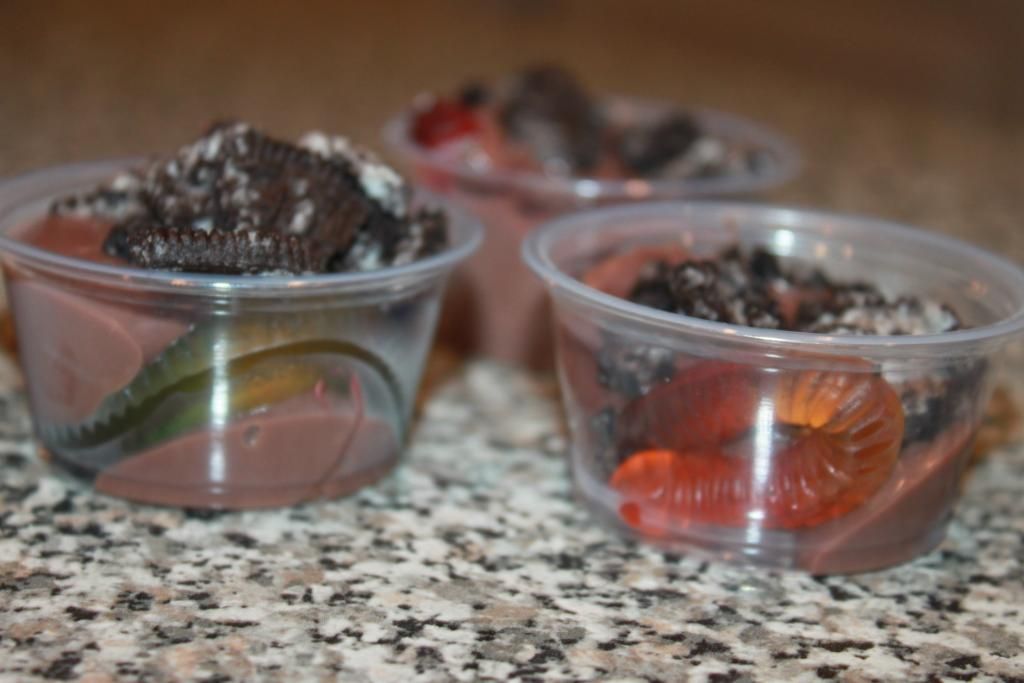 "dirt cups" (i forgot to take a pic of these at the party, so these are a few at our house beforehand) complete with "worms"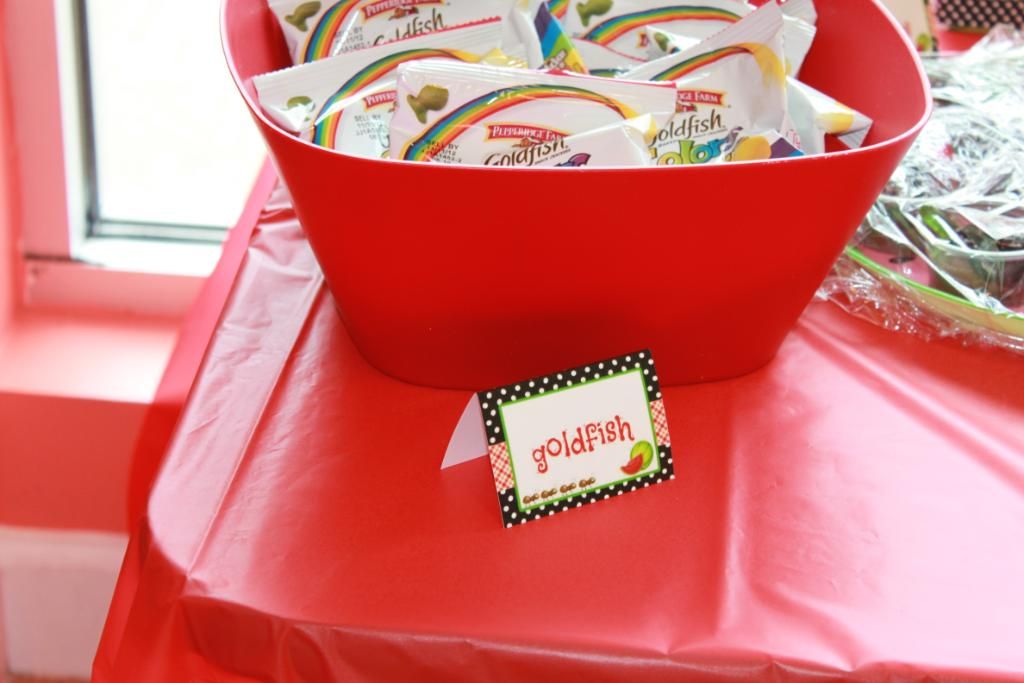 goldfish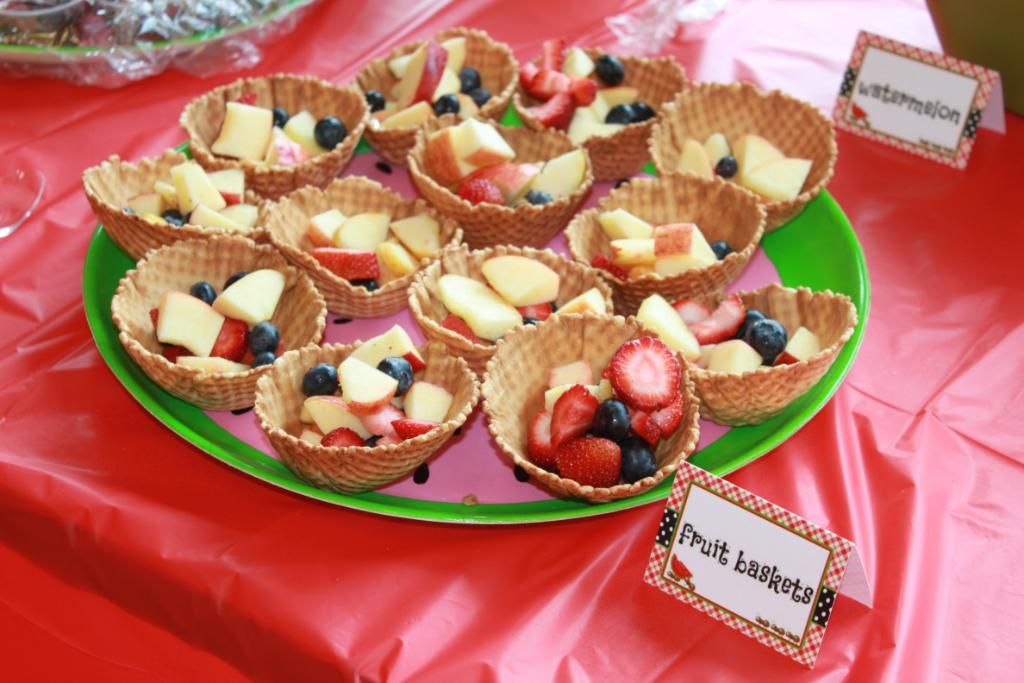 "fruit baskets" and watermelon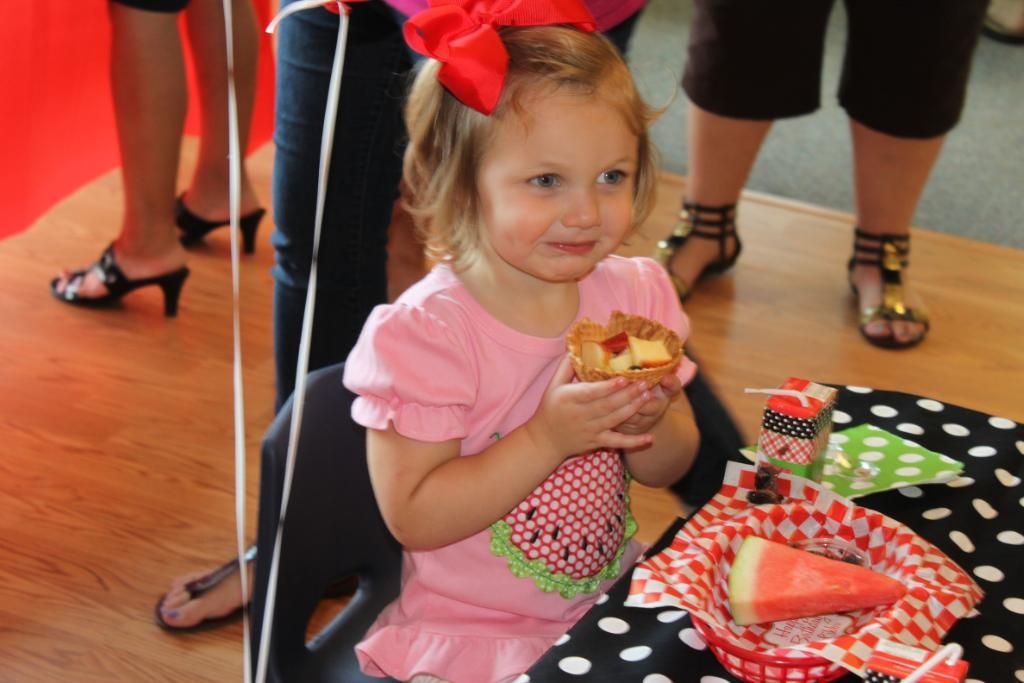 libbi thought it was so funny that she could eat the "basket" :)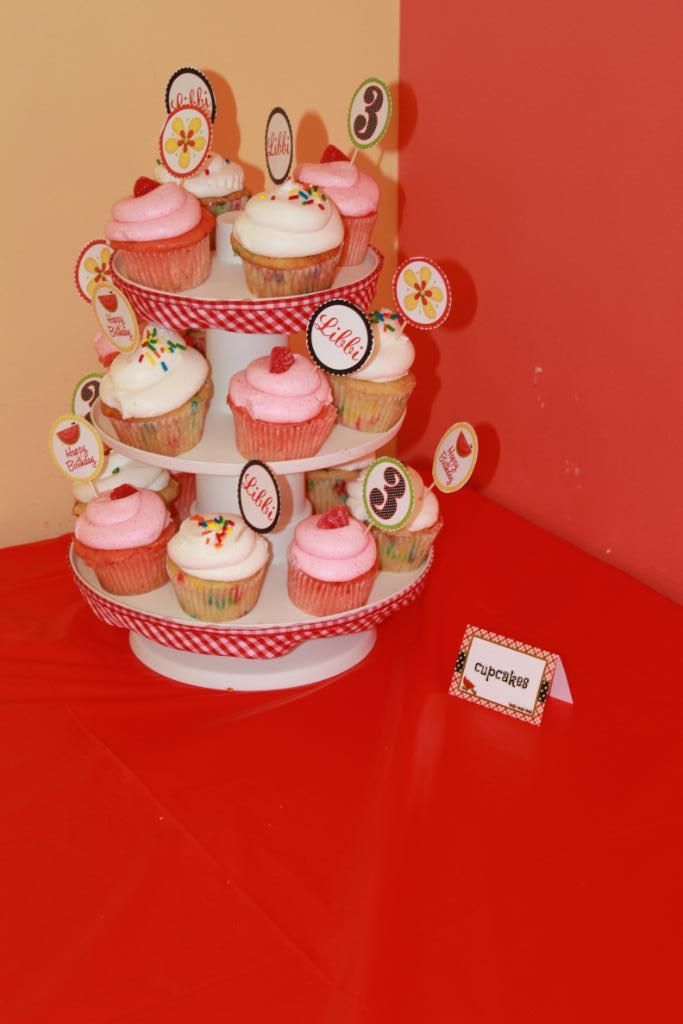 cupcakes...mmmm! strawberry and birthday cake flavored
how precious are these cookies?! and they tasted just as good as they looked. these were made by mabry of preppy confections (you can find her on facebook HERE). y'all, she even wrapped each individual cookie for me - how great is that?!
(*borrowed pic from preppy confections facebook page)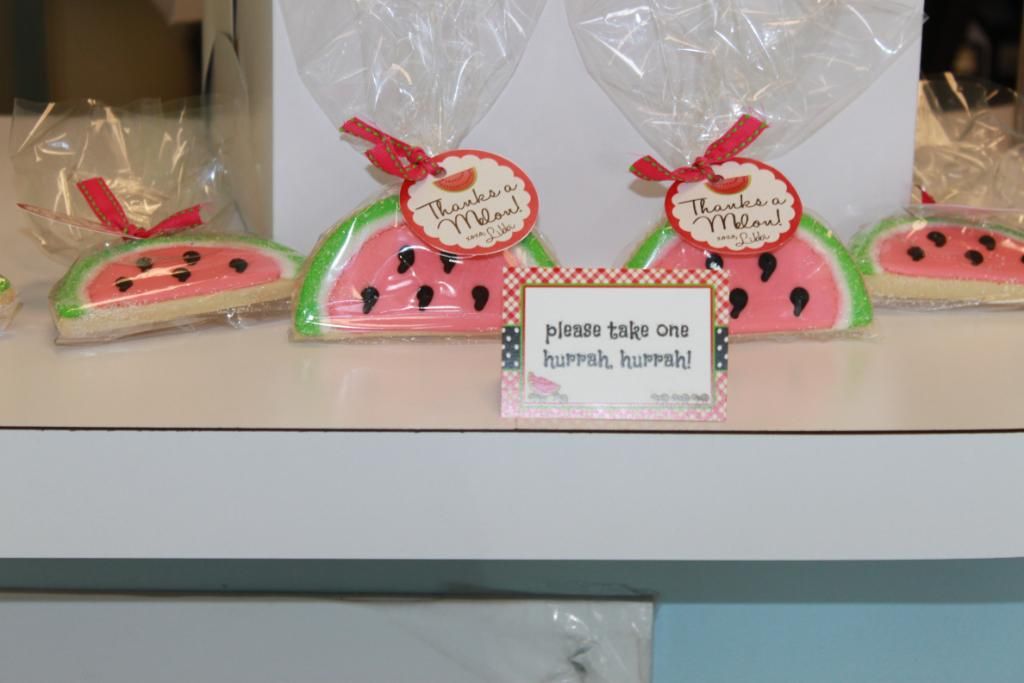 "please take one...hurrah, hurrah!" :)
and the tag read, "thanks a melon! xoxo, libbi"
....i love a cheesy tagline :)
the birthday girl: (and her sister)
love libbi's precious watermelon shirt by sheshemade. ashley has made holiday, special occasion, and birthday outfits for my girls for years....and i'm hoping that she'll continue to! they are always perfect!!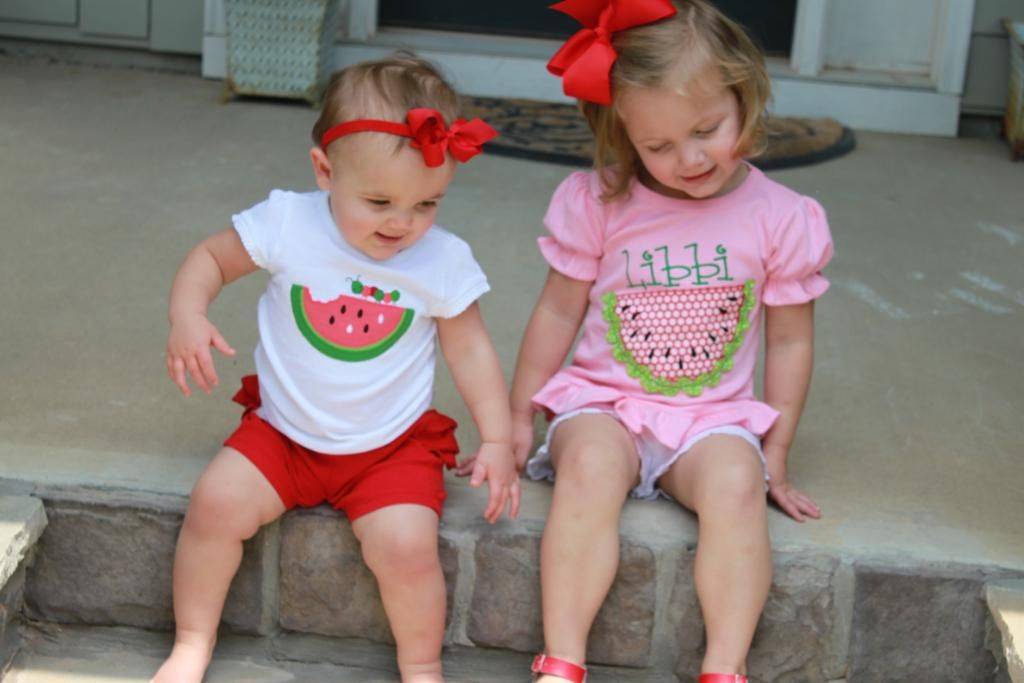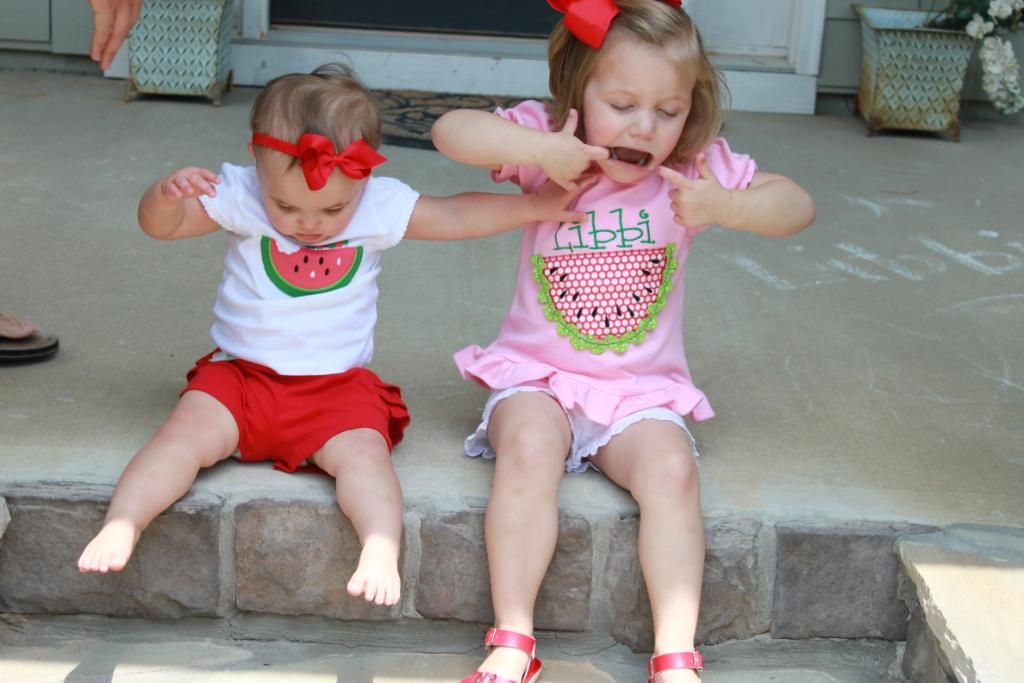 next up.... the birthday girl and her people. :-)